Enjoy this sweet and savory honey garlic salmon recipe that's perfect for two. Serve over warm, fiber-filled veggies for an easy, healthy dinner that's ready in under 15 minutes.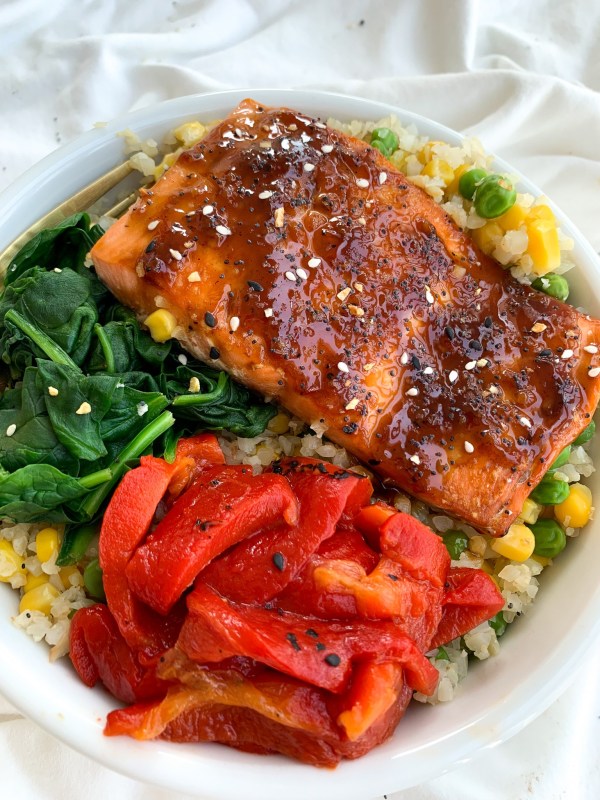 Does anyone else feel super ~fAnCy~ when they eat salmon, or is that just me?
For some reason I was always intimidated by salmon. I was worried I'd spend all this money on a fresh piece of fish only to overcook it and feel like a failure.
I am here to tell you that is absolutely NOT the case! Salmon is actually really easy to cook and when you coat it in the most amazing honey garlic sauce, no one will think twice about it!
Since my honey garlic crockpot chicken has been one of the biggest hits on my blog, it was only a matter of time for a new honey garlic recipe to come out!
This honey garlic salmon recipe is the perfect weeknight (or weekend) meal for two and ready in under 15 minutes. Your friends, family or significant other will think you were slaving away in the kitchen ALL day… but we don't have to tell them the truth ?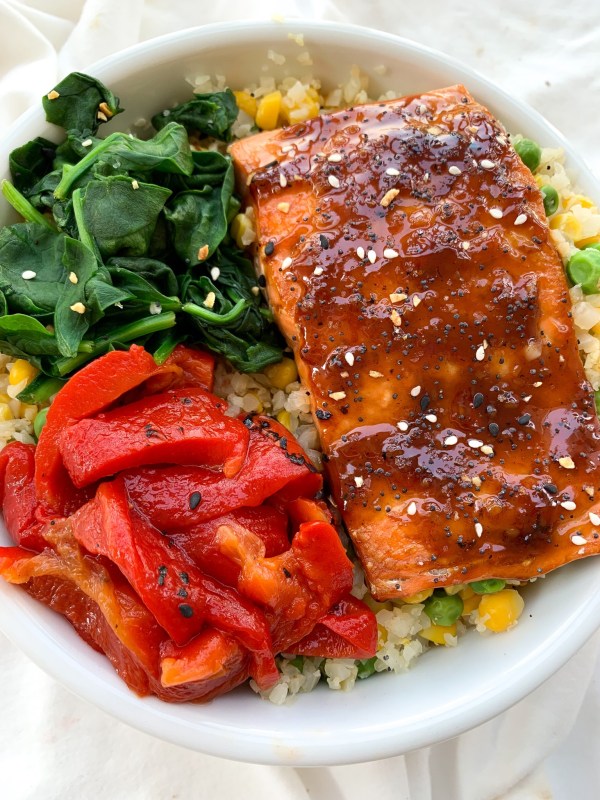 One of my favorite cost-saving tips is to buy frozen fruits and vegetables. I wrote a whole blog post on my TOP cost saving food tips, but if you're going to implement any of them… let that be it!
Buying frozen items has been such a great way for us to eat healthy on a budget! I talked about this briefly in my roasted teriyaki vegetables recipe post, but frozen foods have become our BEST friend. I don't always get around to cooking all the food we buy — especially when it's in bulk at Costco, so frozen vegetables, frozen chicken and frozen fruits are a staple on our grocery list!
Not only do frozen foods have a longer "shelf" life than fresh fruits, vegetables and meats, but they pack in the same amount (and sometimes more) nutrients than fresh produce would. This is because they flash freeze the foods when they are in season and the most delicious.
For the base of this recipe I used whatever veggies we had on hand. It just so happened we had a bag of cauliflower rice in the freezer, so I split that between the two bowls.
We also had some frozen peas and corn. I microwaved them in a bowl with a little water, strained them once they were ALMOST cooked all the way through and added them straight into the cauliflower rice.
Since they will be cooking a bit more in the cauliflower rice, you don't want them to get mushy.
I found some roasted bell peppers and spinach in the fridge that I knew would pair perfectly with the honey garlic salmon. I sliced up the bell peppers and sautéed the spinach in a little olive oil spray and added them to the bowl!
The honey garlic salmon bowls took less than 15 minutes from start to finish because everything was essentially prepared before-hand. Salmon only takes 7ish minutes to cook, so it's great when you want something delicious, nourishing and quick!
Print

Honey-Garlic Salmon
---
Author:

Elizabeth Yontz

Total Time:

15 minutes

Yield:

2

servings

1

x
2

5 oz Salmon Fillets

1 tsp

Minced Garlic

3 tbsp

Water

3 tbsp

soy sauce

1.5 Tbsp

honey

1 tsp

cornstarch
Olive Oil Cooking Spray
Salt + Pepper to taste
---
Instructions
Heat the olive oil in a large pan over medium high heat. Season the salmon with salt and pepper to taste.
Place the salmon skin side up in the pan. Cook for 4 minutes per side or until cooked through.
Remove the salmon from the pan and place on a plate. Cover with foil to keep warm.
Add the garlic to the pan and cook for 30 seconds.
In a small bowl, whisk together the cornstarch with 1 tablespoon cold water.
Add the water, soy sauce and honey to the pan; bring to a simmer.
Slowly pour the cornstarch mixture into the pan and whisk to combine. Bring to a boil and cook for 1 minute or until sauce has just thickened.
Return the salmon to the pan and spoon the sauce over the top.
Cauliflower Rice
Pour your frozen bag of cauliflower rice directly onto the skillet. I don't use any water or oil and this makes it very firm and crispy.
Microwave peas + corn (amount to your liking) in a bowl with a couple tablespoons of water. Microwave until ALMOST cooked through. They will finish cooking on the skillet.
Strain your peas and corn and add them to the skillet.
Pour mixture into a bowl and top with salmon, honey garlic sauce and whatever toppings you like!
Prep Time:

5 minutes

Cook Time:

10 minutes

Category:

Main
Elizabeth Yontz
I am a twenty-something food + healthy lifestyle blogger learning to navigate the real world. I recently graduated from Samford University and proudly call Birmingham, AL home. In my spare time, you'll most likely find me daydreaming as I scroll through instagram + various blogs, creating something in the kitchen, or exploring the outdoors (camera in hand of course). Got questions? I'd love to chat! elizabethyontz@gmail.com