This savory Grilled Watermelon Salad is packed with feta cheese, mint, basil, and onion. It's zingy/creamy, sweet/savory, and is bound to be the summer salad of your dreams/life.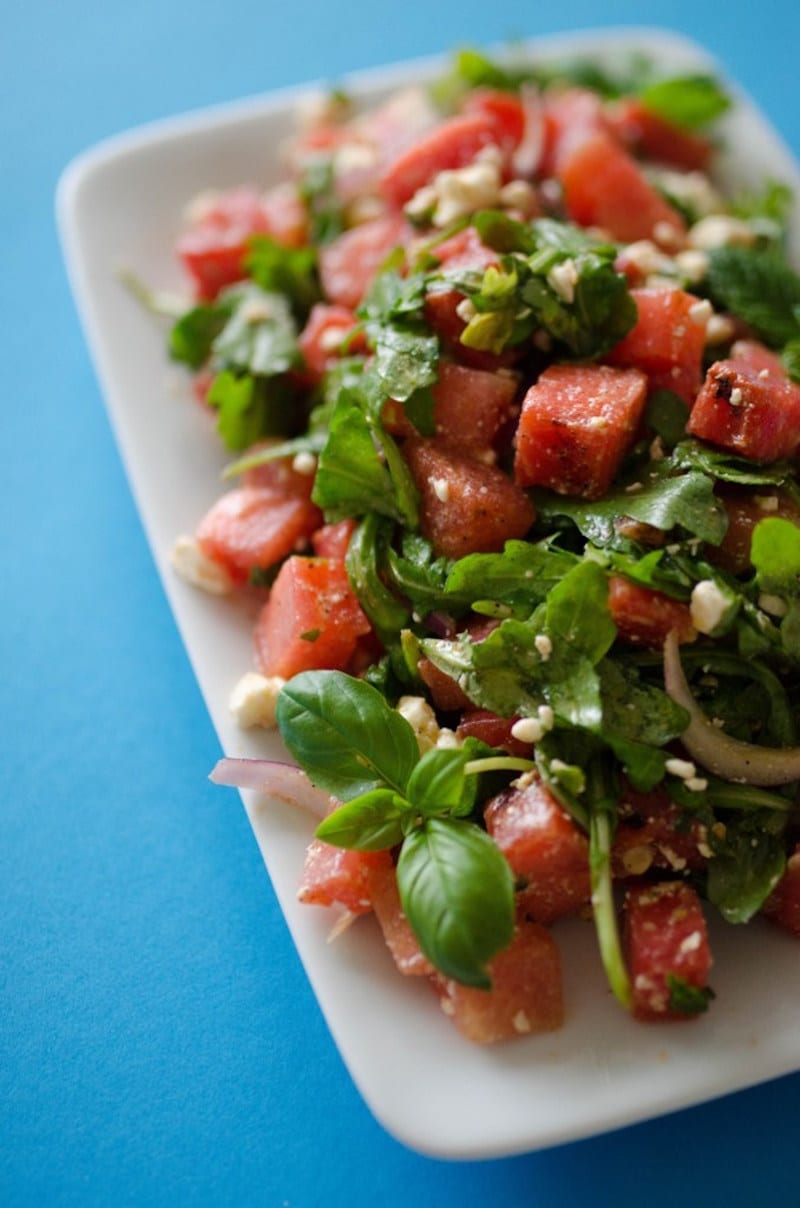 There was this study that looked at what foods stay in your belly longer (i.e. keep you fuller longer), and research found that high-calorie foods tend to keep you fuller, longer. But we don't want to go eating a bunch of calories just for the sake of staying full, right? So a second experiment was done where people ate a high-calorie food then drank water. The people who drank more water after consuming calories stayed full the longest. How does this work? Well, it's likely that your brain and belly notices you eating something high in calories (chocolate milk, pie, cheese, whatever) and slow down digestion. So when you drink a bunch of water right afterwards, rather than going right through ya, the water will sit in your stomach, digesting more slowly, and keeping you full. In short, eat food, drink water afterwards, stay full.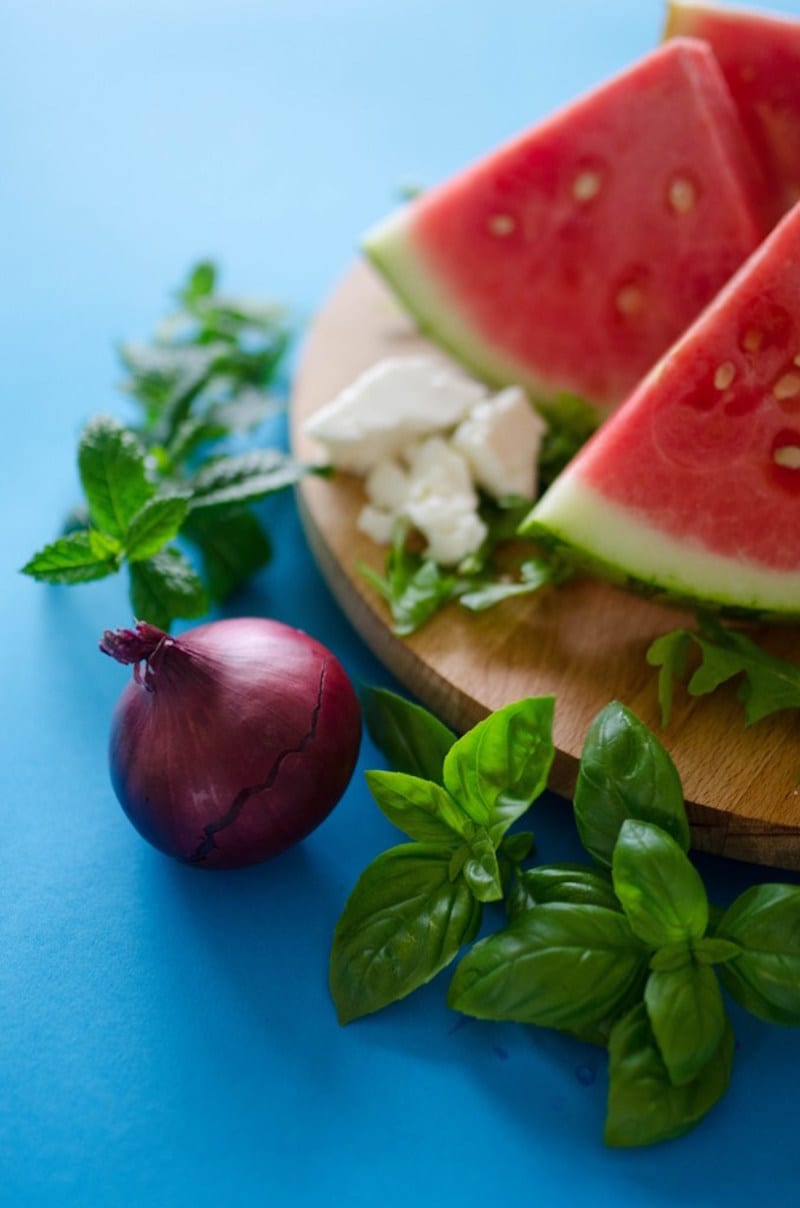 But you don't need to worry about high calories and water-logging today, because we're cooking up a Grilled Watermelon Salad. If you've never tried a savory watermelon dish before, you need to get on it. So I have a watermelon and I'm feeling inspiration-less. So while perusing the list of watermelon combos in a cookbook, I came across feta cheese, and the idea stopped me in my tracks. Fresh watermelon with creamy, tangy feta…could that work? So I ran to the kitchen, threw open the fridge, and pulled out these two seemingly opposite ingredients. Hesitantly, I popped them both in my mouth at the same time, and then my whole world flipped upside down.
The combo was really really good. And after pan-searing fresh watermelon into a savory watermelon steak last year, I knew cooking watermelon was another under-appreciated means of serving up this summer melon. So I just combined it all. Today we're grilling up watermelon and tossing it with a simple combo of feta cheese, arugula, mint, basil, and red onions. The result is a summery Grilled Watermelon Salad that is so refreshing and satisfying. I think you're really going to love it!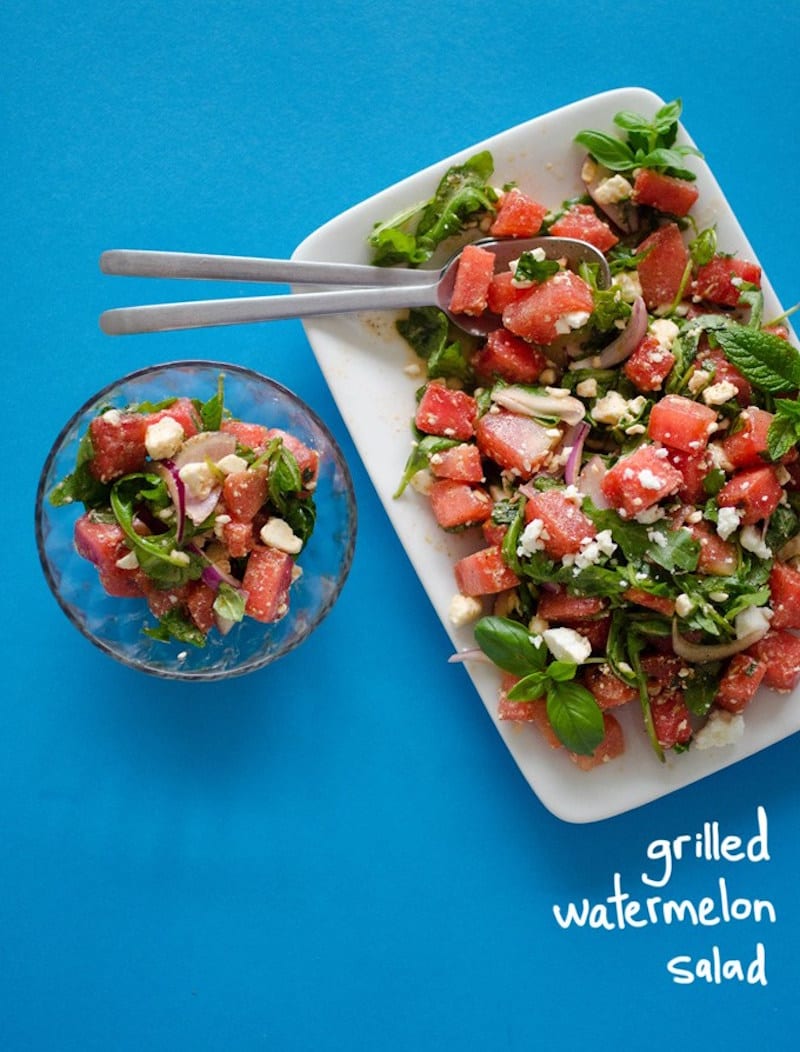 Print

---
Author:

Sarah Bond

Yield:

4

servings

1

x
---
Instructions
Cut watermelon into 1 inch (2.5 cm) thick slices and remove the rind. Lightly brush each piece with olive oil.
In a grill pan, saute pan, or on the grill, cook watermelon at medium/high heat until char lines develop or until watermelon lightly browns, about 3 minutes each side.
Remove from heat and chop watermelon into large chunks.
In large bowl, gently combine watermelon, feta, arugula, red onion, mint, and basil.
Sarah Bond
An Alaskan self-taught cook and nutritionist by trade, I love all things food and health. When I'm not exploring new ways to cook up healthy ingredients, I'm romping around the Netherlands, my new stomping grounds!