PARTNER POST – #GarnachaDay is September 18th, join in the celebration of one of the world's oldest grapes with deliciously paired recipes and enter to win a special tasting.
Grilled herbed polenta is topped with honey roasted plums, tangy goat cheese, fresh basil, and a balsamic reduction. An elegant, gluten-free appetizer that pairs with Garnacha red or white wine.
By Stephanie Kirkos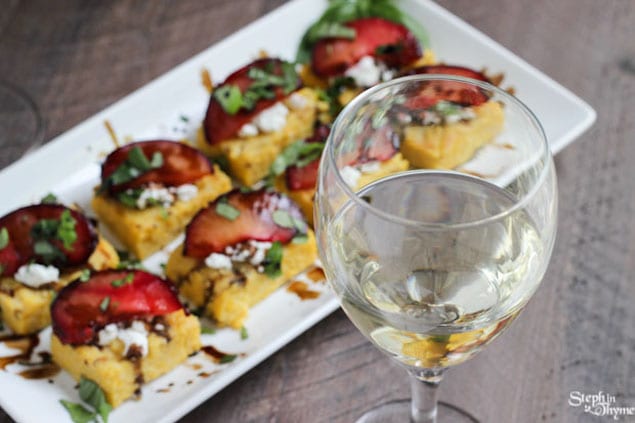 Summer is drawing to a close, and to bid farewell to the season and embrace fall, my husband and I hosted a wine tasting adventure in our backyard on a recent blissful warm evening. The evening featured five different bottles of Garnacha wine and a smorgasbord of appetizers and snacks with three good friends. The laughter lasted for hours between glasses of wine as we explored this new Mediterranean grape together. We took our time going through each bottle, pairing it with different flavors and textures to see how the wine and food enhanced each other. One thing was clear. There was not a bad bottle in the bunch, each so different we were surprised it was the same grape.
Before I go further into our Garnacha wine discoveries, first a bit about Garnacha itself. Garnacha is one of the world's oldest and widely planted grapes, originating in eastern Spain and thriving in the hot, dry Mediterranean climate. Garnacha spread to Italy and France (where it's known as Grenache) through the 12th and 17th centuries, then further into non-European regions, including Australia and California, in the 18th and 19th centuries. Garnacha has mostly been used as a blending grape, helping to produce some of the best wines in the world. There has been shift, however, in the last 20 years in the approach to Garnacha. A new generation of winemakers is working to produce exceptional wines with Garnacha as the spotlight instead of lingering in the background. Garnacha produces both red and white wine, and because the grape thrives in hot, dry climates, the wine bears concentrated flavors and aromas. Garnacha is starting to come into its own as a varietal wine, and we were excited at the opportunity to experience Garnacha and sample what it has to offer the wine world.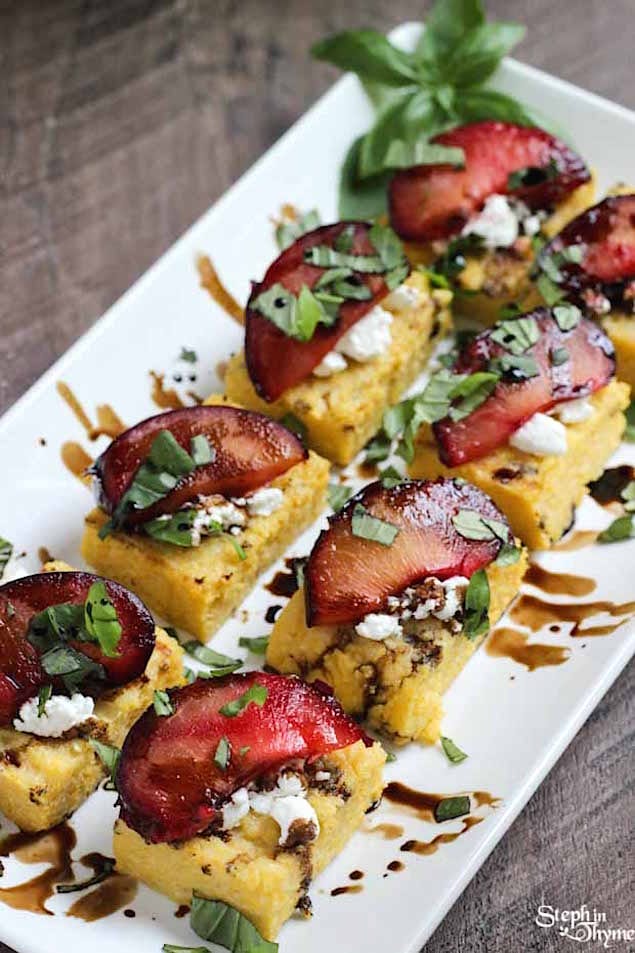 We tasted five bottles of Spanish Garnacha wine, both red and white, produced as early as 2011 and as late as 2014. We were surprised at the diversity of the wine given they were all made from the same grape. The bottles ranged from a crisp, dry white reminiscent of Pinot Grigio to a full-bodied, dry red that reminded us of Cabernet Franc. Here are the Garnacha wines we tasted and our observations: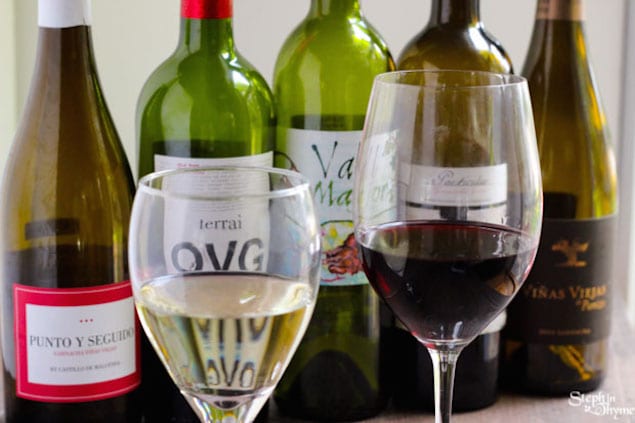 Vall Major 2014: A very drinkable white wine. Crisp and light. Fruity aroma, but not a sweet wine. It is light and tart with notes of lime, citrus, and peach. This wine would pair well with a peach and burrata salad, or according to the meat eaters of our group, a delicate white fish. One of our friends at the tasting is not a white wine drinker, but shared that he enjoyed and would drink this kind of white wine again.
Punto Y Seguido 2011: A very drinkable red wine that smelled subtly of dark chocolate with notes of berry. A dry red, but not full-bodied or complex enough to drink a glass by itself. This particular red wine is what we call "A Pizza Wine." While dry, it's light enough to pair with a hearty, everyday meal such as pizza or burgers. We found this wine enhanced the savory flavors of the small bites we were nibbling on during the tasting, especially garlic.
Viñas Viejas de Paniza 2012: The deepest, richest, most complex wine of the sample in our tasting. This red wine has a darker ruby color and leaves the strongest legs along the glass. One sip envelopes your mouth in multiple phases. You first experience it on your tongue and then along the back of the throat. The wine still lingers in your mouth even after you swallow. This Garnacha wine bears an aroma of dark fruit, currants, and vanilla. With its full-body and complexity, this wine you could easily drink on its own to savor. It would also pair nicely with a robust meal such as steak or roasted vegetables with a balsamic glaze. Of the reds, this is our favorite.
Terrai OVG 2014: A medium wine, more full-bodied than the Punto Y Seguido but not as complex as the Viñas Viejas de Paniza. Dry and tart, this wine has lighter berry notes. While it envelopes the mouth more than the Punto Y Seguido, it doesn't linger like the Viñas Viejas de Paniza. It's another red wine with enough body and flavor to savor on its own, but would pair well with a lighter meal such as spinach, walnut, cranberry, and gorgonzola salad. This was our second favorite red wine of the four we tasted.
Particular 2014: A lovely medium-bodied pre-dinner red wine to warm up and open the palate. Not as dry as the two aforementioned red wines, but just light enough to pair with a heavy meal such as chili or stew. It has rich currant and jammy blackberry aromas with a soft plum flavor that lingers on the tongue. This wine opened up flavors of basil at our tasting as well as garlic. Another very drinkable wine like the Punto Y Seguido that's both light and smooth.
A large theme across the five Garnacha wines is savory. These very smooth, drinkable wines open up savory flavors of garlic and basil, but complement subtly sweet stone fruit and berry. These Goat Cheese and Plum Polenta Squares appetizer, with fresh basil, and balsamic reduction, pairs well with all five of these diverse Garnacha wines.
Sliced into squares after setting, the firm and hearty polenta squares are grilled golden. Fresh off the grill and still warm, goat cheese crumbles are added on top, melting slightly into creamy dreaminess. A thick slice of honey roasted plum is then placed gently on top of the mini-pile of goat cheese. Fresh basil and a balsamic reduction finish off the dish, the burst of color simple but adding a lovely touch of elegance.
Whether you're pouring a glass of white or red Garnacha wine, this Grilled Polenta Square appetizer will complement the Garnacha variety as a whole…and please a crowd.
The beauty of Garnacha wine is its versatility and diversity in body and flavor. Each bottle will uncork a new sensory experience any time of year, any occasion, and any mood. The next time you are at your local wine store, keep an eye out for Spanish Garnacha wine. Try a bottle, or pick up a few and explore this new wine with a group of friends and a delicious small plate.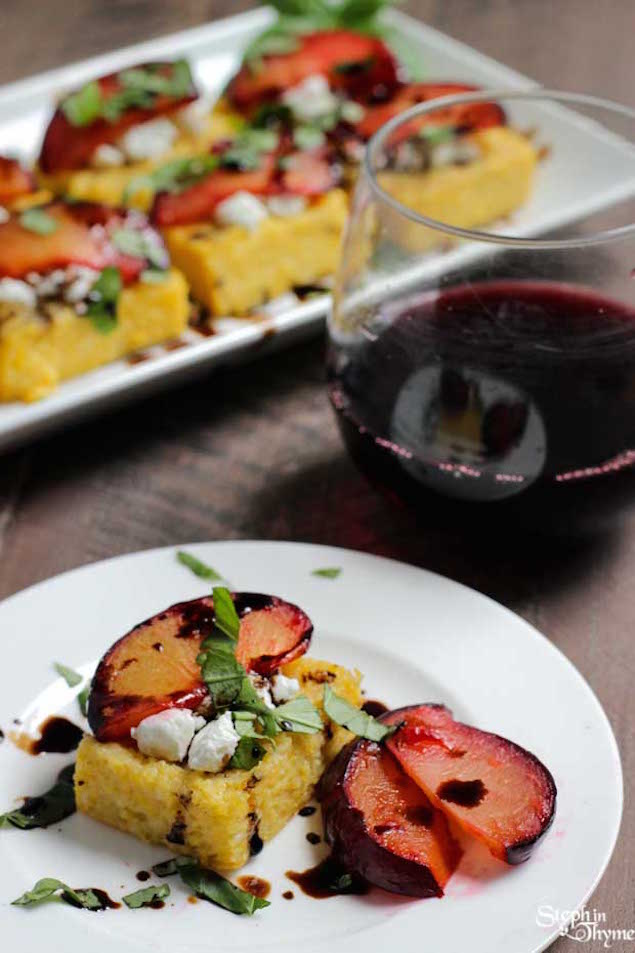 Click the image below to enter to win a Mediterranean feast for four in your hometown, paired with the best of Garnacha wines.


Garnacha Day — Goat Cheese and Plum Polenta Squares
Grilled polenta is topped with honey roasted plums, goat cheese, basil, and balsamic reduction. An elegant appetizer paired with Garnacha red or white wine.
Ingredients
4 cups vegetable broth
1 cup Corn Grits (Polenta)
1 tbsp unsalted butter
½ tsp sea salt
1 tsp dried basil
1 tsp garlic powder
½ cup Parmesan
4 plums, washed, pitted, and sliced into half-moon shapes
1 tsp lemon juice
1 tsp honey
½ cup goat cheese crumbles
¼ cup fresh basil leaves, coarsely chopped
Balsamic reduction, for garnish
Instructions
Preheat oven to 425 F. Set aside a 9x13 oven proof dish and an 8x8 glass dish.
In a large stock pot, bring the vegetable broth to a boil over medium-high heat. Once boiling, stir in the polenta corn grits and reduce heat to medium. Cook for 15-20 minutes, stirring until the polenta thickens considerably and begins to pull away from the sides of the pot. (Tip: Use a spoon with a long handle as the polenta bubbles and spits as it cooks). Remove from heat then stir in the butter, Parmesan, salt, dried basil, and garlic powder.
Generously butter an 8x8 dish. Pour the cooked polenta into the dish, using a spatula to evenly distribute the polenta into all four corners of the dish. Let sit until steam subsides, then chill in the refrigerator until set, about 30 minutes.
Rinse the plums, slice in half, and remove the pits. Slice the plums into half-moon shapes and place into the bottom of a 9x13 dish. Drizzle lemon juice and honey over the plums, then toss to coat. Roast, uncovered, for 25 minutes, until the plums soften and can be pierced with a fork. Remove from oven and set aside.
Generously spray the grates of a grill with canola nonstick cooking spray (make sure grill is OFF before you do this). Preheat grill to medium-high heat.
Remove polenta from the fridge and slice into 12 equal size squares, trimming corner pieces as needed. Spray the tops with canola cooking spray.
Place the squares greased side down onto the grill. Close grill cover and cook for 5 minutes, then gently flip onto the other side and cook for another 5 minutes. Polenta will be done when firm to the touch and golden brown on top.
Remove polenta squares from the grill and place on a serving platter. Immediately spoon about a teaspoon of goat cheese crumbles over top each polenta square, followed by a roasted plum or two. Garnish the entire platter with chopped fresh basil leaves. Drizzle desired amount of balsamic reduction over top the squares.
Serve immediately either as a passed appetizer or on small plates with extra goat cheese and roasted plums on the side.