The mix of red, white, and sweet potatoes with onions and fennel and a mix of cheeses make for a nutty, rich, and herbal side dish with garlic that is fit for any winter meal.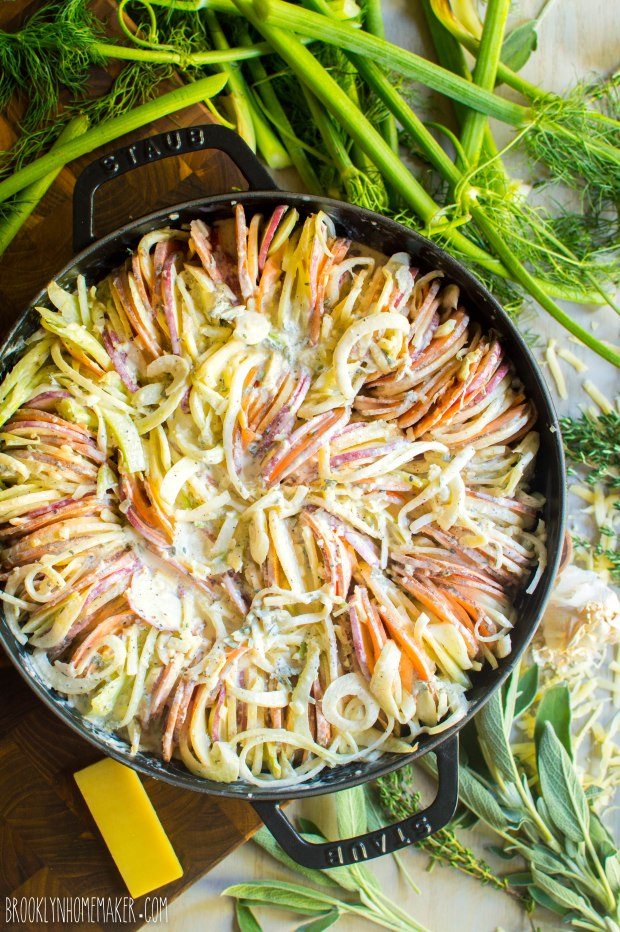 So, a couple weeks ago I started playing with it to fine tune my vision and streamline the steps of this recipe. My first instinct was to caramelize the onions and fennel before mixing them in with the cream, but I actually found that by the time the whole thing baked for an hour an a half, the onions and fennel cooked down way too much and were almost indistinguishable. I also originally planned to peel the potatoes, or maybe just the sweet potatoes, but after trying the recipe both ways, peeling just seemed like an unnecessary extra step.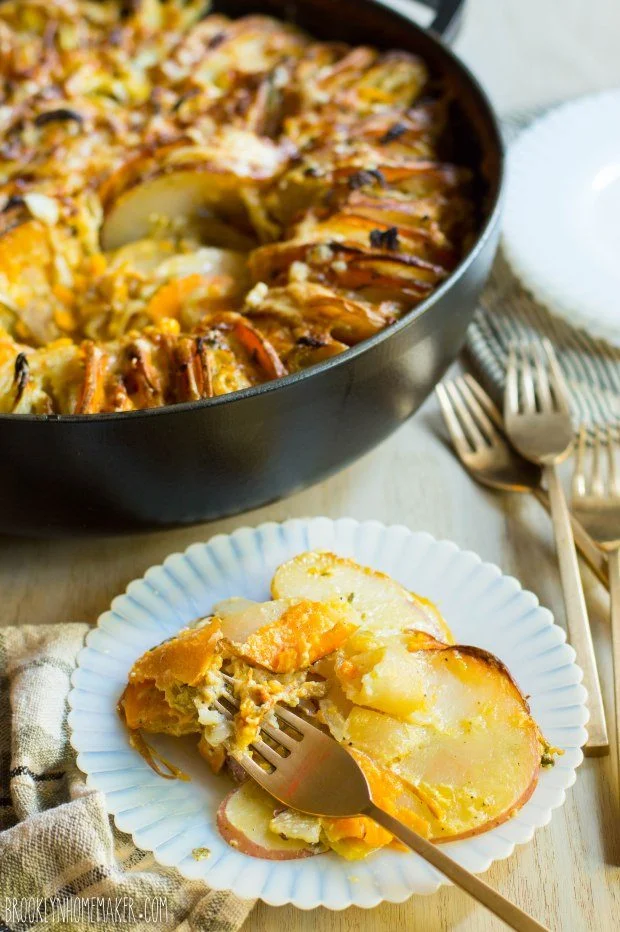 I figured that everyone, including myself, would appreciate any unnecessary steps that I could eliminate. Enough effort goes into slicing everything with the mandoline and arranging the slices in tight circles, so as long as it still tastes great, why not make everything else super easy?
Speaking of slicing everything with a mandoline, please be careful when you're slicing. Those pesky mandolines have bitten me a few times, but if you go slow and use a guard when you get toward the end of the potato, I promise that you can keep your fingertips intact. Another option to keep your fingers super safe would be to invest in a cut resistant glove. Whenever I've had any accidents with mandolines though, it's been because I was going too fast or was distracted by something else in the kitchen. The blades are sharp and deserve your undivided attention, so please use caution! Unfortunately this recipe will be kind of difficult to perfect without one. Sorry friends!
I mean, if you have surgically precise knife skills, by all means please go ahead and just use a knife, but it's really important that all the slices are the exact same thickness so everything cooks at the same time.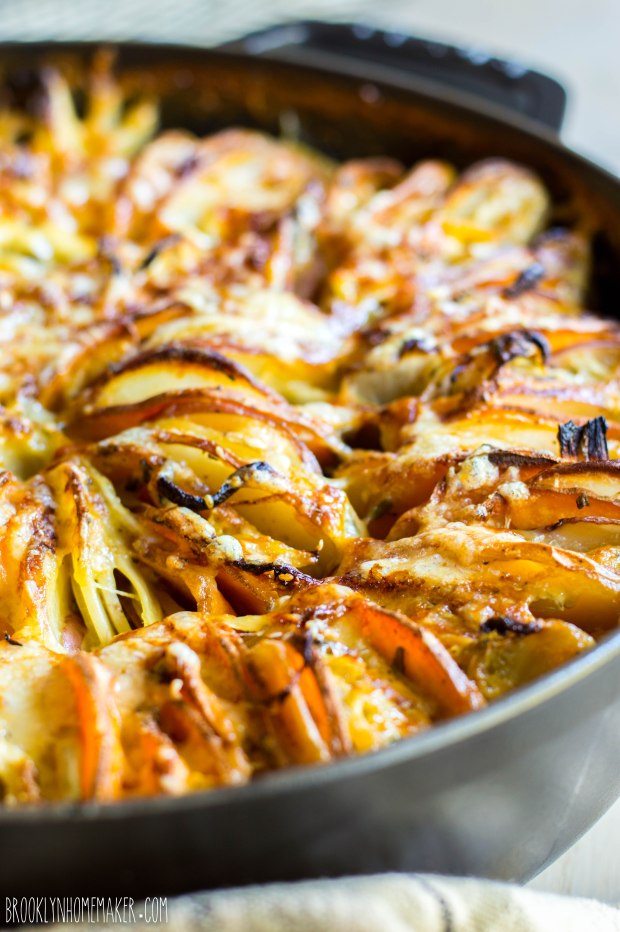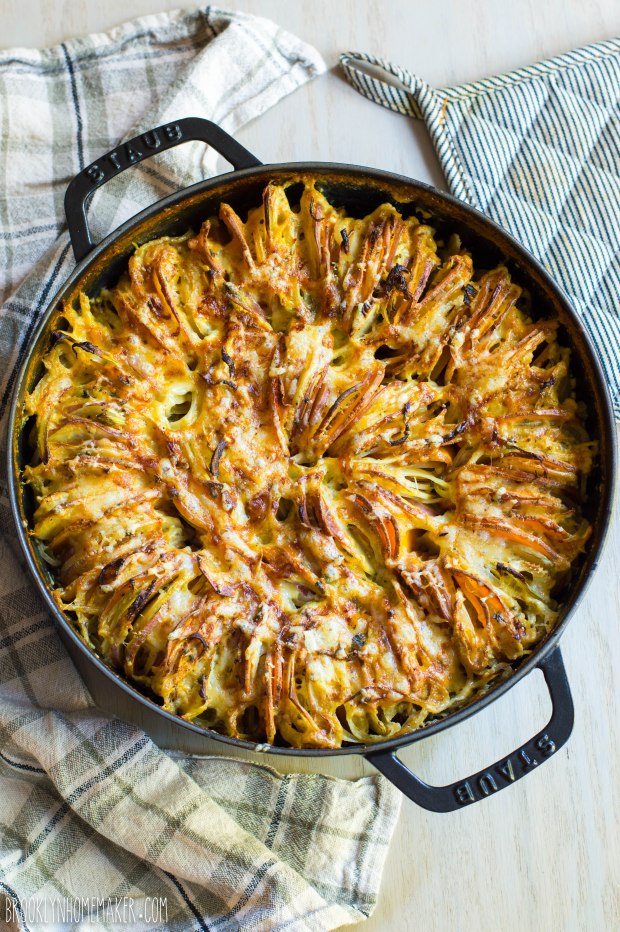 Let me tell you friends, this recipe was worth the wait and the effort. Who could say no to tender, delicate, richly flavored potatoes with crunchy, crispy top edges? The mix of red, white, and sweet potatoes is wonderfully autumnal without being too sweet, and the onions and fennel caramelize in the oven and their flavors go from pungent and intense to rich, mellow, and slightly sweet. The mix of cheeses adds a salty, nutty richness, and the sage, thyme, and garlic make this dish the perfect side to any winter meal.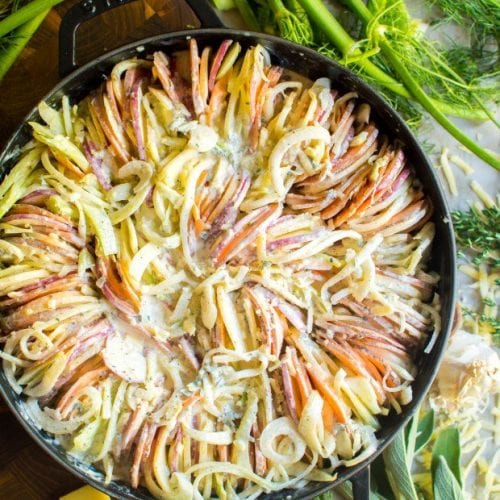 Tux Loerzel
Servings
6
-10 side dish servings
Ingredients
1

cup

grated comte cheese

or other semi-firm nutty cheese like gruyere or emmental

1/2

cup

grated parmesan

2

cups

heavy cream

1

tablespoon

coarse kosher salt

sounds like a lot, but this is a lot of potatoes

1 1/2

teaspoons

ground black pepper

4

cloves

garlic

minced or crushed

1 1/2

tablespoons

finely chopped fresh sage

2

teaspoons

finely chopped fresh thyme

1

lb

red potatoes

1

lb

white potatoes

1 1/2

lbs

sweet potatoes

1

large to 2 small fennel bulbs

about 1/2 to 3/4 lb

2

small to medium onions

about 1/2 lb

2

tablespoons

butter

softened
Instructions
Preheat oven to 400F and adjust rack to the middle of the oven.

Toss cheeses together in a medium bowl to combine. Transfer about 1/3 of the mixture to another bowl and set aside for later use. Back in the first bowl, add cream, salt, pepper, garlic, sage, & thyme; and stir or toss to combine. Set aside.

Using a mandoline slicer, slice all the potatoes, unpeeled, into 1/8 inch thick disks and place into a very large bowl. The larger the bowl, the easier it will be to toss the potatoes with the cream without making a mess. Slice the onion(s) and fennel bulb(s) to the same thickness and add to the potatoes. Pour cream and cheese mixture over the potatoes and toss toss toss to completely coat each slice of potato with cream. Use your fingers to separate any potatoes that may have become stuck together, so that every single slice is coated in the cream mixture.

Butter the inside of a large casserole, or 12? cast iron skillet *see note. Organize handfuls of potatoes into neat stacks, along with some slices of onions and fennel, and line them up in the casserole with their edges aligned vertically. Continue placing stacks of potatoes into the dish, working around the perimeter and into the center until all potatoes have been added. Potatoes should be tightly packed. If necessary, slice an additional potato, coat with the remaining cream mixture, and add to the casserole. Pour the remaining cream mixture evenly over the potatoes until the mixture comes about half way up the sides of the potato slices. You may not need all the liquid.

Cover dish tightly with a lid or aluminum foil and transfer to oven. Bake for 30 minutes. Remove lid/foil and bake for 30 minutes longer. Carefully remove from oven, sprinkle with remaining cheese, and return to oven to bake until deep golden brown and crisp on top, about 30 minutes longer. Remove from oven, let rest for at least 15 minutes, and serve.
Notes
Recipe adapted from Serious Eats
I used a braising pan that measures about 12? across, so a 12? cast iron skillet would perfectly as well. I also think a 9×13? casserole should work great, but rather than arranging the potatoes in circles, just line them up lengthwise in three rows.
Tux Loerzel
Tux is a food blogger, photographer, dog lover, husband, and avid baker living in Bushwick, Brooklyn. Originally from upstate New York, he inherited his love of cooking and baking from his mother and grandmother. With the encouragement of good friends and several glasses of wine, he began his food writing and blogging adventure in the fall of 2013. Learn more about Tux at his blog Brooklyn Homemaker