Edamame Succotash – Edamame and Bacon Mix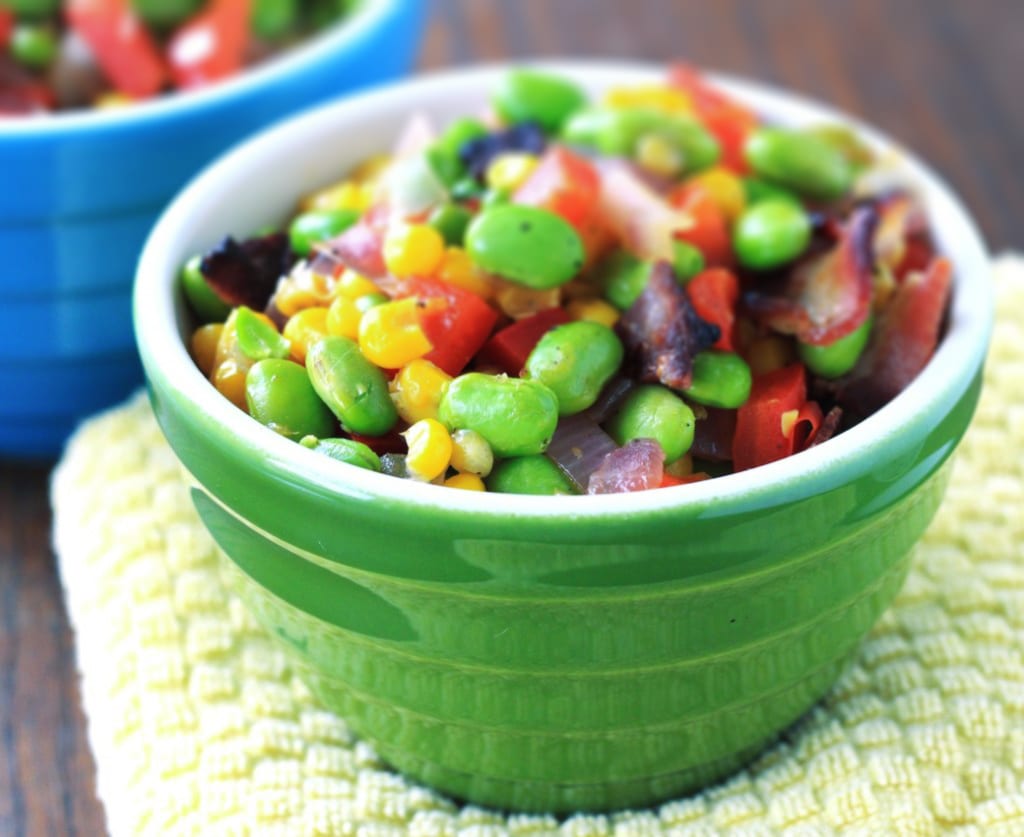 This makes it a great side dish for a picnic outside or at a potluck, since it doesn't need to be served warm.
By Taylor Kadlec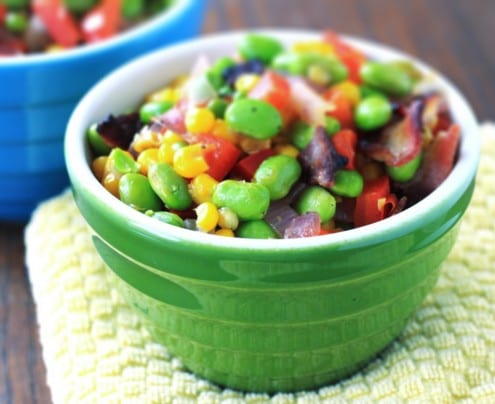 This edamame succotash happens to be my new favorite side dish. It's got a lot going for it: light, quick, healthy, and delicious. While a traditional succotash has lima beans, this recipe uses the protein-packed and more glamorous bean, edamame. I added red bell pepper, corn, red onion, and garlic to it to pack in the veggies and the flavor. Oh and did I mention it also has bacon? While the bacon adds a lot of flavor to the dish, it could definitely be left out for a vegetarian version. But if you have no reason to leave it out, definitely keep the bacon.
Edamame Succotash - Edamame and Bacon Mix
This makes it a great side dish for a picnic outside or at a potluck, since it doesn't need to be served warm.
Ingredients
4 slices bacon
1 tablespoon olive oil
1 medium red onion, diced
1 red bell pepper, seeded and diced
1 clove garlic, minced
2 cups frozen or fresh corn kernels
1 (12 oz) bag frozen, shelled edamame, thawed
1 tbsp red wine vinegar
½ teaspoon salt
½ teaspoon freshly ground black pepper
½ teaspoon sugar
Instructions
In large skillet, fry bacon until crispy.
Once cooked, set aside on paper towel lined plate.
Remove all but about 1 tablespoon of bacon grease and add 1 tbsp olive oil to same pan, and heat over medium-high heat.
Add onion and red bell pepper and cook until softened, about 5 minutes.
Add garlic and cook one more minute.
Add corn and edamame and cook until heated through, about 4-5 minutes.
Add vinegar, salt, pepper, and sugar and cook another 2 minutes.
Dice cooked bacon, then add to succotash, stirring to combine.
Enjoy!
Taylor Kadlec
Taylor Kadlec is a lover of all things food including baking, cooking, and of course, eating. She is a self-taught baker and cook, and she shares her kitchen adventures on her blog Greens & Chocolate, where healthy cooking meets sinful indulgence.