For these Key Lime Bars, you should use your favorite cookie or pastry crust to make them extra delicious.
By Vanessa Pastore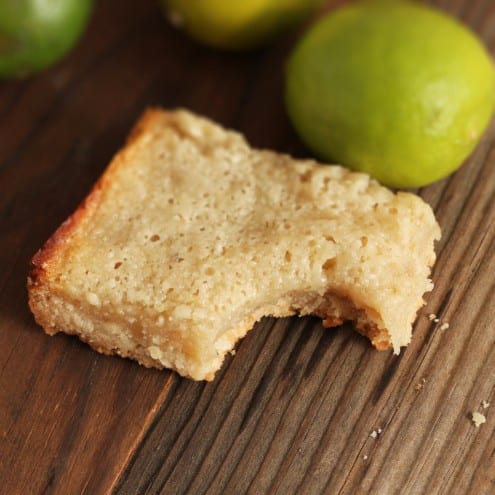 For these bars, I used a shortbread cookie crust that I cut with lime zest/juice. You can use your favorite cookie or pastry crust here, but I won't divulge my own. A girl has to have some secrets.
Key Lime Bars
For these bars you should use your favorite cookie or pastry crust.
Ingredients
½ cup Key Lime or Regular ol' Lime juice (don't be disingenuous)
Zest of about 8 Key Limes, or 3 Regular ol' Limes
1 cup of Raw Cashews, soaked for at least 2 hours (until soft) in water
1 and ⅓ cup Sugar
2 Tblsp Coconut Cream
1 Tblsp Cornstarch
Your favorite pastry crust
Instructions
First things first, if you haven't already, start soaking your cashews in enough water to cover. This can go from 2 hours, to overnight if you're that organized, this is a useful component when you want to make a custard, but you don't feel like using tofu, or have soy allergies. We've used it in the past for coconut creme pie as well. When you can squeeze them and they crumble, you're good to go.
Now if you chose key limes, you get put to task. See all these tiny cute things?
Don't be fooled! Each of these is at least 80% seeds. Grab a comfy chair, and put on some good background telly; you're going to be here for a while. If you chose regular limes, high five! You don't get to use the elitist name of key lime, but you also miss out on most, if not all, of the seeds.
What have we learned? Invest in juicing equipment of some sort. My set up was not very sophisticated, and brute strength is not the best juicer. Also, try not to zest your hands off.
Once your cashews are ready, take all of your ingredients (cashews, lime zest/juice, sugar, coconut cream, and cornstarch) to your food processor or blender and blend the hell out of it.
Blend it so hard. I mean, we want a smooth filling here, so taste to make sure no solid cashew pieces remain. A word on coconut cream: where I am, the local Trader Joe's sells cans of it. It's fantastic, thick bordering on solid, and rich like nobody's business. If you can't find it on its own, refrigerate a can of full fat coconut milk the night before, and skim the top of the solid goodness from there.
Pour your smooth filling over your shortbread/cookie base.
In your 350° F oven, bake for 25-30 minutes, or until custard is set. Once cooled, cut into bars and dust with powdered sugar and extra lime zest, if you're fancy like that.
I did that for the husband's boss, but for me? I'm eating them before they've even cooled.
Vanessa Pastore
Vanessa Pastore is a part time baker, blogger, and all around passionate about food. A vegan of 13 years, she has become obsessed with farmer's markets, international markets, and anything she can get her hands on. Everything is a potential ingredient, and every ingredient is a potential baked good. When she's not baking or blogging, chances are, she's thinking about it.