Simple salmon patties formed with onion, parsley, panko and a garlic and basil aioli that tops the bun as well. Serve with grilled pineapple slices for a smokey-sweet addition.
By Dan George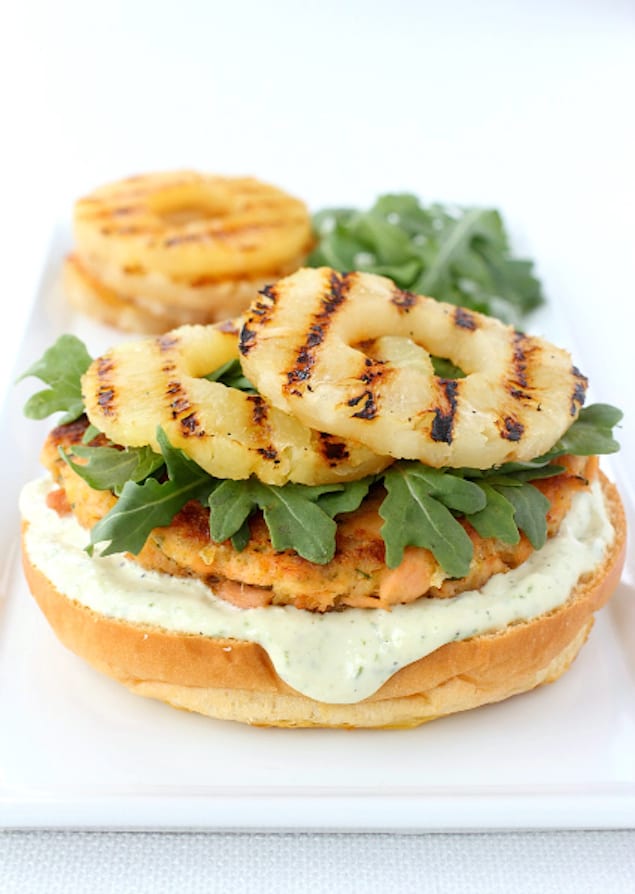 These Salmon Burgers are an easy and fresh weeknight dinner that the whole family will love.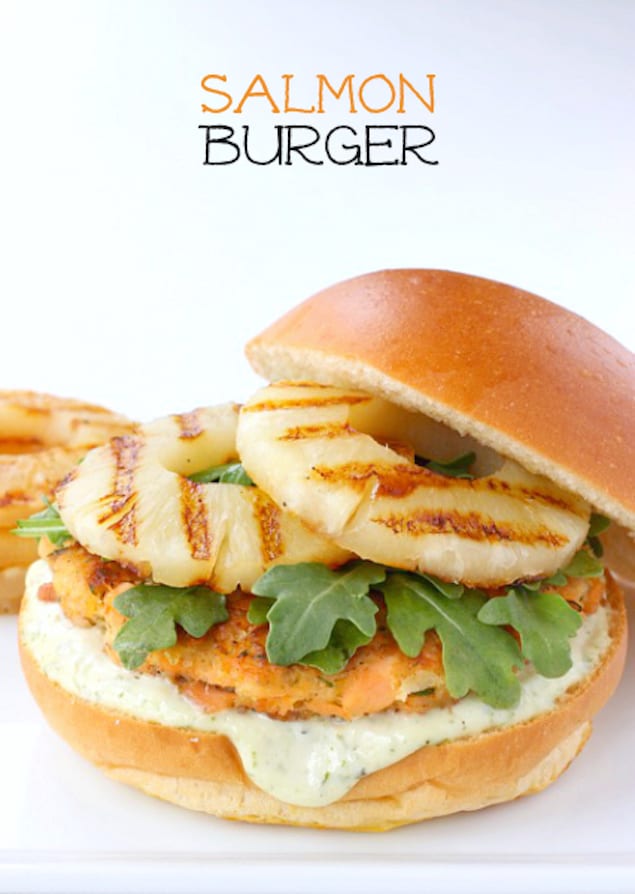 Salmon is kind of a stretch for me. I like fish but salmon was definitely a fish I had to learn to like.
But these Salmon Burgers are so good – even if you think you don't like salmon you're going to love them. The best part about these burgers is the garlic basil mayonnaise. The more you put on there the better. It kind of goes along the same lines as a tarter sauce on fish – but this mayo is so much better. It not only goes on top of the burger but is mixed in with the salmon too.
The burgers come together easily, just mix salmon into a bowl with eggs, onion, parsley, panko, lemon zest and the garlic basil mayonnaise.
Canned salmon is totally fine for these burgers, but we've also made them with a piece of leftover fresh salmon too.
See Also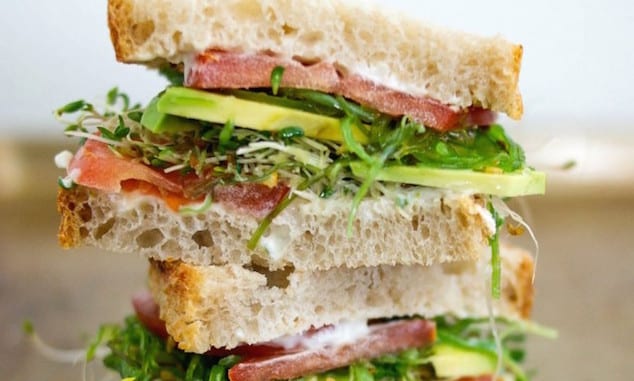 Find the recipe for the garli-basil aioli here.
Salmon Burgers with Grilled Pineapple and Garlic-Basil Sauce
Simple salmon patties made with onion, parsley, panko and a garlic-basil aioli that tops the bun as well. Serve with pineapple for a smokey-sweet addition.
Ingredients
13 oz. canned salmon
2 eggs
½ red onion diced fine
½ c. panko bread crumbs
2 T. parsley, chopped
1 t. salt
½ t. pepper
1 lemon, zested and then juiced
4 T. Garlic Basil Mayonnaise, recipe link above
2 T. canola oil
4 Hamburger buns
4 pineapple rings
lettuce for topping the burgers
Instructions
Add the salmon, eggs, onion, panko, parsley, salt, pepper, lemon zest and garlic basil mayonnaise to a bowl.
Mix gently to combine and form into 4 patties.
Heat a large skillet with 2 T. canola or vegetable oil over medium high heat.
Place the salmon burgers into the skillet and cook for 4-5 minutes until browned.
Carefully turn to the other side and cook for another 4-5 minutes.
After the burgers come out of the pan, place the four slices of pineapple in the skillet and cook for 3 minutes on each side. Remove to a plate to cool.
Place each burger on a bun and top with grilled pineapple, lettuce and more garlic basil mayonnaise.
Dan George
Born and raised in New Jersey, Dan started the web site Mantitlement as a way to learn how to cook for the first time from his wife, Christie. Christie has always been the primary cook in the household and Dan got used to having her three-course, restaurant quality meals for dinner every night. Well, it was time he learned how to do some cooking on his own, and that's how Mantitlement got started. Dan believes that everyone is entitled to having great food and drinks at home...and he can show you how to make them with his collection of recipes!