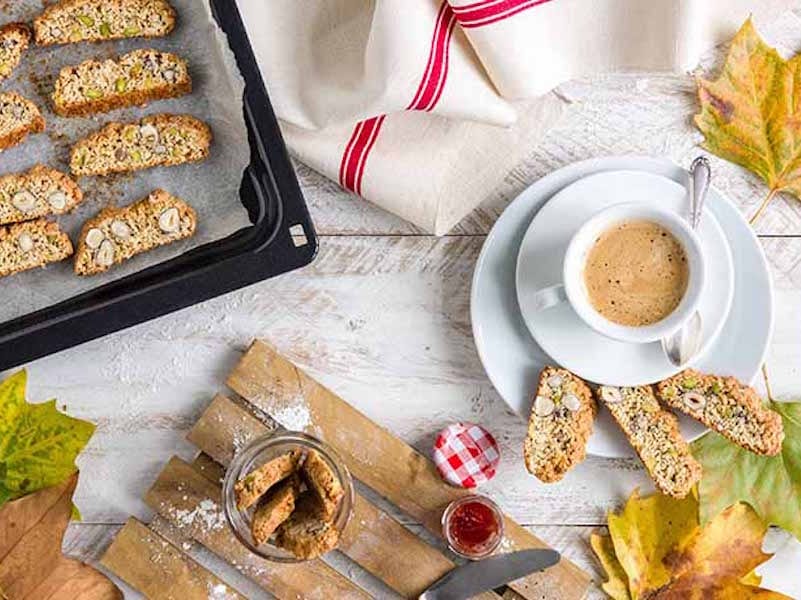 Whip up these pistachio and hazelnut biscotti, make yourself a cappuccino and start dunking.
When I was in Rome, my morning ritual for the week long holiday, was to run downstairs to this little cafe, grab a cappuccino and wait, breath-bated, to see how many biscotti I would get. The most I ever got was three. Three biscotti definitely constitutes a delicious breakfast. I'd dunk them in my cappuccino, until they softened just a little and crunch my way through the nutty goodness.
Now that I'm back, there is no more morning cafe with pistachio and hazelnut biscotti. But I'm not crestfallen, because I've just made them myself and now I can serve myself! 4 biscotti… MMMMMmmmm.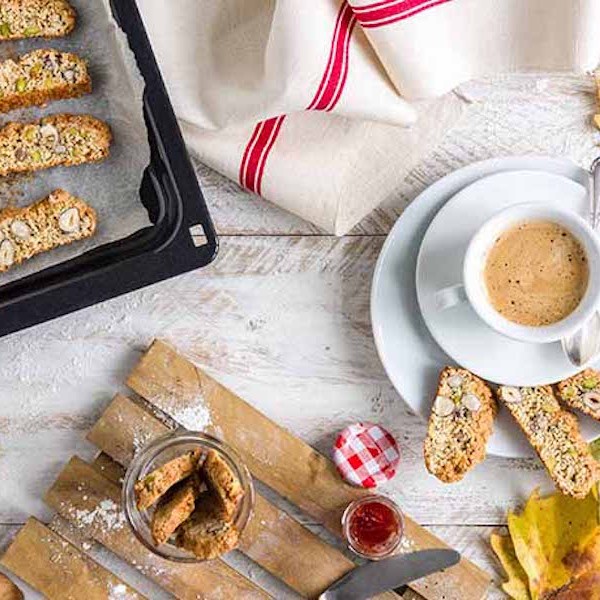 Easy Biscotti
HelloFresh
Ingredients
100

g

plain flour

75

g

golden caster sugar

¼

tsp

baking powder

1

medium egg

beaten

Few drops of vanilla extract

1

tsp

chopped fresh rosemary

25

g

Grana Padano

grated

25

g

shelled pistachio nuts

50

g

whole unblanched hazelnuts
Instructions
Preheat the oven to 200C/fan180C/gas 6 and place a sheet of baking paper on a baking tray

In a bowl, mix together the flour, sugar & baking powder.

In the centre of the mixture, make a small dip and break the egg into here.

Mix the egg into the mixture with the vanilla, cheese, rosemary and nuts.

Mix thoroughly with your hands until it forms a soft, plyable dough.

Using your hands, shape into a loaf like oval

Place on the baking tray for 25 minutes until it goes a golden colour

Set aside to cool slightly.

Use a bread knife, to cut it diagonally into thin 1 cm pieces.

Place back onto the baking tray (with the cut side facing upwards) and return to the oven for another 5 minutes, until crisp and golden.

Cool, then serve.
HelloFresh
At HelloFresh, we want to give people the simple knowledge they need to cook delicious, healthy meals. Whether you want know how to boil an egg or cook an elaborate dinner menu, you know who to call!