The pierogi, a Polish comfort food that is well-loved in Michigan and beyond into the Midwest is now being served with a twist by some of Detroit's favorite chefs, Joe Giacomino and John Vermiglioof of Grey Ghost.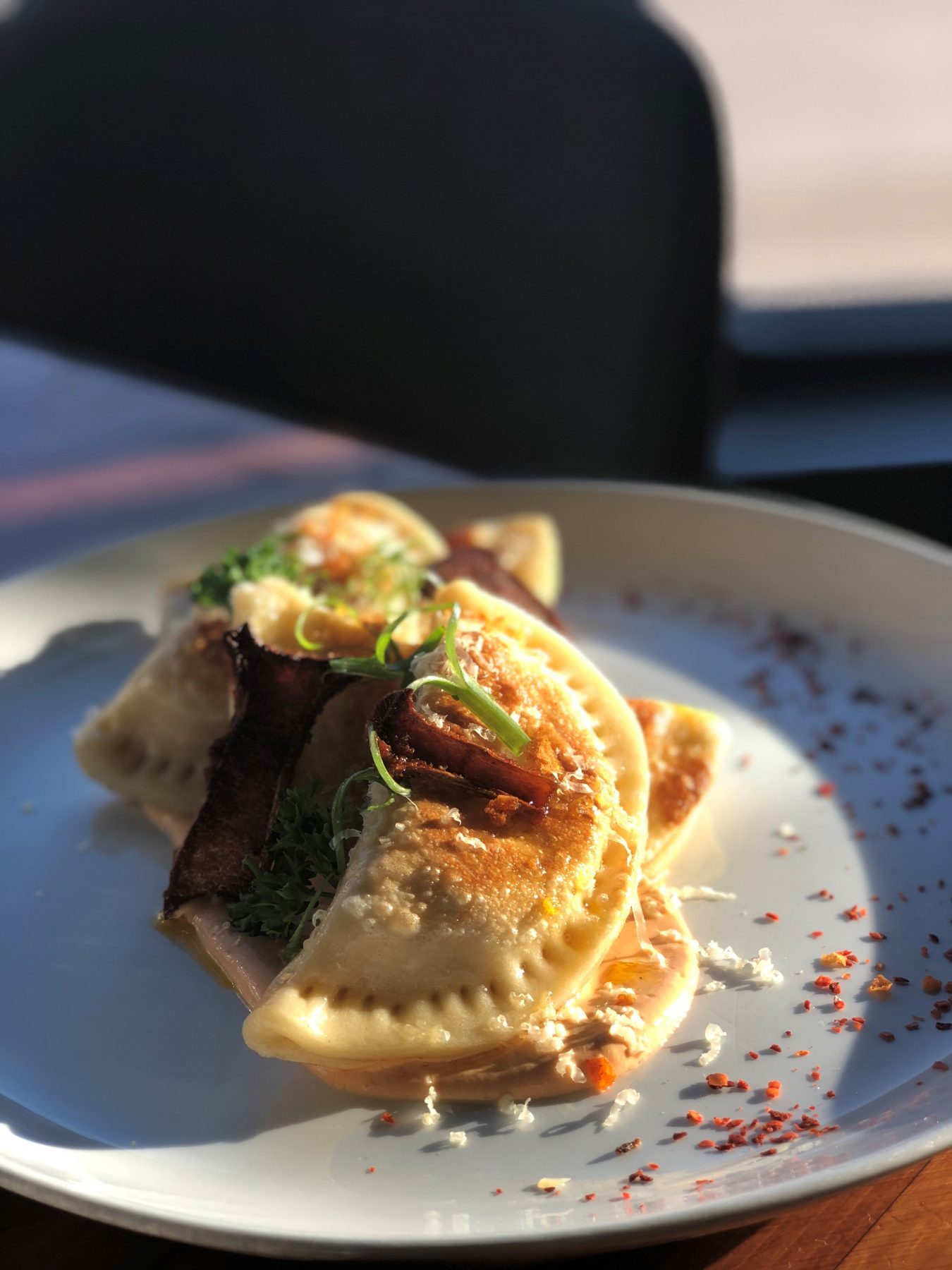 What happens when you combine a beloved Midwestern dish with Polish roots and some of Detroit's best chefs? Delicious, delicious comfort food. For Co-Chefs Joe Giacomino and John Vermiglioof Grey Ghost in Detroit, the answer is a crave-inducing ode to the pierogi: Loaded Potato Pierogis with Bacon Mushrooms. Their dumpling dough that wraps around the potato-cream cheese filling is made with sour cream and served seared with a garlic-chili paste, sour cream, and vegetarian bacon mushrooms that have been smoked to perfection. It's loaded with umami and such a refreshing presentation for the classic pierogi from one of our personal-favorite Detroit restaurants.
Why present a new rendition of the pierogi? Chef John wanted to pay homage to the strong Eastern European culture that is such a big part of Metro Detroit. Growing up in the area, he fondly remembers being introduced to the warm, happy flavors of the pierogi as a child.
"I knew it was a risky maneuver to recreate something with such a rich and storied history in the area, but I couldn't shy away from the challenge. Putting our own touches on a classic dish is what regularly inspires the menu here. My favorite memory of eating pierogis stems from my childhood, when we would go to the Michigan State Fair. There was always a huge variety of food vendors, with the fancy light up booths, I would walk by funnel cake stands and corn dogs on a stick, just to get to the Polish food cart. I would order as many pierogis and stuffed cabbage as my parents would allow, and eat them all until I couldn't move."
And bacon mushrooms, what's that about? Chef John explains…
"The accoutrements for this dish were inspired by a loaded baked potato, of which I strongly believe has to have some bacon on it to meet "loaded" qualifications. We always keep our vegetarian guests in mind when we write our menus (hence the menu section "Not Meat") and felt strongly that we wanted this dish to be available to them as well. Marinated, roasted and smoked trumpet mushrooms were the perfect way to bring the goodness of salty, smoky bacon to the dish, without the use of actual bacon.
See Also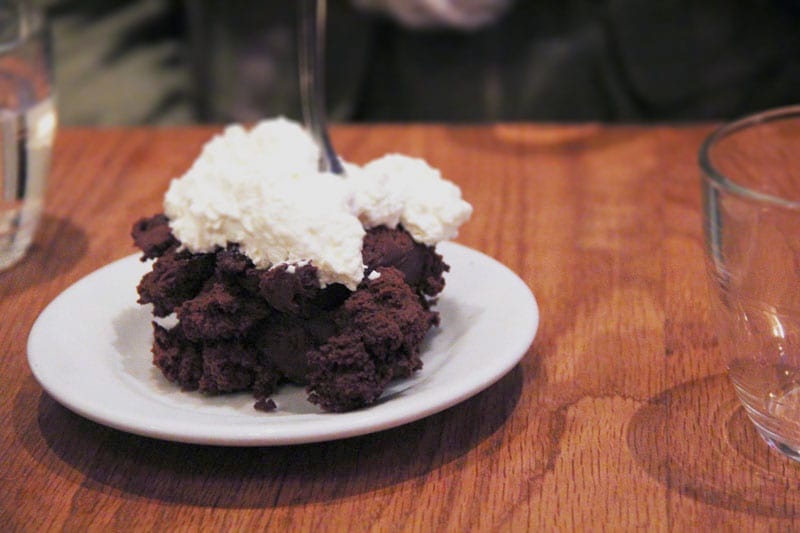 Chef John offered up the perfect drink pair with this dish that we can't stop thinking about. Imagine a riff on the Old Fashioned, made with Irish whisky, smoked sea salt and maple. At Grey Ghost, this drink is called Strange Clouds and it's the perfect sweet and smoky match to the hearty potato-based dish.
Besides being excited to showcase one of his childhood favorites on the menu, Chef John is excitedly awaiting tomato season's arrival in Michigan. Be prepared to see them all over the Grey Ghost menu when they do make their debut! In the meantime, go try their take on pierogis and check out the recipe below.
Print

Detroit's Grey Ghost Plays with The Pierogi: Loaded Potato Pierogis with Bacon Mushrooms
---
Author:

Grey Ghost's Chefs Joe Giacomino and John Vermiglio
Dough:
1900 g

– All-purpose Flour

2 Tbsp

. – Salt

5

– Eggs

3 tbsp

. – Sour Cream

2 ½ Cups

– Warm Water
Filling:
6

– Russet Potatoes

3

lbs. – Cream Cheese

1/4 oz

. – Chives

1/4 oz

. – Curly Parsley
Bacon Mushroom:
12

– King Trumpet Mushrooms

1/4 cup

– Soy Sauce

2 tbsp

. – Worcestershire

2 oz

. – Paprika

1 oz

. – Dried Thyme

1 tsp

. – Salt

1 tsp

. – Black Pepper

1/4 tsp

– Cayenne

1

lbs. – Apple Woodchips
Crema:
1 cup

– Sour Cream

1/4 cup

– Lan Chi Garlic Chili Paste
---
Instructions
Dough:
Combine all ingredients in mixer and mix for 8 minutes on medium speed with dough hook attachment. Set aside.
Filling:
Peel the potatoes and blanch them in boiling water until a butter knife can pierce the potato without resistance, around 14 min.
Once potatoes are cooked, run them through a food mill. Put the milled potatoes into your mixer and, using the paddle attachment on speed 2, slowly add the cream cheese until completely incorporated.
Once incorporated, chop the herbs and fold into the potatoes, season with salt to taste. After the filling has been seasoned, lay it out on a sheet tray about ½ in thick, and cool in the refrigerator for 4 hours or until firm.
Pull the filling from the refrigerator and cut into circles using a 2 in ring cutter. Cut each circle in half, giving you a half circle for the filling.
Bacon Mushroom:
Slice the king trumpet mushrooms into ¼ in slices. Mix all other ingredients and dress the mushrooms. Allow to marinate for 2 hours, then drain the mushrooms. Place mushrooms on wire rack and use apple woodchips to smoke mushrooms for 30 min.
Crema
Using whisk attachment on mixer, whip the sour cream for 10 min. Once whipped, add in garlic chili paste and season with salt to taste.
Pierogi Method:
Using a pasta roller or rolling pin roll dough out to ¼ in thick. Once rolled, use a 3 in. ring cutter to cut out pierogi shells. After the rings have been cut, brush them with egg wash, place one half circle of the filling in each. Fold the pierogi shell in half over the filling and pinch closed with your index finger and thumb. Use a fork to go around the pinched edge and crimp shut using the tines of the fork.
After the pierogi have been rolled and crimped, blanch in boiling water until they float and shock in an ice bath.
To serve:
Sear the pierogi in clarified butter over medium heat until golden brown on both sides. Spread a pool of crema on bottom of plate and place seared pierogi on top of crema. Sauté 10 slices of bacon mushroom, spread on top of pierogi, garnish with sliced scallion and curly parsley, serve and enjoy!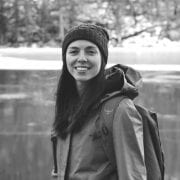 Annelise McAuliffe
Mandatory family outings to the Detroit farmers' market and nightly home-cooked meals cultivated Annelise's respect and curiosity for food. A graduate of The Culinary Institute of America, she spends her free time in New York City recipe testing, eating breakfast all day, and dreaming up international culinary adventures.