Sponsored Post: We're celebrating Vinho Verde wines this season. These Portuguese bottles are young, fresh, vibrant, and affordable. It's the perfect wine for all your favorite summer recipes, beach trips, and vacations. It truly is like no other wine in the world.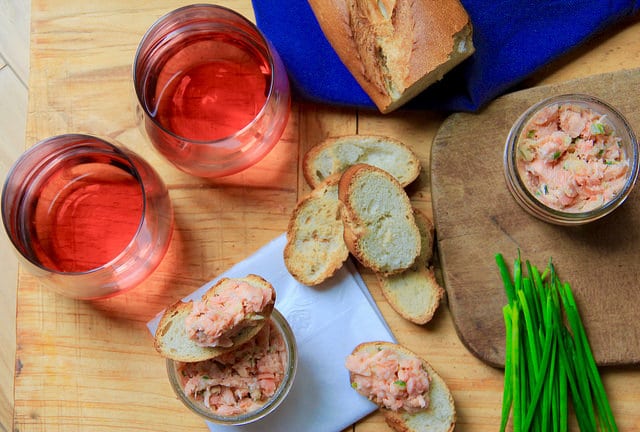 European travel is on my mind right now. It has been too long since I have visited and I can just taste it. I'm excited to say that my husband and I started making travel plans last night, but we need to get through the summer months first!
Portugal in particular is a place I would like to go, as Portuguese cuisine stands out with its freshness, offering a large selection of fish and seafood dishes along with green wines from the Vinho Verde region. And, of course desserts like the Pastéis de Belém (Portugese custard tart) is a sin worth committing. I also really like that the favorite local hobby among the Portugese people is eating and sipping wine. I think we could be fast friends.
Though French by origin, rillettes are a country cousin of the more sophisticated galantines, terrines and pates and every storefront charcuterie (local pork butcher shop) seems to boast its own version. Not all recipes have to be complicated and intimidating, and making rillettes at home is just fun.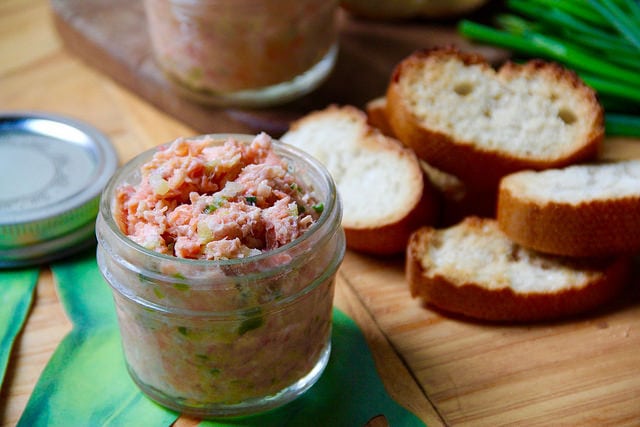 The Portugese say there are 1001 ways to prepare cod, one of their most popular dishes, but sole and sardines are also a common staple with salmon topping the list too.
My rillettes are made by blending fresh salmon and butter with hot-smoked salmon to give the rich spread a flavor that millennials could only call…extra! I also pour melted butter over the top to seal in freshness, a trick learned from Chef Thomas Keller of The French Laundry. The richness of this dish requires acidity and that is where Vinho Verde wines come into play.
Vinho Verde Portuguese wines are young, fresh, vibrant, and affordable. They are perfect for a beach picnic, to sip on while vacationing, and being high in acidity they pair perfectly with all of your favorite summer entertaining recipes, like my rillettes!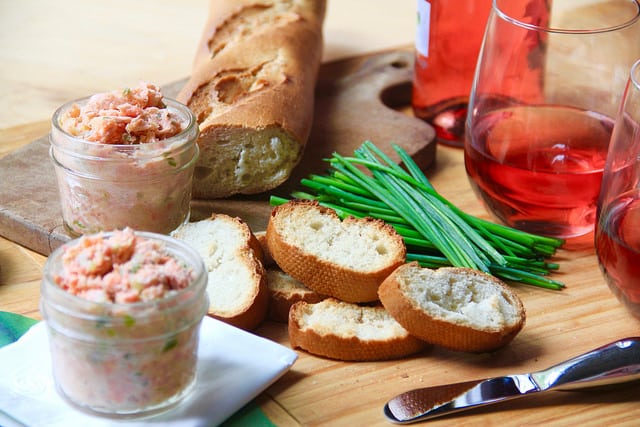 Comprised of nine sub-regions in the Douro Valley, each with unique micro-climates but generally dominated by granitic soils, the Vinho Verde wine region starts just below the Portuguese-Spanish border, and extends all the way to the Atlantic Ocean, where it meets with the city of Port (where most Port wine is made).
See Also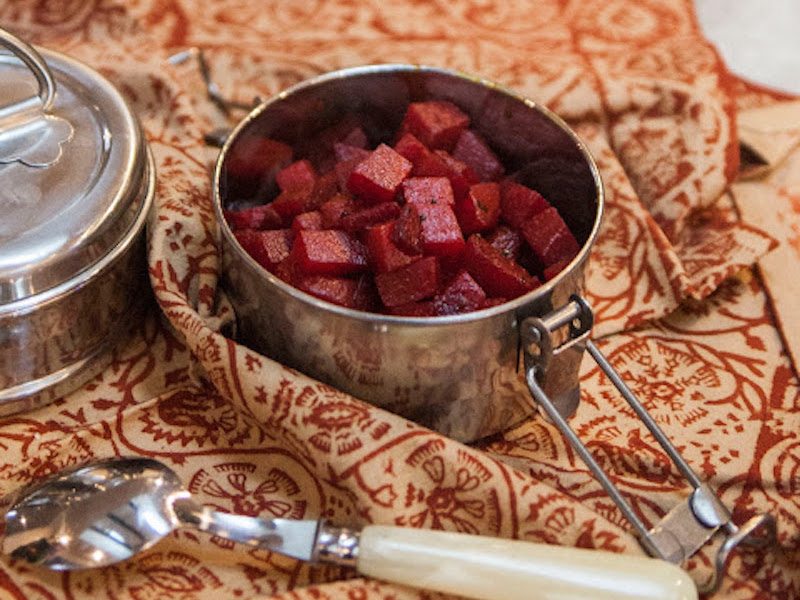 The wines we see in the U.S. from Vinho Verde are typically blends of white grapes that are indigenous to Portugal. You'll also find some nice rosés, which is the wine that I was sent and that I incorporated into my recipe. A charming shade of raspberry, with a slight fizz sensation, it was lively and fresh while simultaneously intense and well-balanced.
The Vinho Verde region produces wines that transition seamlessly from season to season, and that is why it's always the right time for a Vinho Verde Wine.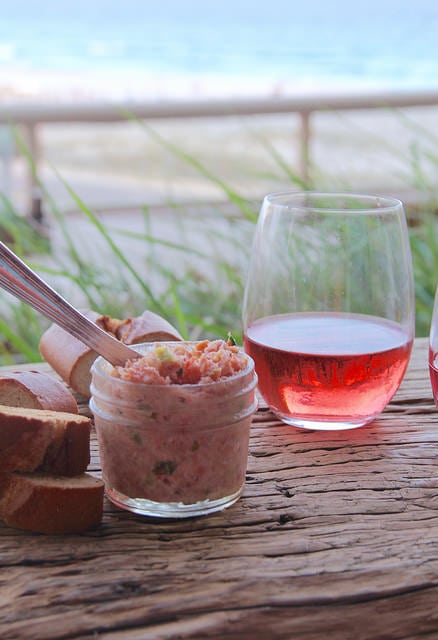 Print

Vinho Verde Rosé Wine and Salmon Rillettes
---
1

pound center-cut (skinless and boneless wild caught salmon fillet)

2 tablespoon

anise-flavored liqueur (such as Pernod)
Freshly ground pink sea salt
Freshly ground pepper

1

celery rib

1

leek (halved lengthwise)

1

small onion (quartered lengthwise)

1

bay leaf

1 teaspoon

black peppercorns

1 cup

Vinho Verde rosé

4 cups

water

6 tablespoons

unsalted butter (softened)

2

large shallot (minced ( heaping

1/4 cup

))

1 tablespoon

sour cream or creme fraiche

1/4

pound or 8 ounces of skinless hot-smoked salmon (flaked)

2 tablespoons

snipped fresh chives

2 1/2 tablespoons

fresh lemon juice

1 tablespoon

extra-virgin olive oil

1/4 teaspoon

smoked sweet paprika
Clarified butter for sealing (optional)
Toasted baguette slices (for serving)
---
Instructions
Place the salmon fillet in a shallow baking dish and sprinkle it with anise liqueur, 1 tablespoon on each side. Season with salt and pepper, cover it with plastic wrap, and let it sit at room temperature for 30 minutes.
In a heavy bottom large saucepan, add leek, celery, bay leaf, peppercorns, onion, wine, and water, and bring to a boil. Reduce to simmer for 20 minutes and add the fresh salmon to the pan. Cover and remove from heat immediately. After 10 minutes, remove the peppercorns, cover and refrigerate for 1 hour. Remove the salmon and flake the salmon.
While the salmon is in the refrigerator melt 1 tablespoon of the butter in a skillet. Add the shallot and cook over moderate heat until softened. Do not brown. Let cool.
In a medium bowl, whisk the remaining 5 tablespoons of butter until smooth. Whisk in the sour cream. Add the cooled shallot, along with the flaked poached and flaked hot smoked salmon, chives, lemon juice, olive oil and paprika and stir until combined. Season the rillettes with salt and white pepper.
Pack the rillettes into ramekins, canning jars, or pots, leaving a half inch of space at the top of each. Refrigerate 30 minutes. Top with melted clarified butter, and seal with a lid or by pressing a sheet of plastic wrap onto the surface.
The rillettes can be refrigerated for up to 3 days.
Serve with toasted baguette slices.
Suggested Wine Pairing: Vinho Verde white and rosé.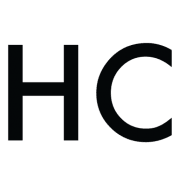 Susan Benton
Susan Benton is the go to resource for foodies visiting Pensacola to Panama City Beach. She is a food and travel journalist with published articles and photography in many local, regional and national publications. Her website is 30AEATS.com where she writes about the secrets of Gulf Coast food.