Curried Potato and Cauliflower (Aloo Gobi) and Quinoa Pilaf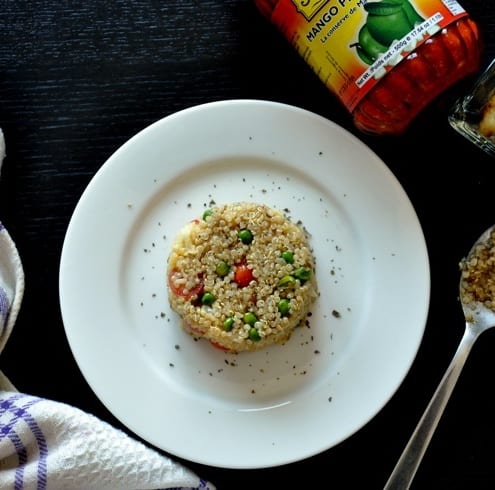 If you love the Indian curried dish of cauliflower and potatoes a.k.a Aloo Gobi as much as Schuchi Mittal does, then you have stumbled upon the right recipe.
By Shuchi Mittal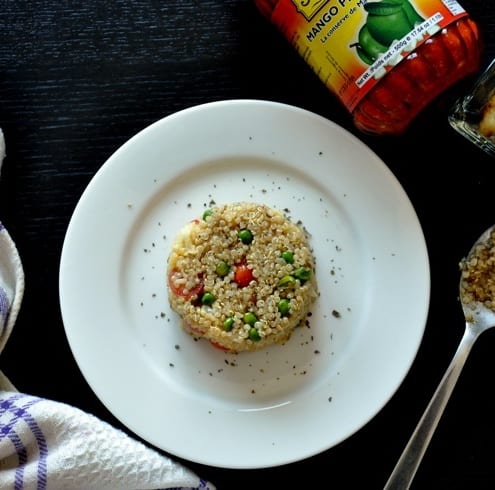 Fragrant & flavorful, I can never say no when a bowl of this presents itself in front of me. Such is my obsession that in the anticipation & excitement of it all, I often cook more than two of us can devour. And thus this post. Cauliflower, with its roasted nutty tang and potatoes – well what can I say about potatoes – with their ever-so-versatile texture and taste make this dish a perfect combination. And it provides a balance to almost anything you eat with it – be it rice, breads, salad or simply on its own.
Here is the great & simple way to re-create this everyday dish into something slightly gourmet.

Curried Potato and Cauliflower (Aloo Gobi) and Quinoa Pilaf
A healthy grain + An Indian favorite = A great weeknight dinner
Ingredients
For the Aloo Gobi
½ cauliflower, cut into small florets
1 medium potato, diced into cubes
½ cup frozen peas (optional - I add them as I love the color it gives the otherwise bland looking dish!)
1 teaspoon cumin seeds
½ teaspoon asafetida powder
2 teaspoons coriander powder
½ teaspoon turmeric powder
2 tablespoons olive oil
Some fresh coriander to garnish
Salt & chili to taste
For the Pilaf
½ cup quinoa, cooked as per instructions on packet (you can use brown rice, semolina, farro or couscous as well - whatever you find easily in your neighboring supermarket)
7-8 cherry tomatoes, halved
¼ onion, finely chopped
1 teaspoon olive oil
½ teaspoon red pepper flakes (optional)
Salt (as required)
Instructions
Make the Aloo Gobi
Heat oil in a non-stick pan.
Add cumin seeds and cook till they brown and begin to splutter.
Add the remaining ingredients along with ½ cup water and mix well. Cover and cook on medium heat for 8-10 minutes, or till the potato and cauliflower are soft and thoroughly cooked.
Turn heat to high, and sauté for 4-5 minutes till any excess liquid is absorbed and the edges of the vegetables begin to get brown & crisp.
Remove from heat, add fresh coriander and keep aside.
Make the Pilaf
Heat the oil in a non stick pan.
Add onions and tomatoes and cook for a few minutes, just till the tomatoes start to wilt.
Add the cooked quinoa and aloo gobi prepared earlier. Mash the gobi slightly, mix well and sauté for another 2-3 minutes.
Adjust salt and add red pepper flakes (if you like that kick!), remove from heat and serve hot with pickle and yogurt.
Shuchi Mittal
Shuchi cooks with the heart of a poet. Banker turned chef, she runs the 29. Private Kitchen in NYC focusing on social tasting events, dining experiences and small-scale private events. Using simple & wholesome ingredients, she likes to re-invent homemade Indian flavors into modern tapas & small plates. Her dream? To cook, feed, write, and eventually open her own communal dining cafe - with a published recipe book on the stands.