This Crockpot White Chicken Chili is a healthy, easy dinner recipe that will help you get cozy after a long, busy day.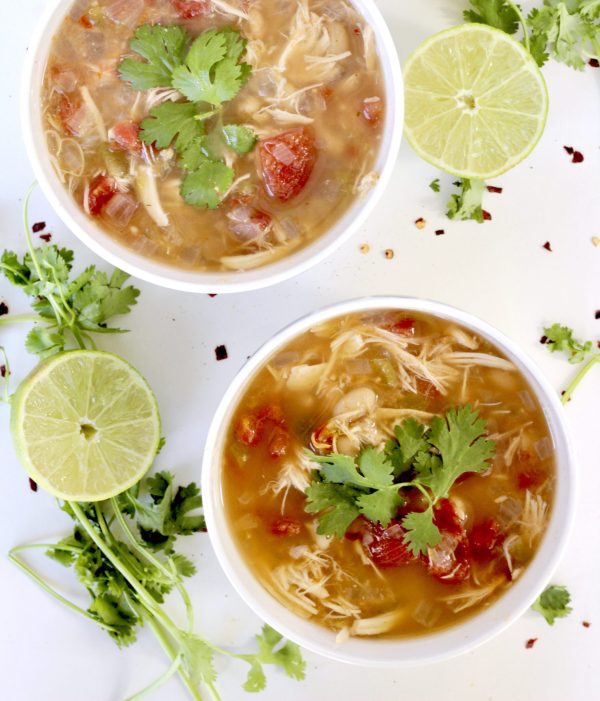 The weather really took a turn here in Georgia and I'm not mad about it ( yet ? ) ask me that in a couple months and i might be a litttleee mad about it. As explained in my healthy crock pot honey garlic chicken recipe, I was not built for the cold.
Cold weather makes me crave all sort of creamy, comfort foods — and since I pretty much live in my leggings once it hits the 70's, it's easy to get off track with healthy eating. All I want to do is cuddle up with a blanket, my laptop, some warm cookies and coffee and call it a day.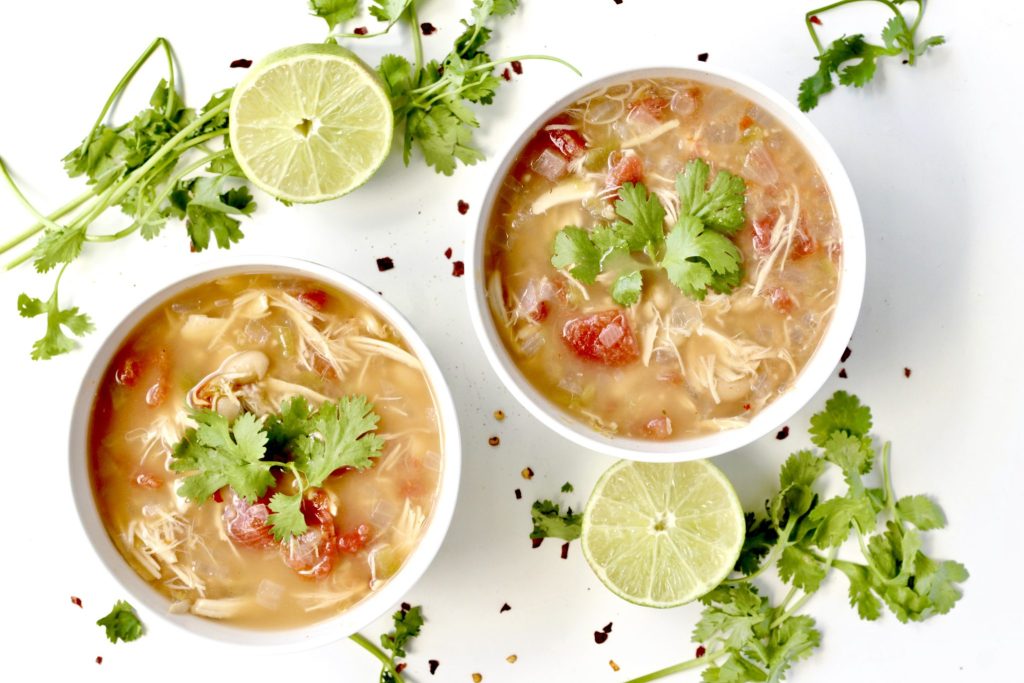 This slow cooker white chicken chili is the answer to my fall comfort food cravings, without breaking my healthy lifestyle. I genuinely feel better when I eat whole, real foods, so this dish is perfect for me (and hopefully you, too!)
The secret is in the toppings. Really though. Topping off your slow cooker white chicken chili with plain greek yogurt (instead of sour cream), avocado, a little lot of nutritional yeast and some salsa or hot sauce gives this chili an extra kick but also ups the cream factor while keeping it 100% healthy.
I've never been a huge cheese lover, except for goat cheese, but adding some pepper jack or a little mozzarella never killed anybody! A little goat cheese would probably be pretty good in here, too! I love adding it to my red sauce to create a creamy pasta sauce.
This healthy slow cooker white chicken chili has endless possibilities. It's the perfect recipe to host a party and set out all sorts of toppings to build your own bowl. Being one of seven kids, pretty much every dinner was build your own and I actually prefer that now.

Crockpot White Chicken Chili
This Crockpot White Chicken Chili is a healthy, easy dinner recipe that will help you get cozy after a long, busy day.
Ingredients
1.5 lbs Chicken
1 Large Sweet Onion
8 oz Canned Green Chilis
1 tbsp Minced Garlic
32 oz Chicken Broth
2 cans Cannellini Beans
1 whole Lime
1 tbsp Cumin
1 tsp Italian Seasoning
1 can Diced Tomatoes
½ tsp Crushed Red Pepper Flakes
½ tsp Ground Red Pepper
Instructions
Trim the fat and skin off your chicken breasts and place into your crock pot.
Dice your onion and add it on top of the chicken.
set aside one cup of cannellini beans for later.
Add in remaining ingredients, adding the chicken broth last.
Place lid on top and cook for 4-6 hours on high or 7-8 hours on low.
When the chili is almost done, remove the chicken and shred it on a cutting board. Take the one cup of cannellini beans you set aside, and blend with a little bit of the broth from your crock-pot. This creates a thicker chicken stock to add back into the crock pot.
Place the chicken and sauce mixture back into your crock pot, stir and finish cooking.
Taste your chili and add salt or seasonings to preference.
Notes
Suggested toppings: plain greek yogurt, nutritional yeast, avocado, salsa, hot sauce, pepper jack cheese.