Sponsored Post: Check out these easy entertaining tips for all your winter holidays and dinner parties, complete with charcuterie and pâté. This is a sponsored post in collaboration with Les Trois Petits Cochons. 
This decadent bite is everything our tastebuds want. Creamy foie gras is sandwiched between homemade profiteroles with quince. Serve with a glass of Champagne for a French treat.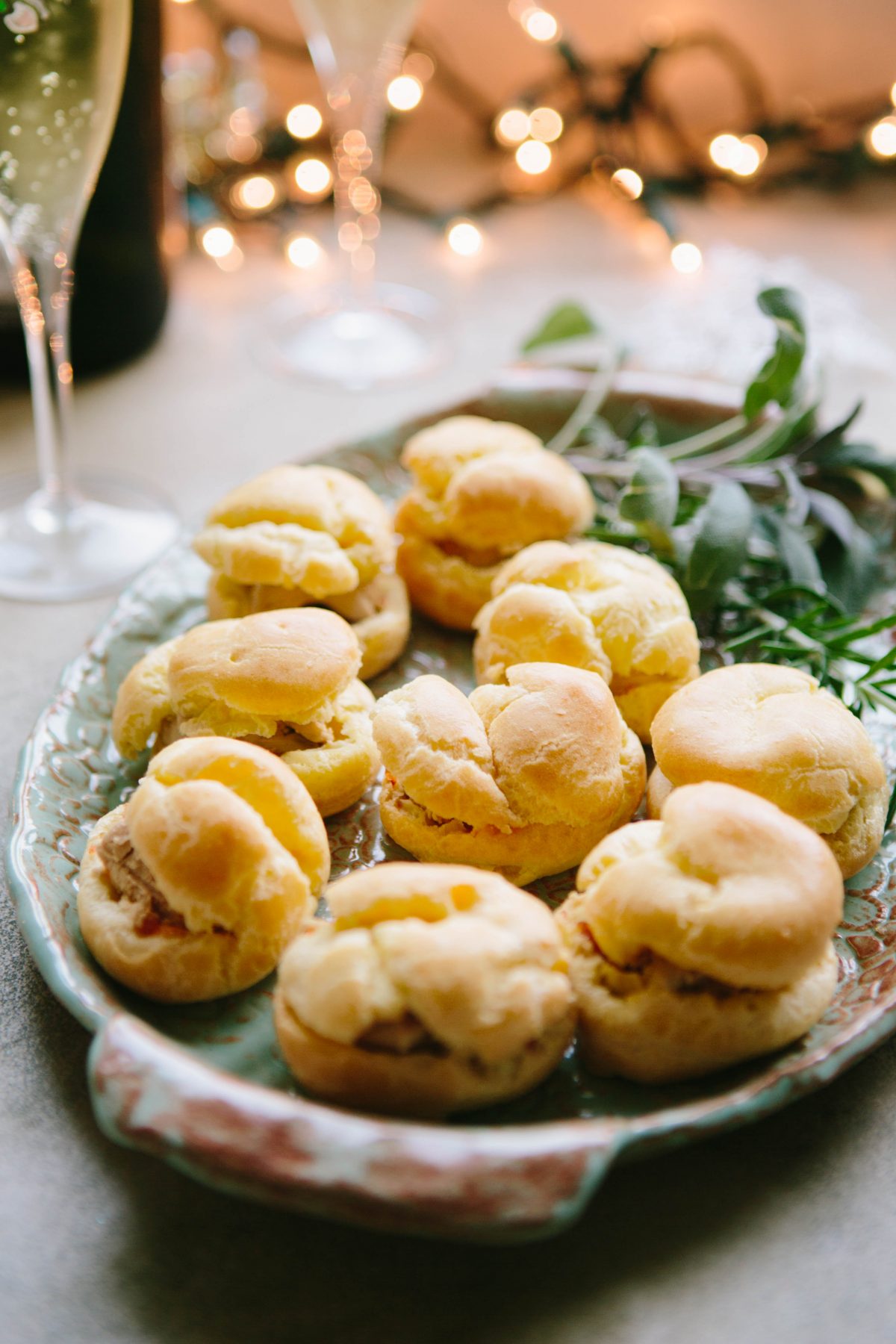 It's almost New Years Eve, and it's time to get a little fancy. Bust out the Champagne flutes, invite over your favorite friends, and get ready to celebrate 2018 in style.
The idea of going out on New Year's Eve is about as appealing to me as a vacation in Siberia. The crowds, the prices, the hiked-up cab fare, the hype… I'm just not interested. My favorite way to ring in the new year is at home, or someone else's home, with a few good friends and lots of great food.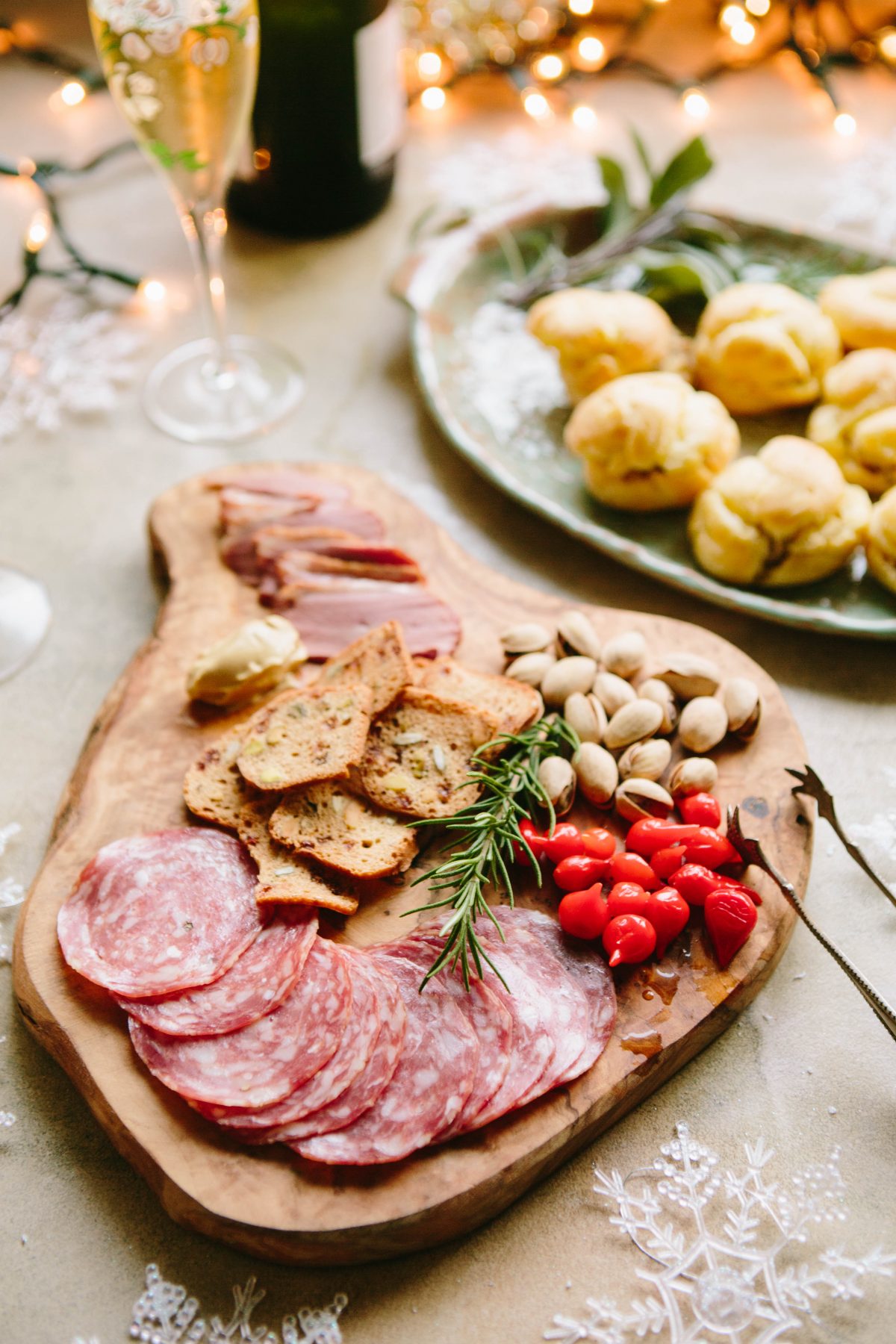 This is the time to go all out – lobster, filet mignon, caviar, and in this case, foie gras. I've partnered with Les Trois Petits Cochons to bring you an easy and elegant appetizer that will impress even your most pretentious guest. Light and fluffy profiteroles are stuffed with a swipe of sweet and tangy quince paste along with a smooth and delicate slice of Les Trois Petits Cochons Bloc de Foie Gras de Canard. It makes the most perfect little bite, and pairs fabulously with Champagne.
If you're not familiar, profiteroles are best known as being the star of the cream puff, only they don't have to be sweet, they're wonderful with savory preparations too. They sound difficult to make, but they're actually quite simple. They start with a batter known as pâte à choux, or choux pastry, which is made by cooking together flour, water, butter, and then whisking in lots of eggs. It gets piped into little mounds and baked into golden puffs of melt-in-your-mouth goodness. They're delightful right out of the oven, but they also freeze beautifully, making this recipe great for making ahead.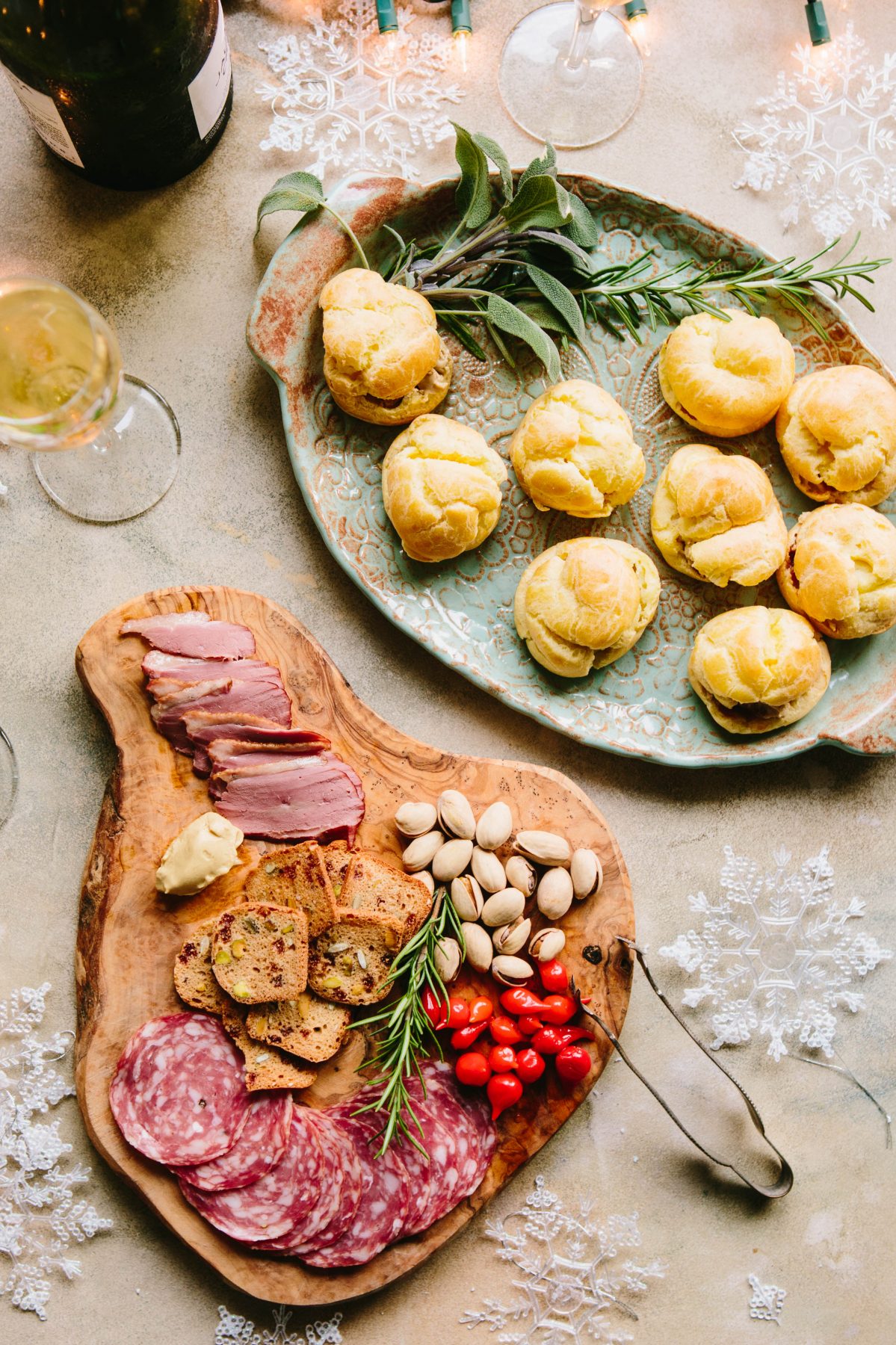 The rest of the preparation is made easy thanks to a few top quality pre-packaged ingredients. Slice the profiteroles in half, spread with a swipe of quince paste, then top with a slice of Les Trois Petits Cochons Bloc de Foie Gras de Canard, then cover with the other half of the profiterole. Thats it! The salty, intensely creamy foie gras is so lovely with the slight sweetness and tang of the quince paste, and the light-as-air profiteroles make the perfect vehicle.
Les Trois Petits Cochons Bloc de Foie Gras de Canard is a mousse made with pure duck foie gras, Sauternes wine, Cognac, cream, and spices. It absolutely melts in your mouth and is such a special treat to serve to friends. In addition, Les Trois Petits Cochons offers a wide selection of charcuterie and accouterments perfect for making an incredible board for snacking. I put together a plate of their Saucisson Sec and Smoked Duck Breast along with these tiny sweet peppers called Petits Poivrons and the spiciest, most delicious Dijon mustard I've ever had.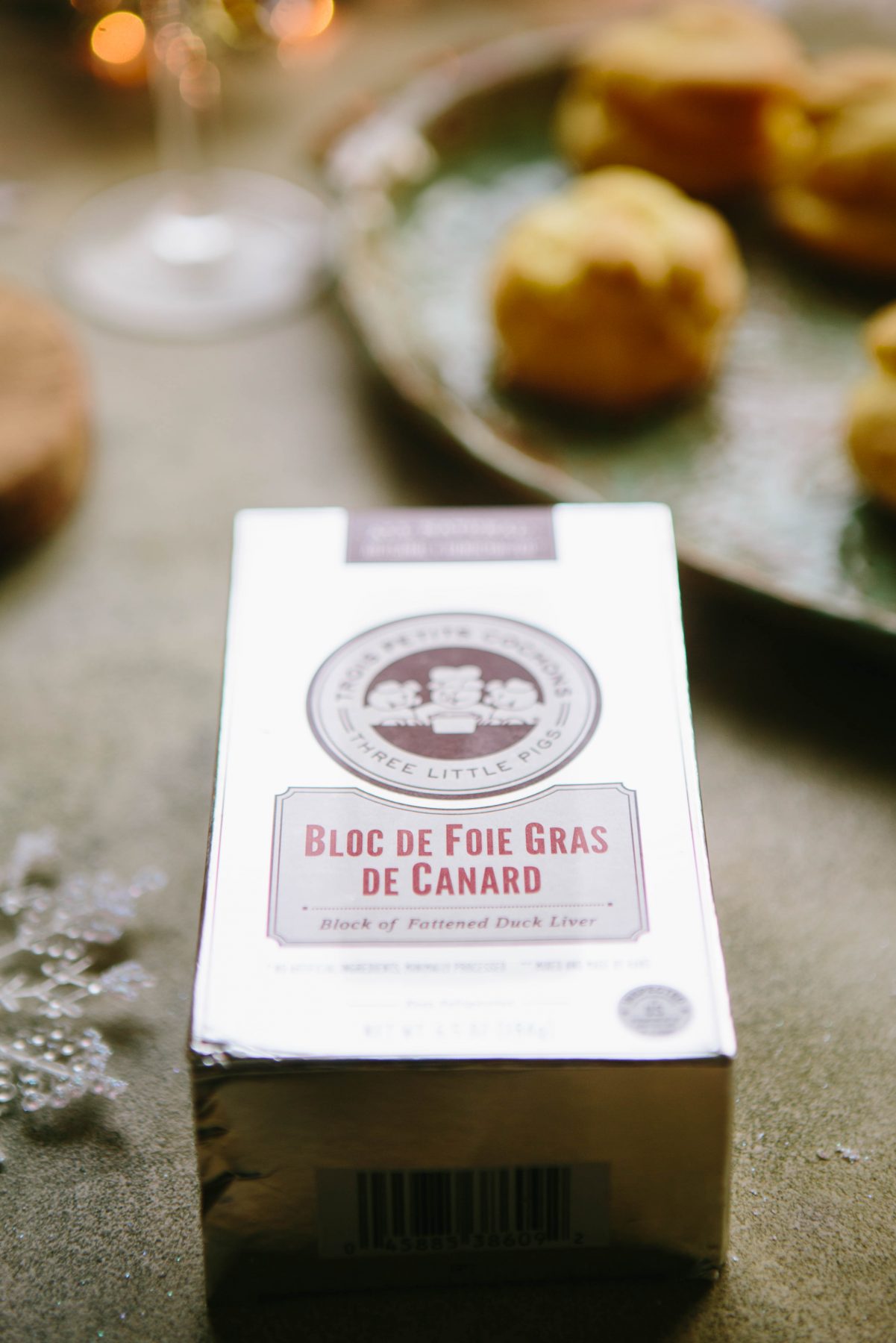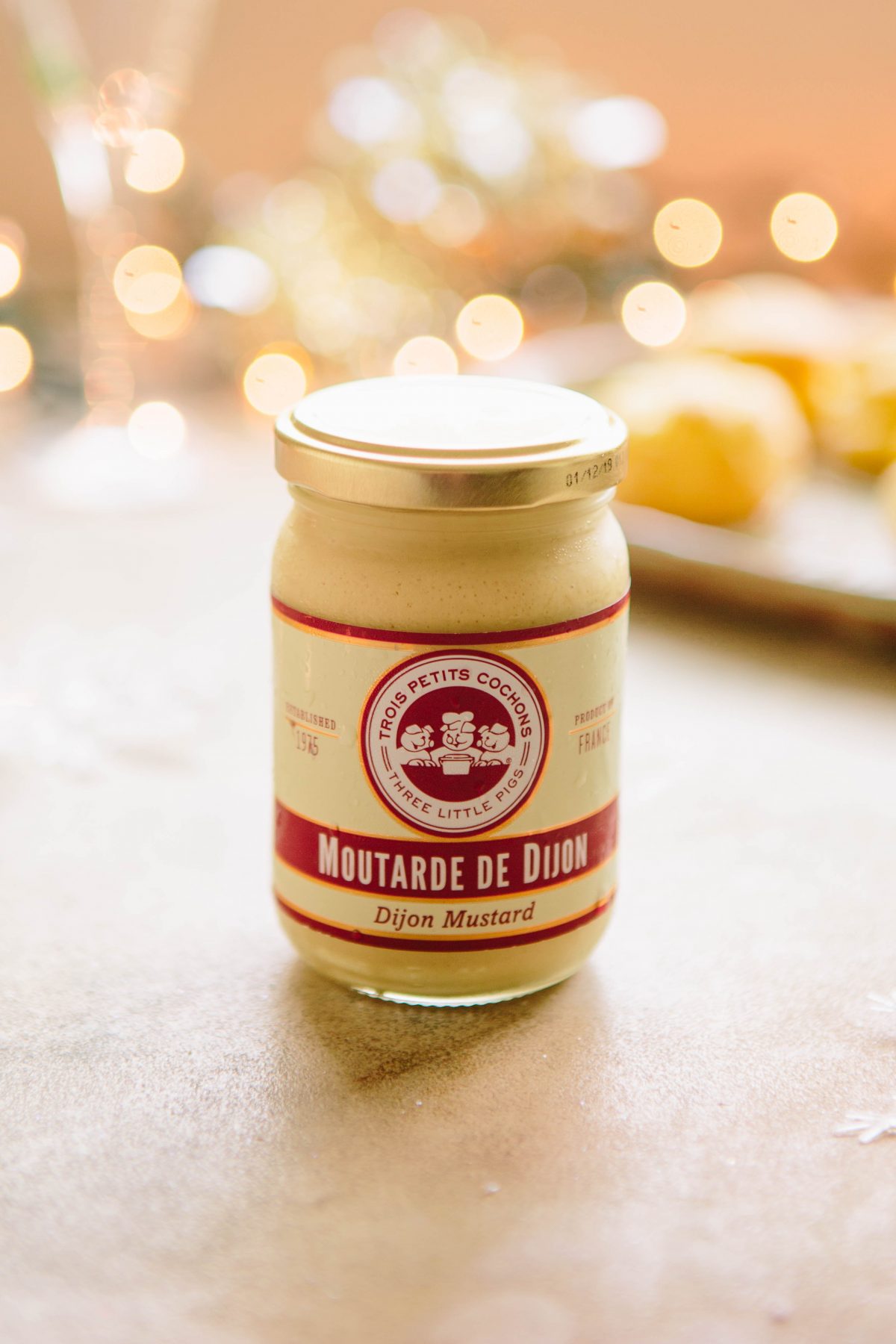 This charcuterie board + a nice cheese plate + these Profiteroles with Foie Gras and Quince = the best New Years Eve spread you can imagine. Now let's get that Champagne on ice, because it's almost time to start poppin'.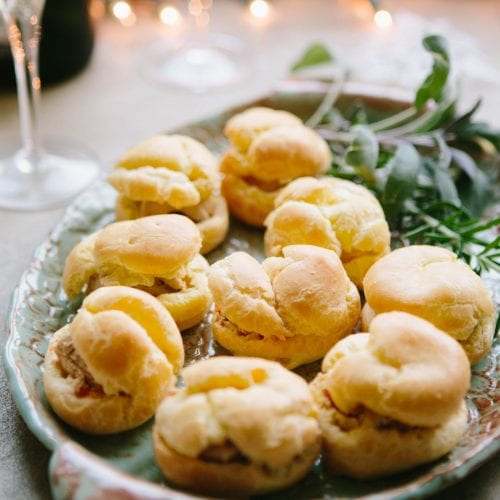 Foie Gras Profiteroles and Quince
Servings
20
-25 profiteroles
Ingredients
1 1/4

cups

water

1

teaspoon

salt

1

teaspoon

sugar

8

tb

butter

1 1/2

cups

all purpose flour

6

eggs

5

ounces

quince paste

1 6.5

oz

package Les Trois Petits Cochons Bloc de Foie Gras de Canard
Instructions
Preheat the oven to 400 degrees and line two sheet pans with parchment paper.

Add water, salt, sugar, and butter to a large saucepan, then bring to a boil. Lower the heat, then add the flour. Use a sturdy wooden spoon to stir the mixture until a pasty dough forms. Continue mixing for about two minutes until it pulls away from the sides of the pot.

Transfer dough to a stand mixer fitted with a paddle attachment (alternatively you can use a hand mixer or a wooden spoon). Mix in the eggs one at a time, being sure to fully incorporate each one before adding the next. Beat until the dough forms thick, glossy ribbons, about 2-3 minutes, then transfer to a piping bag or zip-top bag.

Cut a slit at the tip of the bag, then pipe ping pong ball sized mounds onto the baking sheets with 1 inch in between.

Bake until puffed and lightly golden, about 20-25 minutes. Let cool completely. Profiteroles may be frozen for up to 2 months at this point. Refresh in a 300 degree oven right before serving.

When ready to serve, slice each profiterole in half horizontally, then spread with a small layer of quince paste, about a teaspoon or so. Next, place a thin slice of Les Trois Petits Cochons Bloc de Foie Gras de Canard, then cover with the other half of the profiterole on top. Serve.