Colors Of Summer: Red Fruit Crumble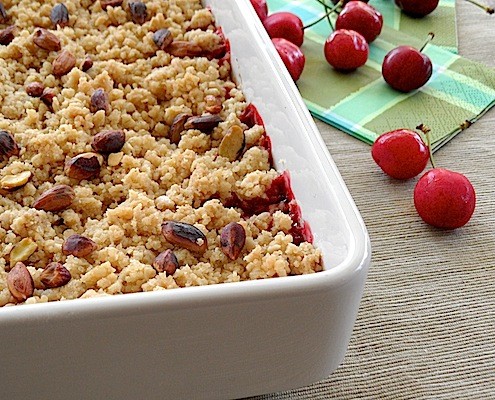 Crumbles are a lovely way to make the most of fresh fruit. You can simply choose any kind of fruit that suits your fantasy and creativity, and change the filling ingredients according to seasons.
By Rita Banci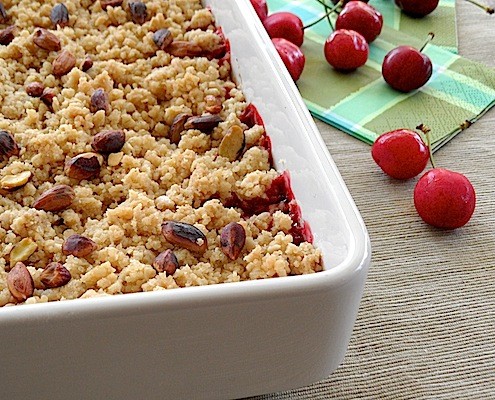 In Italy when you hear of fruit pies, people usually refer to fruit tarts, that is a kind of custard cream tart covered with a layer of sliced fruit and jelly. A simple crostata di frutta, as we say. Honestly – after all we need to be honest in this magazine – it is not a dessert I enjoy very much. Fruit pies were not desserts I appreciated very much until I discovered fruit crumbles. Ever since, my culinary life as a gourmand has radically changed.
Crumbles are a lovely way to make the most of fresh fruit. You can simply choose any kind of fruit that suits your fantasy and creativity, and change the filling ingredients according to seasons.
Late Spring and early Summer seem incredibly rich in red fruits: strawberries, cherries, raspberries, red currants. Cherries especially are available in the markets for such a short period of time that we need to make the best use of them and, besides making an always honorable jam, crumbles are the perfect way to taste them properly.
In this crumble you'll find a poker of red fruits: strawberries, cherries, raspberries and dried cranberries, that add a slightly tart flavor to the filling. Of course, cranberries are not a seasonal item, hence the use of the dried version (which is, incidentally, the only way cranberries are accessible in Italy).
See Also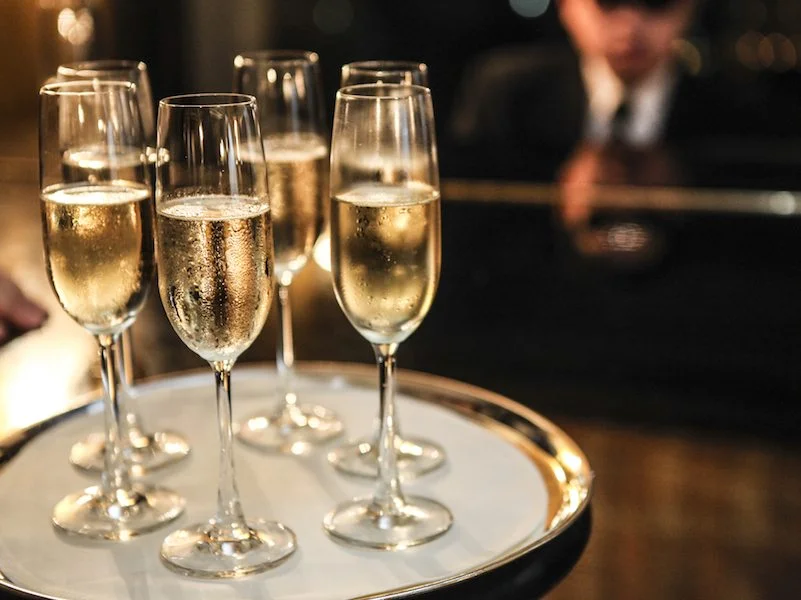 The crumble topping can be made in many ways too, but I usually love to add some rolled oats for a crunchier finish plus some pistachios for a lightly chromatic contrast between their green colour and the red of the fruit filling (not to mention that pistachios are absolutely delicious).
Bon appétit!

A seasonal crumble with the best and most colorful summer fruit
Ingredients
For the filling:
17.5 oz strawberries
7 oz cherries
4.5 oz raspberries
1.7 oz dried cranberries
Juice of 1 lemon
3 tbsp brown sugar
For the topping:
1½ cup sifted flour
0.8 oz pistachios
1 cup rolled oats
1.7 oz ground almonds
1 cup brown sugar
1 tsp baking powder
7 oz butter, melted
Instructions
Preheat oven to 190°C (375°F). Wash the cherries, halve and pit them. Wash the strawberries, remove stems and cut them roughly. Wash the raspberries.
Mix all the fruit in a bowl with the dried cranberries, sugar and lemon juice, and put aside.
In another bowl combine flour, oats, almonds, sugar and baking powder; mix well. Then make a well in the center and pour the butter in. Mix with your hands to form a crumble.
Place the red fruit filling into a round pie pan, and scatter the crumble mixture on top. Finally scatter the pistachios over the topping.
Bake for about 30-35 minutes or until top is crisp and golden and the filling is bubbling.
It can be served either hot or cold with whipped cream. According to taste, a tablespoon of honey or golden syrup can be added to cream.
Rita Banci
Rita Banci is the author of the blog the Culinary Taste. A former textile conservator, she now divides her time among family, gardening and cooking. As many Italian women, she has learnt to cook watching her mother and grandmother, both housewives, preparing meals for the family. Rita is a fanatic of jams and jellies and lives in Prato, Italy.