This cake is a nice light finish to a fresh summer meal. Enjoy with a scoop of ice cream or dollop of whipped cream.
By Rachel Swetnam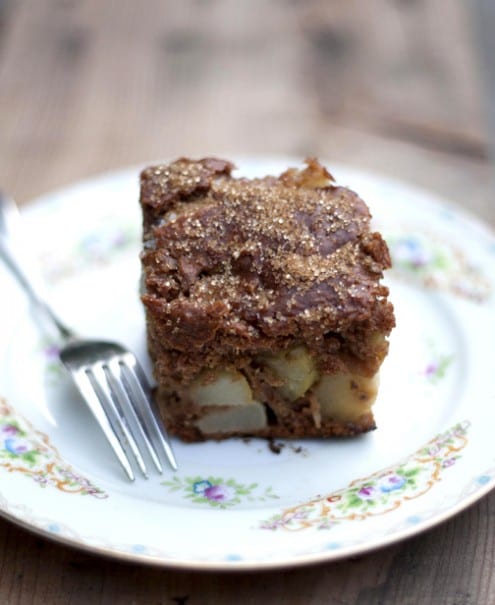 Coconut Milk Weetabix Pear Cake
The coconut milk brings a creamy, fatty richness to the cake without a strong flavor, allowing the pears, cinnamon and caramelized sugar to work together in harmony.
Ingredients
2 cups pears, cubed, set aside in a bowl of water and a bit of lemon juice
1¾ cups flour (whole wheat or all purpose should do fine)
3 Weetabix biscuits, crushed (about ¾ cup)
2 teaspoons baking soda
1 tablespoon cinnamon
½ cup demerara (turbinado) sugar
½ teaspoon salt
1 cup walnuts, chopped
½ cup applesauce
1 cup coconut milk
3 tablespoons + 1 teaspoon olive oil
2 tablespoons demerara (turbinado) sugar
Instructions
Preheat oven to 400°F.
Oil and flour a 9x9 cake pan or two loaf pans.
Incorporate all dry ingredients (flour through walnuts) in a large bowl. In a smaller bowl, stir together the wet ingredients (applesauce, coconut milk and olive oil).
Pour the wet ingredients over the dry, and stir just enough to barely combine all ingredients.
Drain the pears and fold them gently into the batter.
Pour batter into prepared tin(s) and sprinkle the two tablespoons of sugar over the top. Bake for 55 minutes to an hour.
Start checking cake after 25-30 minutes. The top should be brown and a toothpick inserted in the center should come out mostly clean.
Rachel Swetnam
Rachel Swetnam is a freelance photographer, food stylist and cooking enthusiast. Her food blog (www.biscuitbatches.com) shares her vegan cooking/baking adventures. Born and bred in Kansas City, MO and earning a degree in Photojournalism from the University of Missouri, she now calls Venice, CA home.