Chilli Pesto and Peanut Pasta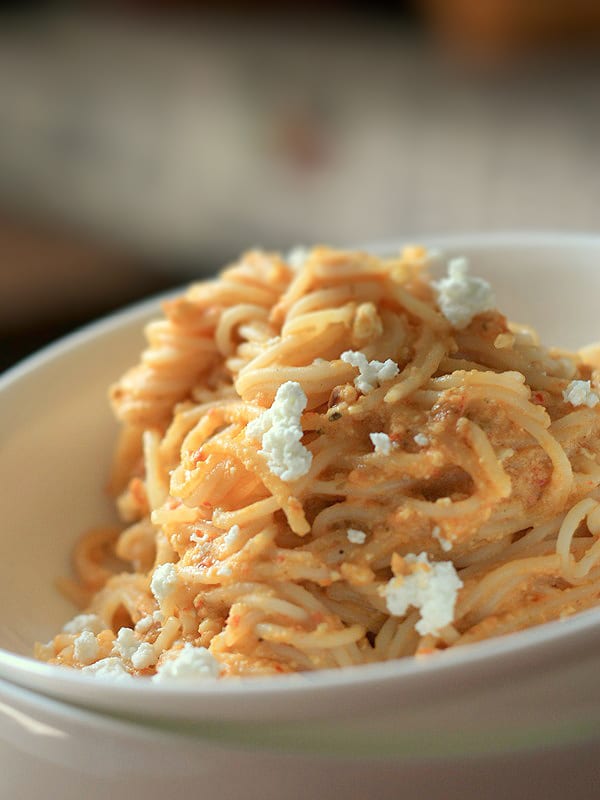 This pasta is yummy, with a distinct peanut flavor, and the faint heat of the chillies. If you love peanuts, you'll love this.
By Preethi Vemu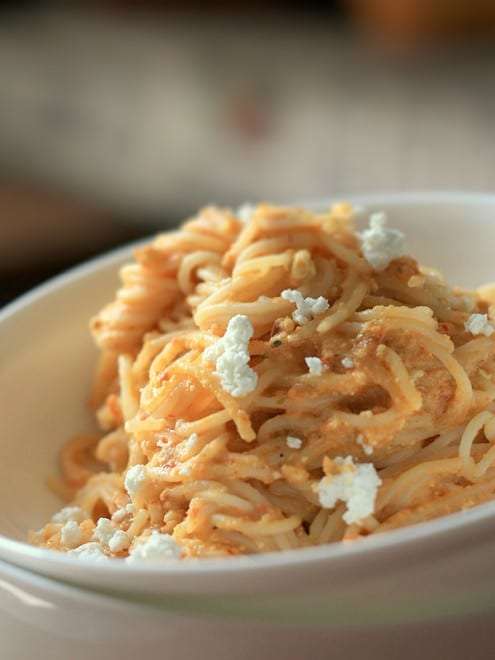 Peanut Hummus is something I thought up, very similar to the peanut chutney we Telugus pair with Idlis, our breakfast staple. So keeping the peanuts as a base, I worked around the other ingredients to make it non-South-Indian, yet keep it Indian. I roasted a handful of peanuts, and ground them to a thick paste with some garlic cloves and salt.
Chilli Pesto and Peanut Pasta
This pasta is yummy, with a distinct peanut flavor, and the faint heat of the chillies. If you love peanuts, you'll love this.
Ingredients
Peanut Hummus - ¼ C [Preparation below]
Red chilli paste - 1 Tbsp [Depending on how hot this is!]
Mustard paste - 1 Tbsp
Olive oil - 1 Tbsp
Garlic cloves - 4-6, finely diced
Dried Oregano - ½ Tsp
Paneer (Cottage Cheese) - ¼ C [Optional]
Salt - To taste
Pasta – 1 C [I used 4 whole wheat vermicelli nests]
Instructions
Peanut Hummus – Roast a handful peanuts. Let it cool and remove the skin off the peanuts. Grind them with the garlic cloves in a mixer-grinder with some water. Add salt to taste, and refrigerate it.
Cook the pasta according to the instructions on the box.
Heat oil in a pan, and sauté the garlic cloves. Sprinkle the dried oregano on this.
Add the peanut hummus, mustard and red chilli pastes and sauté them all together.
If this resembles a thick paste, add some boiling water to get this to a sauce-like consistency.
Add salt to taste, and gently mix the cooked pasta to this.
Sprinkle the crumbled cottage cheese on this, if using.
Serve hot.
Preethi Vemu
Preethi loves tea, animals, food and her Kindle. When she is not busy being a geek, she dreams about seeing her name in print media some day . An avid reader and an amateur food photographer, Preethi lives in Hyderabad, India with her husband who is subjected to all her culinary experiments.