PARTNER POST: We've teamed up with Bonne Maman to bring you the best homemade breakfast and brunch recipes to show Mom you care this Mother's Day and all spring long.
These aren't your usual chicken and waffles. They're stacked tall and served with savory brie cheese and sweet raspberry preserves.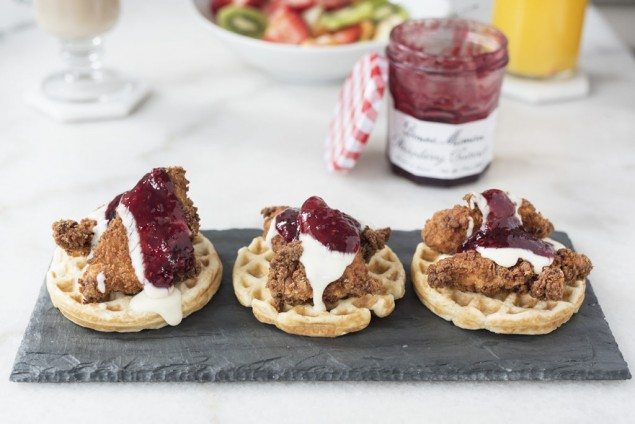 Shout out to all the Moms out there working hard! Hope that the weekend is filled with love, family, and happiness because you sure do deserve it! I may not be a Mom myself but from friends, family friends, and my own Mom .. I've witnessed first hand that being a Mom is no easy job.
To help celebrate the holiday, I partnered with Bonne Maman to create an inspiring breakfast in bed recipe that would be perfect for Mom! If you haven't planned out your Mother's day brunch menu yet then I would highly recommend adding this to the list.
Instead of working on a recipe for the most popular brunch dishes (i.e. pancakes, eggs, french toast) I wanted to get creative with a dish that I would consider an unsung hero – Chicken and Waffles. This recipe is both sweet and savory. Golden brown waffles are topped with crispy fried chicken and then smothered in a creamy brie fondue and a generous dollop of Bonne Maman's raspberry preserves!

The dish is basically baked brie & raspberry meets chicken and waffles. I personally love how the saltiness of the chicken counterbalances the sweetness of the raspberry preserves. Bonne Maman produces their products in France and are Non-GMO, have no fructose corn syrup, no artificial coloring, and no added preservatives! When I tried it in this recipe I was really able to taste the whole top notch quality. I love preserves and jams but I hate when they are loaded with ingredients and additives that I can barely understand and make the flavor taste artificial. That was definitely not the case here.
Not only is breakfast in bed something that will help kick start Mom's day in a special way, I always feel that things that are homemade can really put a smile on a loved one's face.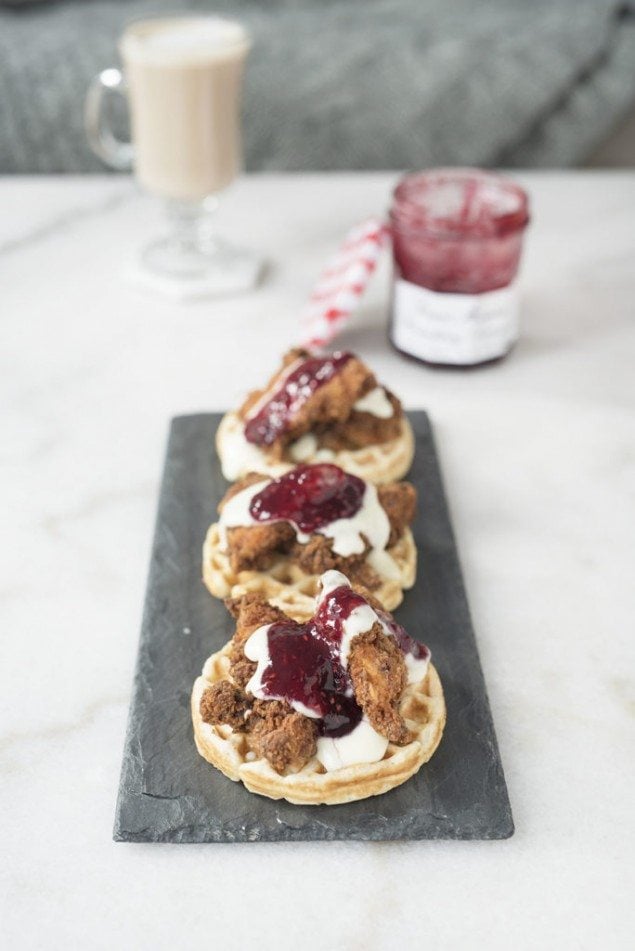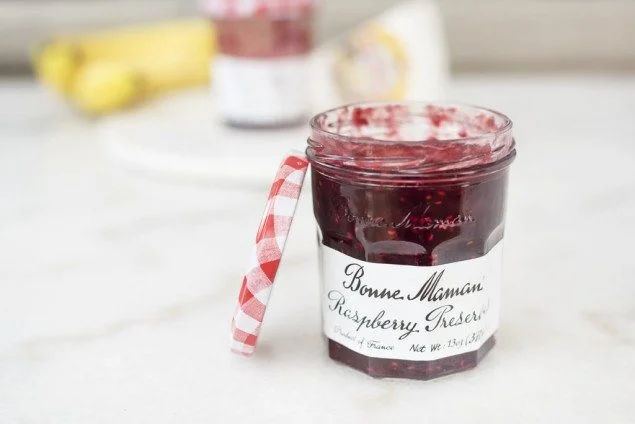 Enter to WIN in this Bonne Maman giveaway ever! Click the image below.
For more recipe ideas, check out these fun toasts.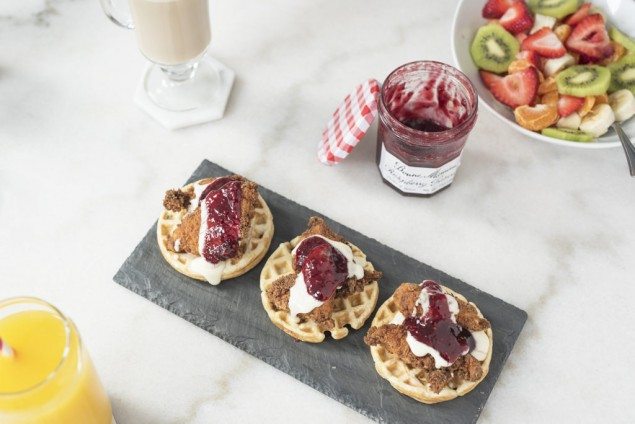 Chicken and Waffles with Raspberry and Brie
These aren't your usual chicken and waffles. They're stacked tall and served with savory brie cheese and sweet raspberry preserves.
Ingredients
1 batch favorite waffles (I used a box mix to make 10 small waffles)
1 lb chicken tenders
1 large egg
¼ cup all purpose flour
¾ cup panko bread crumbs
½ teaspoon salt
vegetable oil for frying
2 teaspoons olive oil
½ teaspoon butter
1 tablespoon all purpose flour
½ cup milk
4 oz brie cheese rind removed
¼ cup Bonne Maman Raspberry Preserves
Instructions
Place butter milk and egg in a medium bowl and whisk until well combined. Place chicken into mixture and set aside.
In a separate bowl, combine flour, salt, and bread crumbs.
Place vegetable oil in skillet (you will want to fill it until it about 1 inch deep). Heat oil to 375 degrees F.
Remove chicken strips from buttermilk and then dip into flour mixture to coat fully.
Fry chicken tenders in oil (about 4 minutes on each side) until it is golden brown and cooked through.
Place on paper towel lined plate and set aside.
Make waffles. I used a box mix to make about 10 small waffles. Set aside.
Make cheese sauce. Add olive oil and butter to a small sauce pan and cook over medium heat until the butter is melted.
Add flour and mix well. Slowly add milk while continuously stirring.
Add in brie cheese and stir until fully melted. Remove from heat.
Plate your dish. Place waffles down then chicken tenders. Top with brie sauce and a heaping spoonful of raspberry preserves.