This Chicken Pesto Sandwich is really good, though. It's super simple and easy to make. All it takes is pesto, chicken, mozzarella cheese, bread and whatever kind of toppings you like and you have yourself a delicious sandwich that you didn't have to get from a restaurant!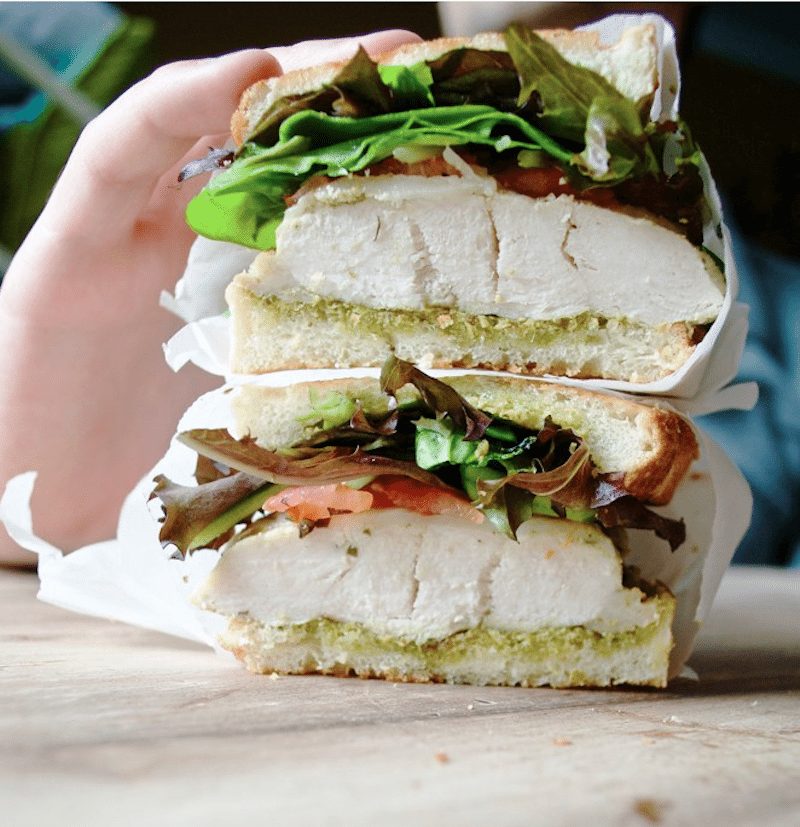 According to my husband, these sandwiches are THE BEST EVER. I'm talking about a guy who loves a good hotdog and eating sandwiches are probably close to the bottom of his list when it comes to lunch or dinner options. Anytime we buy pesto and nicer than sandwich bread, he gets excited.
First, I normally marinate the chicken in the fridge for 30 minutes. Sometimes more depending on if I am with my baby or out of the house. The chicken is marinated with olive oil, lemon juice, and pesto. Super simple. Once it's done marinating, I sear it in a frying pan until cooked through. Cooking time varies upon the thickness of the chicken. For some added crunch to the sandwich, I butter some bread and toast it in a pan until golden.
To assemble this sandwich, stack chicken on top of a slice of bread. Add sliced Roma tomatoes and top with mixed greens, other desired toppings, and second slice of bread. You can't go wrong with whatever you choose! My husband loves the combination of lettuce, tomato, and mayonnaise so he adds mayonnaise on his. This sandwich is perfect for lunch or dinner. Sure to be a hit with anyone who eats it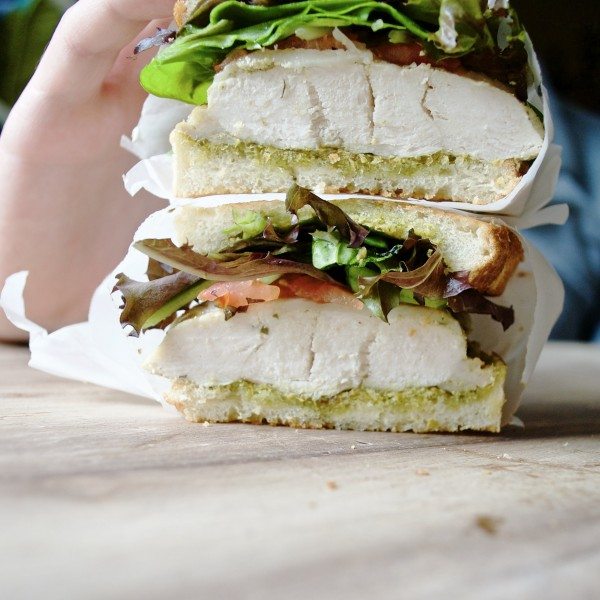 The Little Momma
Ingredients
Chicken Marinade
1

pound

chicken breasts halved

butterflied, sliced thinly through the breast

2

Tbsp

pesto

2

Tbsp

olive oil

1

lemon

juiced (keep lemons)

heaping pinch salt

heaping pinch pepper
Toppings
4

slices

of Italian Bread

or Ciabatta or other favorite bread

2

tsp

butter

1

cup

shredded mozzarella cheese

1

Roma tomato

sliced

1

cup

mixed greens

or lettuce or spinach

2

Tbsp

pesto
Instructions
For the Chicken Marinade:
In a gallon plastic bag, combine chicken breasts, pesto, olive oil, lemon juice, lemon, salt and pepper. (Optional-Use a chicken tenderizer to beat the chicken so each half will be thinner and more tender.) Shake until chicken is well coated.

Let marinade in refrigerator for 30 minutes to an hour.
Cooking the Chicken:
On the stove, heat a large frying pan to medium high. Place chicken breasts in pan and cook on both sides for about 5 minutes. (Cooking time will vary depending on the thickness of meat. Check chicken in the thickest part making sure it is white and juices run clear when cut.)

Allow chicken to cool for a few minutes.

Change oven to Broil. Place shredded mozzarella cheese on chicken.

Cook in oven for 2 minutes. Cheese should be golden brown and melted.
Making the Sandwich:
On the stove, heat a medium frying pan to medium high heat.

Butter both sides of bread with butter. Place bread in pan and allow to brown until there is a golden brown color, about 4 minutes per side. Allow to cool for a couple minutes.

Spread a thin layer of pesto on toasted bread. Put chicken on top. Then top with desired toppings! Tomatoes, greens, and whatever else your heart desires.

Serve warm and enjoy!
Megan Pearl
Wife, Momma, and Author behind the food blog, The Little Momma. The best way to enjoy the everyday food and life we experience is through little hands, full bellies and happy hearts. With a background in Nutrition, I develop and revamp recipes that are easier to make for the everyday cook.