Celebrity chef Curtis Stone has a lot on his plate. Read about the adventures of this Australian culinarian in an interview by Michelle Tchea.
By Michelle Tchea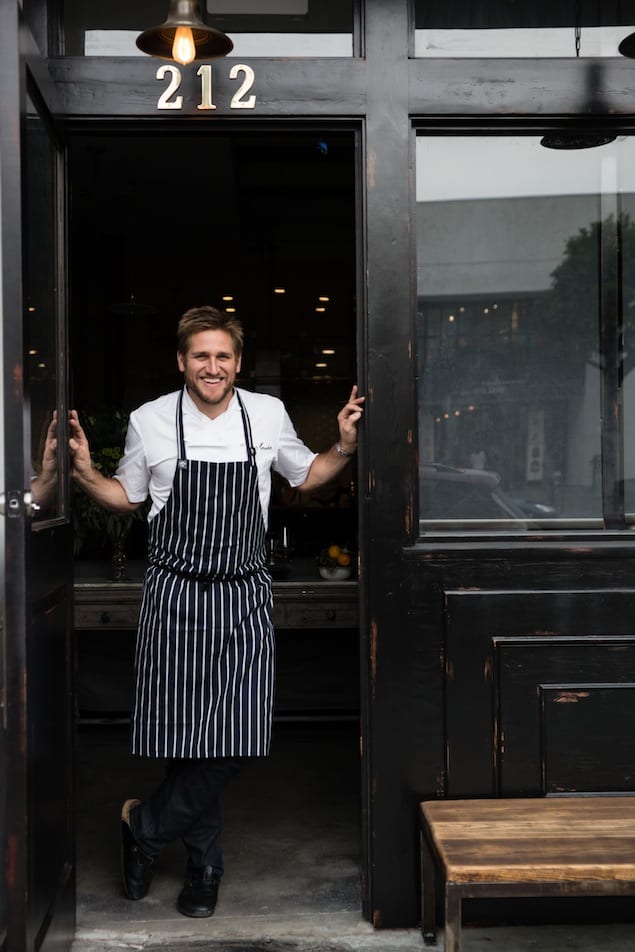 Best-selling books, a private line of cookware and utensils and playing host on Top Chef Masters, may bog down a lot of people, but with a passion for food and cooking, Curtis doesn't seem to be slowing down.
Last month, Chef Curtis opened a new restaurant in Beverly Hills. Maude, named after the lady behind his culinary inspirations a.k.a his grandma, offers a monthly set menu inspired by seasonal ingredients.
With just 25 seats in a tiny, intimate restaurant space, it's definitely one of the hottest spots in town for dinner.
Curtis loves quick, simple and easy dinners. His love for seasonal and fresh ingredients dictates his menu at home and in his restaurant….my kind of cooking.
For those interested in booking a spot at Maude: February's secret ingredient was citrus, March is artichoke and April is Peas! YUM!
I sat down with my fellow Melbournian foodie and sussed out what's next on his busy agenda.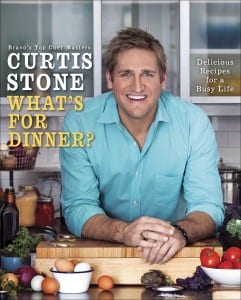 Q and A with Curtis Stone
Your mum and your gran are huge influences in your life, what's the best kitchen advice they have given you?
They've always told me to cook what I love, which makes sense, right? You're gonna be way more excited and passionate about cooking food you love to eat over something you're not that into. I'm a bit of a greedy little monster and love so many different foods and cuisines so I tend create a huge variety of dishes and drinks from curries, pizzas, roasts, salads, cakes and cocktails, the list goes on…
Fun seems to be your cooking philosophy, how will you pass this to your son, Hudson?
Treating each meal as an event and getting excited about it before it happens is such a cool way to cook and think about food. When I cook with Hud, we really do take the time to think about what we're doing so we can make it special and make a little occasion of it. We talk about surprising mum, we make a point of going out to the veggie garden to pick fruits and veggies for juices, we talk about all of the delicious things we are going to make for breakfast, we set the table together etc. Life is so crazy, busy for us all these days so now more so than ever, it's really important to make the time to sit down to a meal with friends and family and just regroup and enjoy each other's company. I try to share this philosophy with Hudson and make every meal as fun as it can be.
What's your earliest memory in the kitchen?
My first food memory involves a stick of butter and a box of raisins. I remember sitting on the kitchen bench and literally wiping down the raisin on the stick of butter and popping my finger in my mouth. My mom walked up and said, "What on earth are you doing?" I was only three or four, it is interesting because even at a young age I would try to combine flavours, and think about it – raisins and butter, what a delicious combination. Obviously not a combination you would want to eat on a regular basis though!
Your new restaurant Maude is a menu-less restaurant with lots of surprises, how do you come up with changing menus?
We have a market driven, prix-fixe menu that changes monthly with the seasons so we're constantly developing and testing recipes. Each month we pick a highly seasonal hero ingredient and thread this ingredient through each of the tasting plates and I actually think the development process becomes a lot easier when you have a focus such as this. I regularly sit down with a couple of my chefs and we all bring our ideas to the table and learn from each other. I love the challenge of constantly changing things up; it really pushes my chefs and I to be super creative and keeps us on our toes.
For people who don't enjoy cooking, what can you share, (tips or ideas) to help them enjoy cooking as much as you do?
There's so many ways to make cooking enjoyable and fun and I guess you've just got to find something that works for you, e.g. invite a friend around, open up a bottle of wine and try cooking a dish together that you've had your eye on for a while. I also think if you surround yourself with people who love food and love to cook then they'll rub off on you too!
Any secrets in the kitchen to make cooking easier for all the dads out there?
Since my boy, Hud, has come along, I've been dubbed the one-armed chef, especially when he was a little younger. I would have him in one arm and did everything else with the other – chopping, stirring, whisking, you name it! I think if you keep in mind that homemade meals just taste better and are better for you than store bought meals then this is all the motivation you need. And remember lads; if you cook then you might just get yourself out of cleaning up. Hahaha!
Can we expect anything new to come out from your Kitchen Solutions line?
I've been working on a set of Japanese knives for the last couple of years. I'm super excited about them; I've got one of the best manufacturers in Japan working on them with me and I'm hoping to bring the knives to market within the next 12 months. Cheers.
Michelle Tchea
Michelle Tchea is a 4-time bestselling author. Her books include, Building a Perfect Meal, My Little SoHo Kitchen, Signature Dishes (Australia's Best) and Chefs Collective. Her work can be found in other leading luxury travel and food magazines including Travel+Leisure Asia, SMILE, NUVO Magazine and The Telegraph