SPONSORED POST: From Dijon Originale mustard to Cornichons, Maille has a rich heritage starting in 1747 that honors tradition. Check out these easy recipes that pack great flavor, thanks to Maille. BONUS: Maille is giving away a one year's supply of their delicious products! Be sure to enter below.
Quick and easy, these Cheesy Mustard and Mushroom Toasts are made with sautéed mushrooms with Maille Old Style Mustard, fresh thyme and melted swiss cheese. Hearty, savory and vegetarian.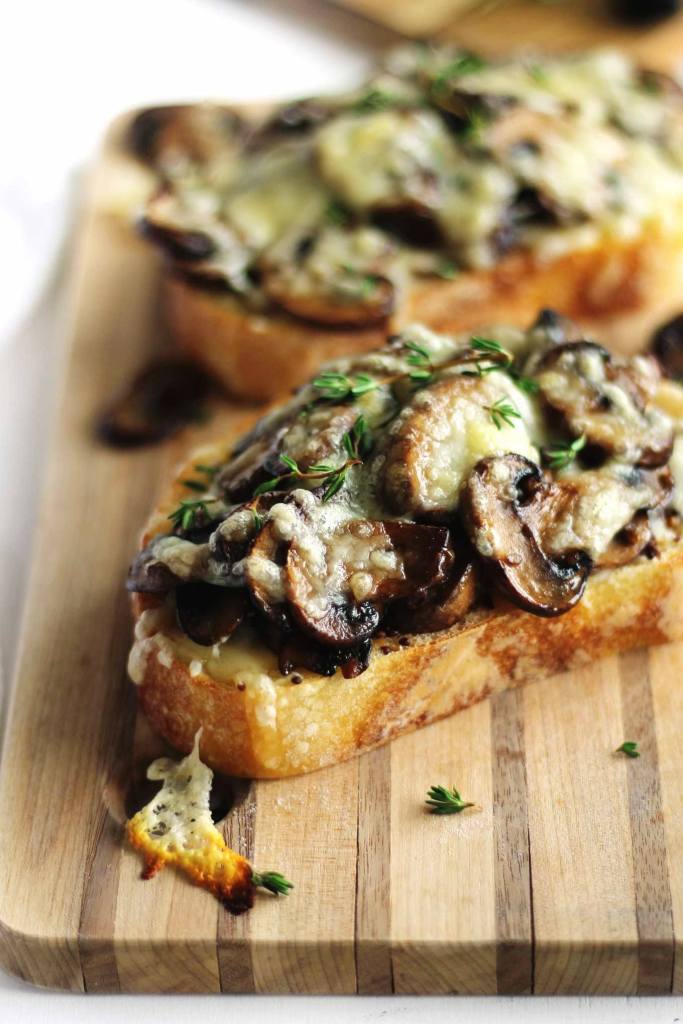 Year's Supply of Maille Giveaway!

his mushroom toast is hearty, savory, full of umami, and can be served as an appetizer, snack, or even a full meal.
Mushroom toast is a very simple and easy to throw together meal, perfect for a hearty or lunch or light dinner.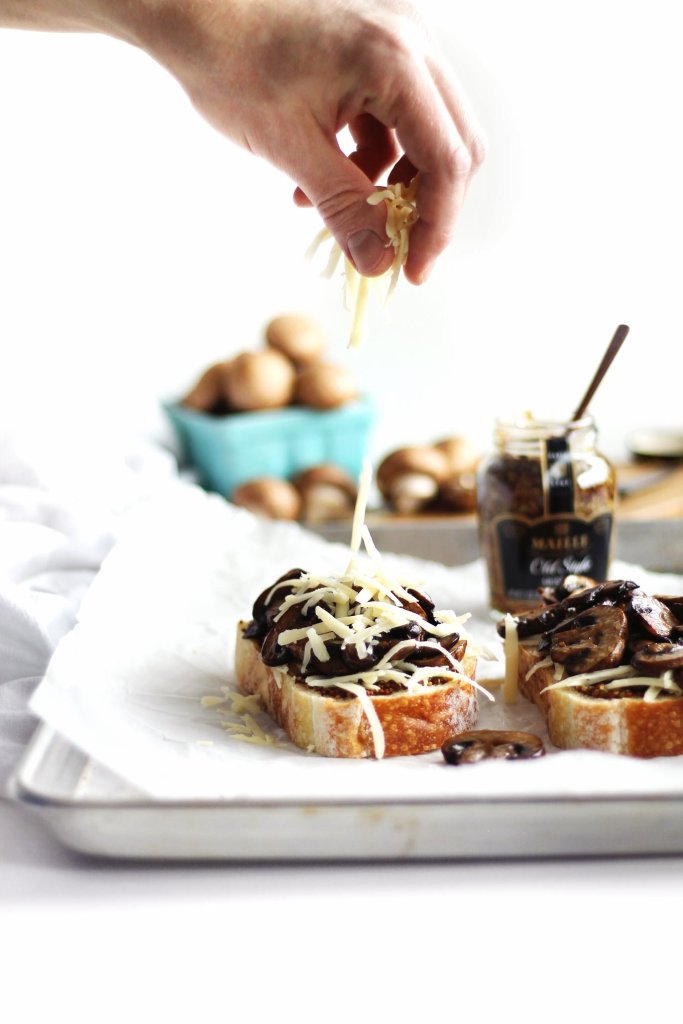 A key ingredient to this simple mushroom toast is Maille old style mustard. I love the grainy texture and the intense flavor of this mustard. It compliments the earthiness of the mushrooms perfectly by adding some tang and acidity, and adds a whole new dimension to the flavor of simple mushrooms on toast!
Just a spoonful of this mustard goes a long way and can add so much flavor to your dressings or dishes.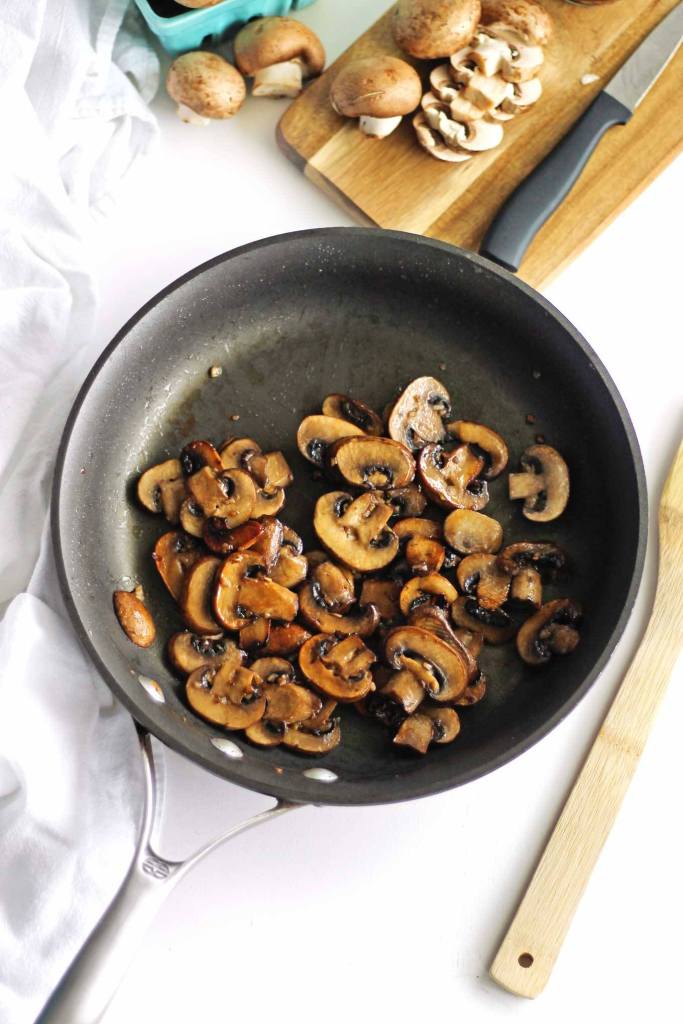 Mushrooms on toast is a simple dish from Britain. It is traditionally kept very simple, just sauteeing up some mushrooms and eating them atop toast. It's eaten as a filling snack or a light meal rather than an entree.
This mushroom toast is a bit different than the traditional British meal. I add lots of flavor with swiss cheese, dijon mustard, and fresh thyme. I also broil the mushrooms and cheese over the bread and toast the whole thing together.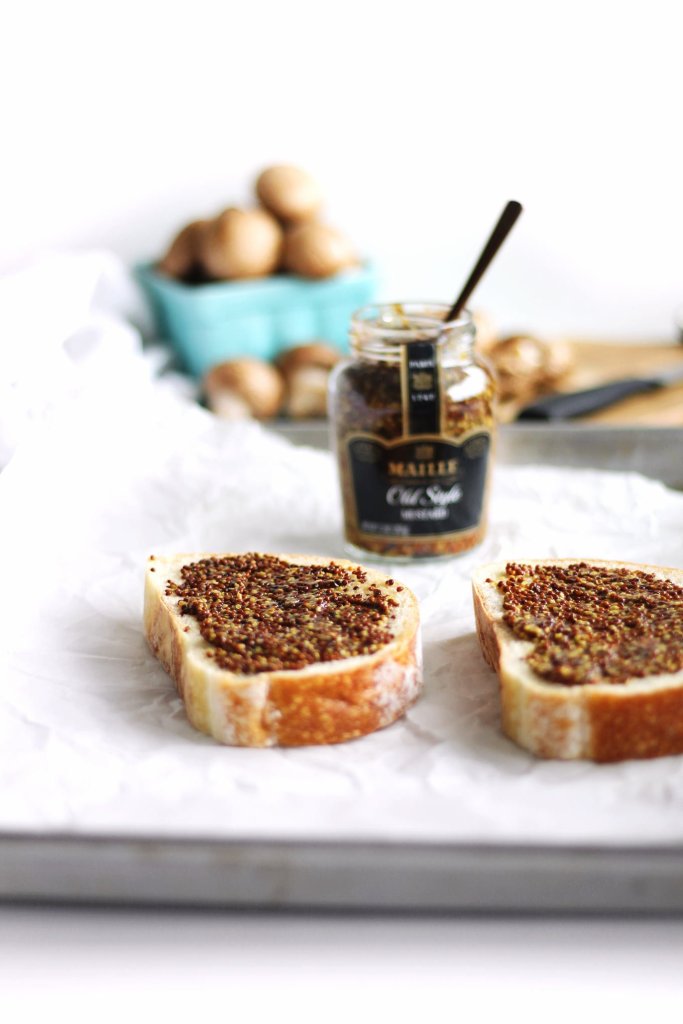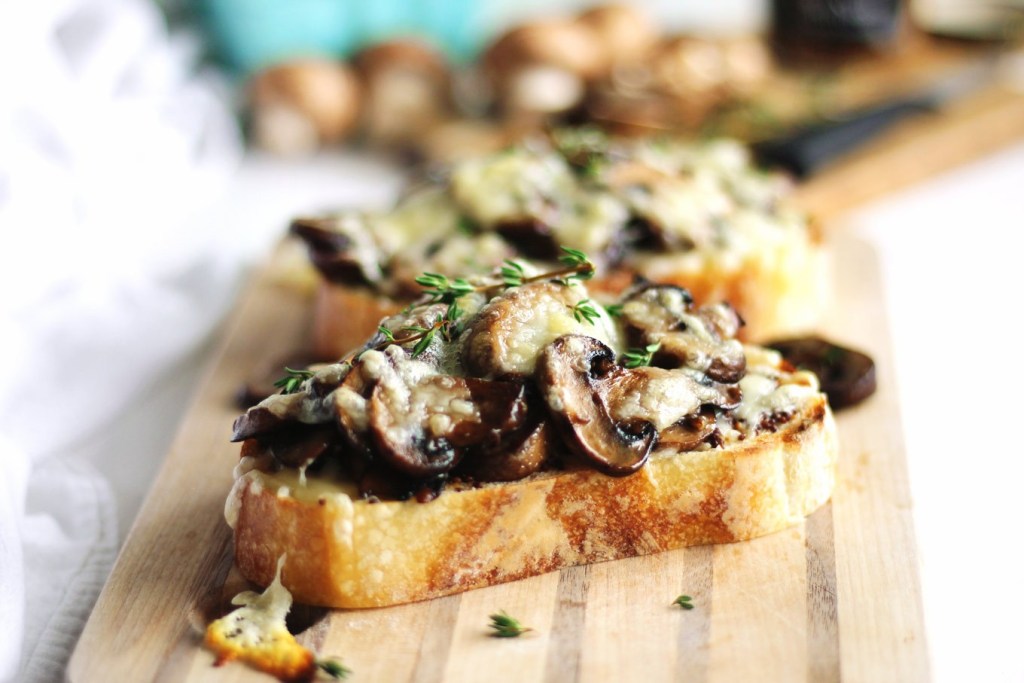 Mushroom toast is amazingly simple, but loaded with flavor. Since there are so few ingredients, you'll want to choose very high quality produce and products. Very fresh baby bella or cremini mushrooms, rustic bread with a hearty crust, whole grain dijon mustard like Maille old style mustard, and aged swiss cheese.
Chop your mushrooms and garlic and heat up a frying pan. Melt the butter and sweat the mushrooms. Add the garlic and saute together until the mushrooms are very brown and starting to crisp.
Turn on the broiler and build your mushroom toast. Spread the mustard on the bread, top with a bit of cheese, top with mustard, then top with more cheese. Broil until the cheese is melted and starting to brown. Sprinkle with fresh thyme, salt, and pepper.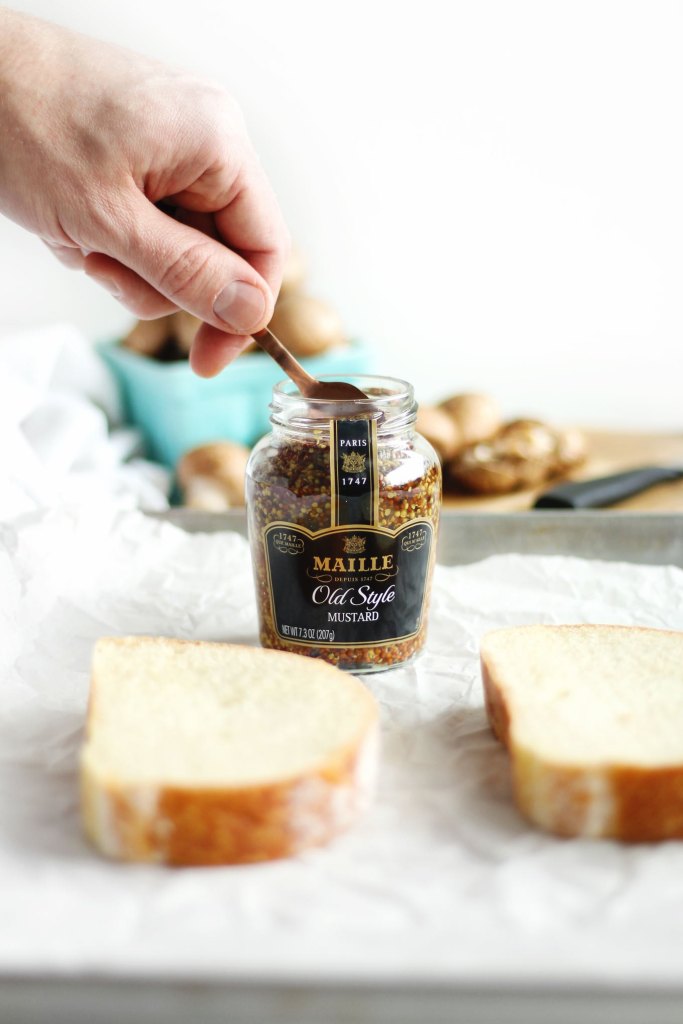 HOW TO SERVE MUSHROOMS ON TOAST AS AN APPETIZER
Mushroom toast makes an amazing appetizer! Think: mushroom crostini.
Just replace the bread in this recipe with baguette slices. You should be able to make about 8 mushroom crostinis just using smaller slices of bread. All of the ingredients will stay the same.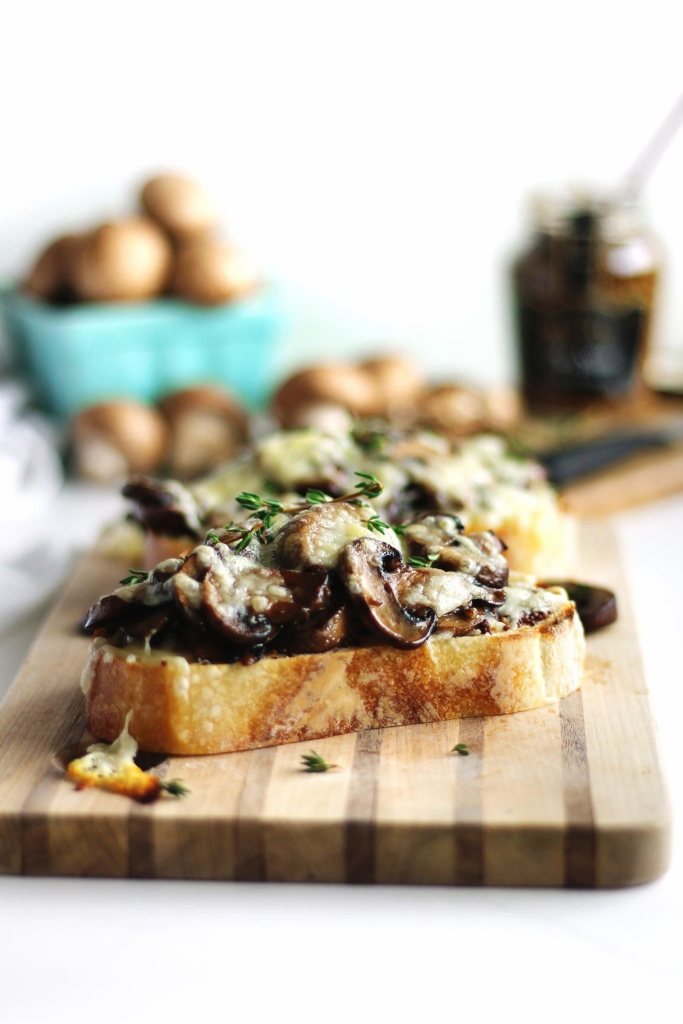 Cheesy Mustard and Mushroom Toasts
Recipe Type:
Appetizer or Main
Ingredients
2 Tbsp butter
4 cups sliced baby bella or cremini mushrooms
3 cloves garlic, minced
2 slices thick rustic french bread
2 Tbsp Maille old style mustard
1 cup shredded swiss cheese
1 tsp fresh thyme leaves
salt and pepper
Instructions
Melt the butter in a sauce pan over medium high heat. Add the mushrooms and sweat, stirring occasionally, about 5 minutes. Add the garlic and saute, stirring often, about 15 minutes until mushrooms are browned and all liquid has evaporated.
Preheat the broiler. Spread the mustard evenly on one side of each piece of bread. Top each slice with a sprinkle of cheese. Evenly top with the mushrooms and then top each with another generous sprinkle of cheese. Broil until the cheese is melted and starting to brown, about 2 minutes.*
To serve, sprinkle with fresh thyme and season with salt and pepper.
Notes
*You'll want to watch the cheese to make sure it doesn't burn under the broiler. Cook times will vary.