This Cheesecake-Filled Carrot Cake is for those times when you can't decide between serving cheesecake and carrot cake or those occasions when you're craving the most sublime, decadent version of carrot cake ever.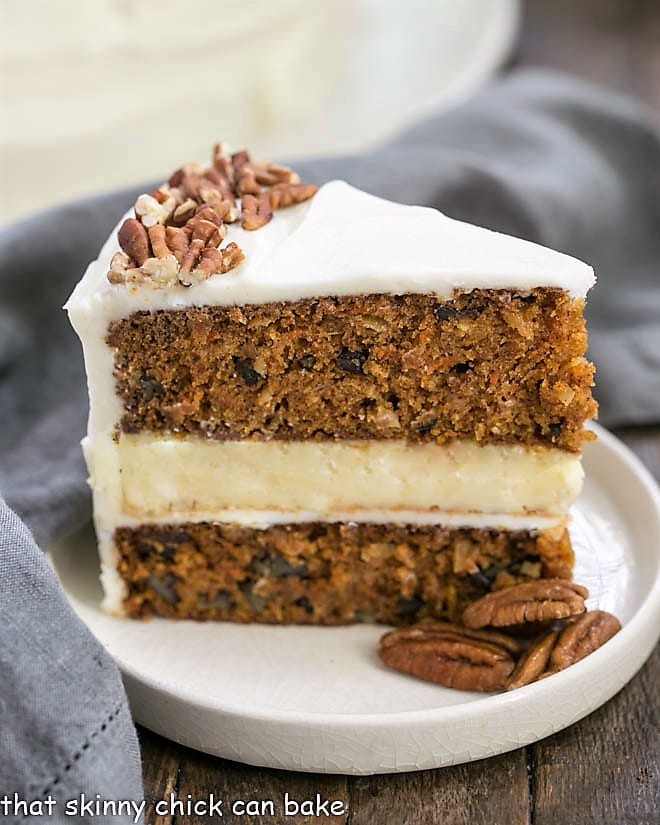 I first made this dreamy carrot cake in 2011, and it was due for a revisit. I recently took this multi-layered beauty to our friends' lake house, where it was devoured with gusto to rave reviews!
We trekked this cheesecake filled carrot cake down to southern Indiana where swimming, tubing, kayaking and lots of good food was on the "menu." We all pitched in with appetizers, salads, and desserts while our host made his famous smoked ribs and sausages.
Guess what category I chose? But I was veering away from the chocolate laden treats the hubby yearns for. A remake of this amped up carrot cake was long overdue.
Well, my loyal readers know me and my family: 3 don't eat nuts, 3 don't like carrot cake, one doesn't like cheesecake, and on and on. So I considered this gathering of not so picky friends the perfect time to remake this recipe. Plus since another friend was planning to bring a chocolate dessert, the hubby would not be pouting about my selection.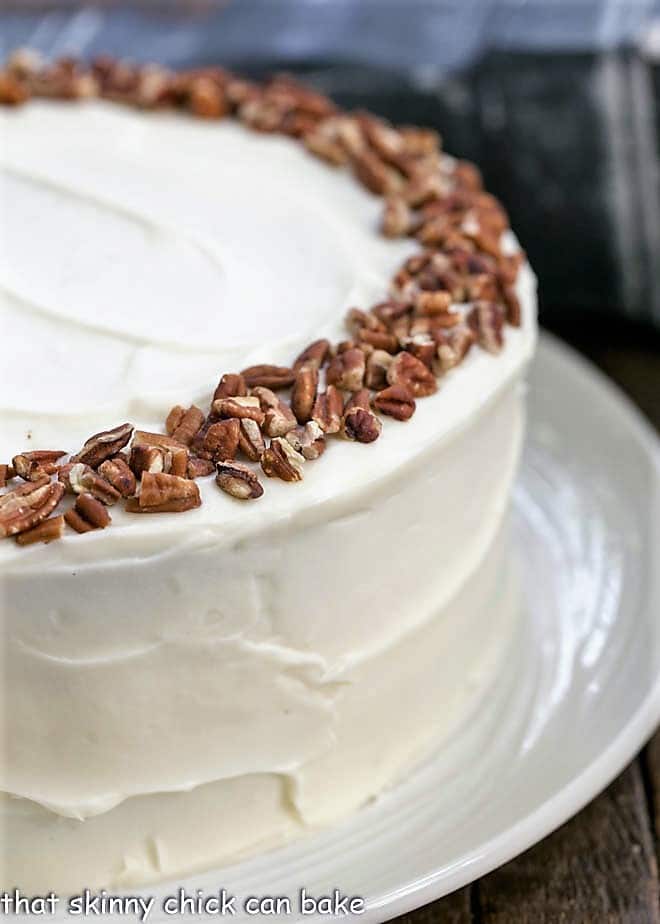 When originally making this loaded carrot cake, I had no idea that the Cheesecake Factory had carrot cake cheesecake on their menu! I've never tasted their version, which is carrot cake and cheesecake swirled together, but imagine mine is just as incredible. Here are a few tips for making a layered version of this dessert.
For the two carrot cake layers, I used my favorite recipe from New Basics Cookbook, chock full of carrots, pineapple, coconut and nuts. Feel free to use your own carrot cake recipe as long as it makes 2 9-inch cakes.
My friends were very curious how I got the cheesecake in the middle of the carrot cake. The answer was simple, I baked the 3 layers separately. Two carrot cake layers and a thin vanilla cheesecake. After stacking and frosting, you have a cheesecake stuffed carrot cake.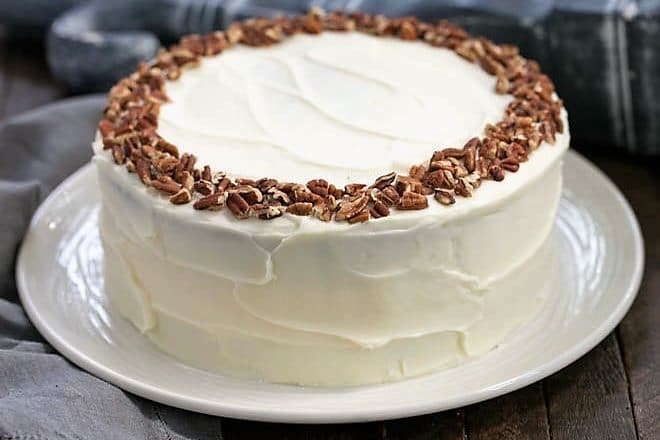 Between the cake layers was a top notch mascarpone cheesecake to which I added 4 ounces of white chocolate. Just because. If you're not a white chocolate fan, just eliminate that ingredient.
You can use your own cheesecake recipe, but take note of the measurements in mine as you want a thinner cheesecake over one that totally fills your springform pan to the brim.
The cheesecake must be baked in a 9-inch springform pan so that all layers are the same diameter.
Please check out my post on making a perfect cheesecake for all my best tips and advice, like having all ingredients at room temperature, beating the batter with the paddle attachment instead of a whisk, etc.
After stacking, the 3 layers were frosted with a rich and creamy cream cheese icing with a dose of mascarpone. Since I used half a package of mascarpone in my cheesecake, I didn't want the rest to be forgotten. Adding it to the frosting just added another delicious rich dimension.
PRO-Tip: Both the cheesecake and cake can be made ahead of time. Cheesecakes taste better after chilling overnight, so it gives you the perfect excuse to make this multi-step recipe over a few days. It's easiest to frost with freshly made frosting as it will firm up a lot if chilled.
In the past, I pressed chopped nuts all around the sides of the cake. This time, I just put a ring of nuts around the top. Replacing the chopped nuts with some perfect pecan halves or some piped cream cheese swirls each topped with a half pecan are other fun ways to garnish.
Bring the cake to room temperature before digging in! It won't be as easy to cut clean slices as when chilled, but it will taste incredible!
Store leftovers in the refrigerator.
Can You Freeze This Cheesecake Filled Carrot Cake? The whole cake can be frozen if desired. I'd pop the frosted cake in the freezer for an hour or so, allowing the icing to harden before wrapping it in a layer of plastic wrap, then a layer of foil. Defrost overnight in the refrigerator before serving.
The guidelines for freezing carrot cake suggests no longer than 2-3 months and for cheesecake, only 1-2 months. So if you don't want to lose any quality, I wouldn't freeze much longer than one month.
I've loved carrot cake from my first bite back in the '70's. Dessert at my childhood home was more likely a bowl of vanilla ice cream than anything fancy, so any sweets above and beyond that were quite memorable. Before my initial introduction to carrot cake, carrots were only eaten as a side dish! Little did I know what an ordinary carrot could do in a dessert recipe!
Check out this three layer Carrot Cake with Caramel Filling, Carrot Cake Whoopie Pies, and my favorite Classic Carrot Cake. But there are SO many more carrot cake inspired recipes out there, like these Carrot Cake Rice Krispie Treats. Is it wrong to want them ALL????!
Click here for the cheesecake filling recipe.
Print

Delightfully Rich Cheesecake-Filled Carrot Cake
---
Author:

Liz Berg

Total Time:

2 hours 35 minutes

Yield:

10

servings

1

x
FOR CARROT CAKE:
2 cups

flour

2 cups

sugar

1/2 teaspoon

salt

2 teaspoon

baking soda

2 teaspoons

cinnamon

1 cup

canola oil

3

eggs (beaten slightly)

2 teaspoons

vanilla

1 cup

chopped nuts (walnuts or pecans)

1 cup

shredded coconut

1 1/3 cups

pureed cooked carrots

3/4 cup

drained crushed pineapple
FOR ICING:
8 ounces

cream cheese at room temperature

1/2 cup

mascarpone cheese (at room temperature)

4 tablespoons

butter at room temperature

4 cups

powdered sugar

1 teaspoon

vanilla

1 1/2 cups

nuts (toasted then chopped (optional garnish))
FOR CHEESECAKE:
Click the link above for the recipe.
---
Instructions
Preheat oven to 350º. Grease two 9 inch cake pans; line with parchment. Grease parchment.
Make carrot cakes. Sift or whisk dry ingredients in a large bowl.
Add oil, eggs, and vanilla. Beat until well combined. Mix in nuts, coconut, carrots and pineapple.
Pour into prepared pans. Bake for 40 minutes (I have really heavy cake pans and mine take closer to 50 minutes). Edges should pull away from sides of pan and toothpick inserted into center of cake should come out clean.
Cool 10 minutes, then remove from pans to cooling racks.
Let cool completely, about 3 hours, before continuing with assembly.
TO MAKE FROSTING:
Beat cream cheese, mascarpone and butter till smooth. Sift powdered sugar into bowl and mix well until no lumps remain.
Add vanilla and mix well.
TO MAKE CHEESECAKE:
Tightly wrap outside of 9-inch-diameter springform pan with heavy-duty foil. Line pan with parchment round.
Preheat oven to 350°.
Gently melt white chocolate in microwave. Set aside.
Using mixer, beat cream cheese, mascarpone and sugar in a large bowl until smooth. I like to use the paddle attachment on my stand mixer for cheesecakes.
Add eggs one at a time; beat just until blended. Mix in flour and vanilla, then white chocolate.
Spread cream cheese batter evenly in the prepared pan.
Place springform pan in large roasting pan. Pour enough hot water into roasting pan to come halfway up sides of the springform pan.
Bake until cheesecake is golden and center of the cake moves just slightly when pan is shaken, about 1 hour.
Transfer to rack; cool 1 hour. Chill overnight. (Cake can be made 2 days ahead. Cover and keep chilled).
TO ASSEMBLE:
Place one cake layer on serving plate, rounded side down. Spread a thin layer of icing on of cake. Top with chilled cheesecake (remove parchment), then top with 2nd cake, rounded side down.
Frost cake and press chopped nuts onto sides if desired.
Notes
Developed from a combination of recipes from The New Basics Cookbook and Bon Appetit
Prep Time:

45 minutes

Cook Time:

1 hour 50 minutes

Category:

Cake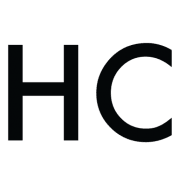 Liz Berg
My mom was an amazing cook, but she wasn't much of a baker. When my sisters and I yearned for a sweet treat, I turned to our trusty BH&G cookbook and zeroed in on the dessert tabs. My love of baking began in my childhood kitchen. I married a chocoholic and together we had 3 children with plenty of sweet teeth. I started my blog in 2010 to chronicle my baking journey.