Castello Summer of Blue — Blue Cheese Skillet Rolls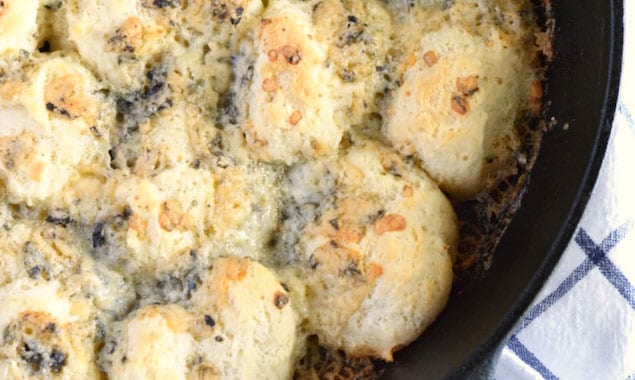 PARTNER POST – Get inspired with creatively crafted Castello Blue Cheese as we celebrate a Summer of Blue with #BluesdayTuesday.
As we head into the season of comforting fall foods, be sure to bake up a pan of these blue cheese pull-apart rolls for a game day appetizer or served next to a favorite bowl of soup.
By Sharon Lachendro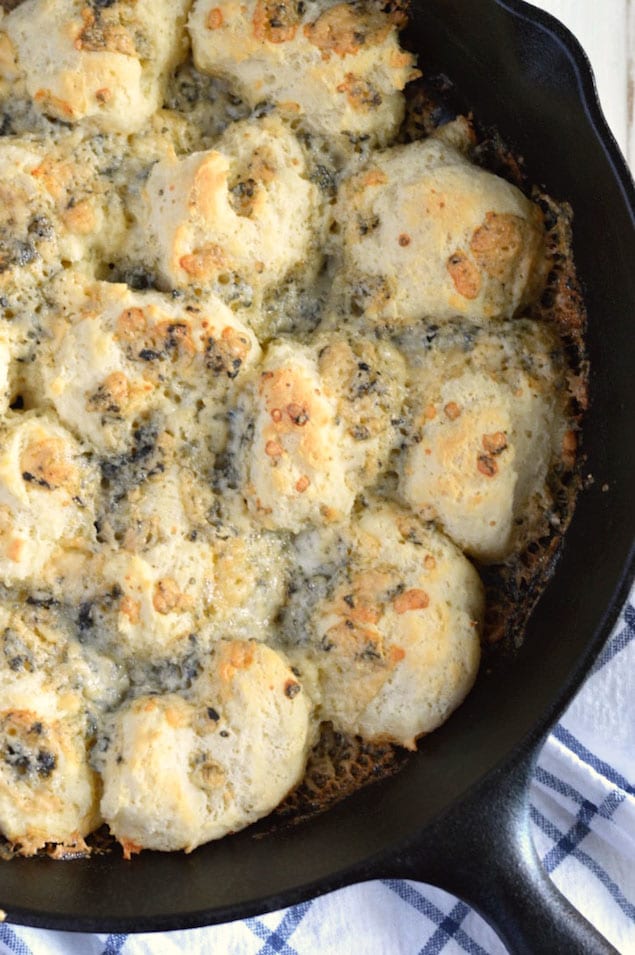 These warm rolls are hot, buttery, tangy, and utterly addicting.
Blue cheese is one of those foods that I wasn't fond of when I was younger. But as my tastes have changed, I've definitely come to appreciate it and really enjoy it. I love it in salads, on top of Fettuccini Alfredo, and now in these blue cheese pull apart rolls.
The warm blue cheese adds a whole other taste dimension to your typical buttery rolls. They've still got that buttery goodness but they've got a tangy saltiness from the blue cheese.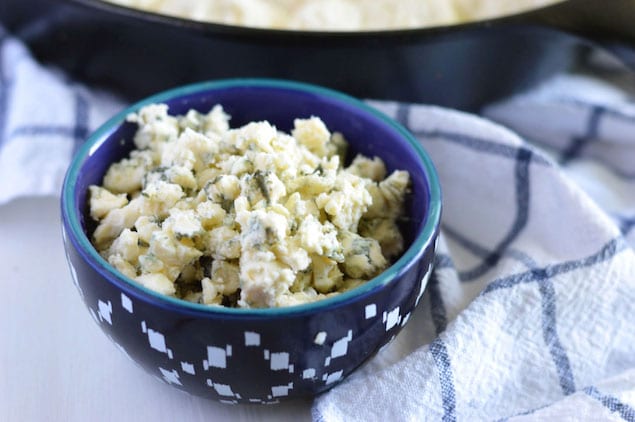 The end of summer and the beginning of fall means a few things. Nights are getting cooler, food we're eating shifts to warmer more comforting dishes, and football.
I can't think of a better dish than these blue cheese pull apart rolls to cover all of your food needs this time of year. They're warm and comforting and they'd be perfect to serve with some game day grub or alongside a piping hot casserole for dinner. A versatile blue cheese dish, who would've though?! Blue cheese has so much more going for it than cheese boards and wine.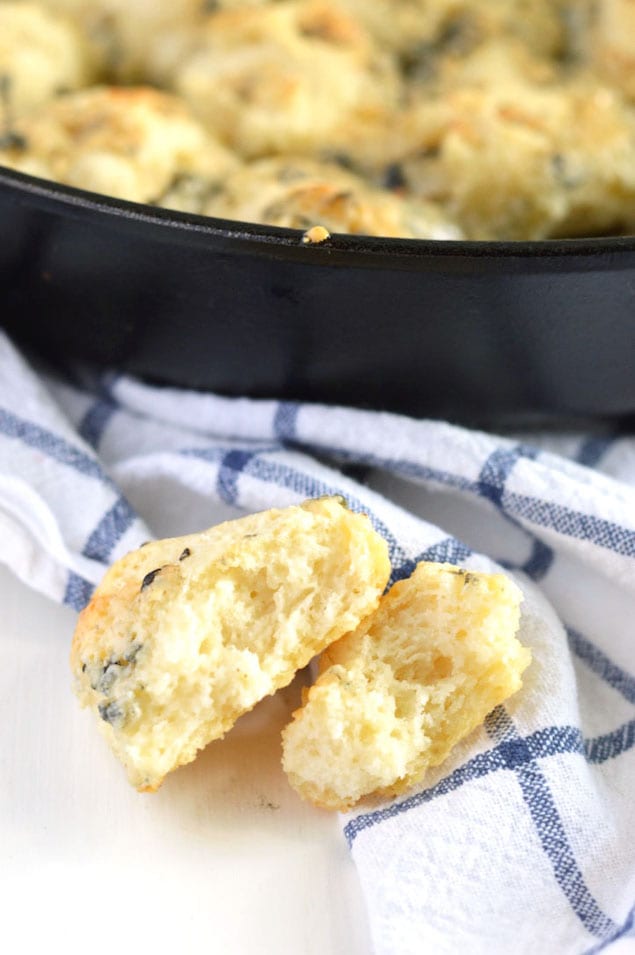 One of the best parts about these rolls are the bits of blue cheese that bake up on the edges of that pan and on top of the rolls. You could bake the rolls and then add the blue cheese in the last few minutes if you don't want it to get so crispy.
For this particular dish, I used Castello Extra Creamy Danablu. It's so velvety and so, so super creamy – absolutely delicious. This cheese pairs really well with nuts, sweet fruit (like pears, blueberries, and figs), garlic, beef, and bread.
While these blue cheese pull apart rolls are insanely delicious on their own, I recommend serving them alongside a big, juicy steak and some garlic roasted potatoes. Best dinner ever.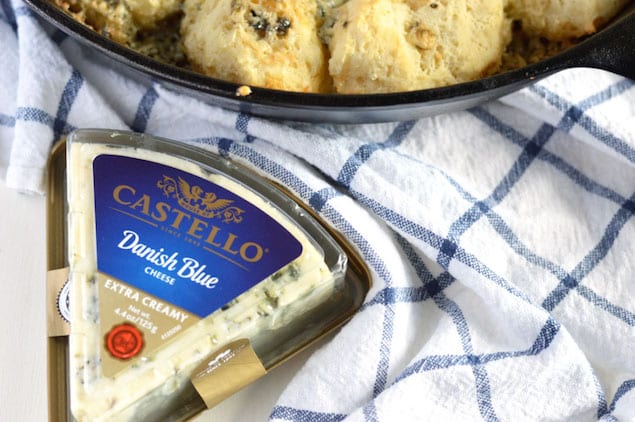 Castello Summer of Blue — Blue Cheese Skillet Rolls
As we head into fall, be sure to bake up a pan of these blue cheese pull-apart rolls for a game day appetizer or served next to a favorite bowl of soup.
Recipe Type:
Baking, Bread
Ingredients
1 Tbsp active dry yeast
1 Tbsp granulated sugar
1 C milk, warmed to 110 degrees
2 ¼ C gluten free all-purpose flour
2 tsp xanthan gum
1 ½ tsp baking powder
1 tsp fine sea salt
6 Tbsp butter, divided (plus extra for pan)
1 egg, room temperature.
1 4.4 oz package Castello Extra Creamy Danablu cheese, crumbled
Instructions
In a medium bowl, add the yeast and sugar and mix together. Gently pour the milk over the yeast and let it sit for about 10-15 minutes. The yeast will activate and foam up.
Preheat oven to 375 and butter a 12-inch cast iron skillet with 1-2 tablespoons of butter.
Add the flour, xanthan gum, baking powder and salt to the bowl of a stand mixer and mix on low to incorporate the ingredients.
In a small bowl microwave safe bowl, melt 4 tablespoons of the butter. When the butter is melted whisk in the egg. Pour the mixture into the proofed yeast (its should be very foamy by now) and gently stir to combine.
Turn the mixer on low and pour the wet ingredients into the dry ingredients. When all the liquid is added, turn off the mixer and scrape down the sides and bottom of the bowl. Turn the mixer back on to a medium low speed and mix for two minutes. (The dough with be like cookie dough than bread dough.)
Use a scoop (I use an OXO medium scoop – about 2 tablespoons) to scoop the dough into the prepared pan. I get 18 rolls when I use the scoop.
Melt the remaining butter and brush over the tops and sides of the rolls. Cover the whole pan with plastic wrap to trap in heat and place on top of the pre-heating oven to rise for 1 hour. (If you prefer to keep your oven off, let the rolls rise in a warm, non-drafty place.)
When the rolls are done rising, remove the plastic wrap and top the rolls with the crumbled blue cheese. Bake at 375 degrees for 20-25 minutes or until the rolls are cooked through.
Serve hot or at room temperature.
Sharon Lachendro
New Englander born and raised. I'm the wife of a gluten-sensitive sweets and carb lover and mother to two beautiful girls. I'm the author of What The Fork Food Blog, home of easy gluten-free recipes that can easily be adapted for gluten-eaters. I love, love, love vanilla, Julia Child quotes and coffee. Lots and lots of coffee.