Chef Todd Knoll's End of Summer Kimchi Salad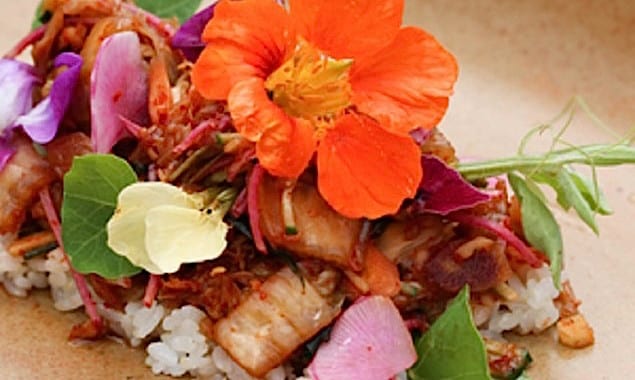 Executive chef of Jordan Winery Estate, Todd Knoll creates dishes that pair with their wide variety of wines featuring fresh produce grown on the property.
By Michelle M. Winner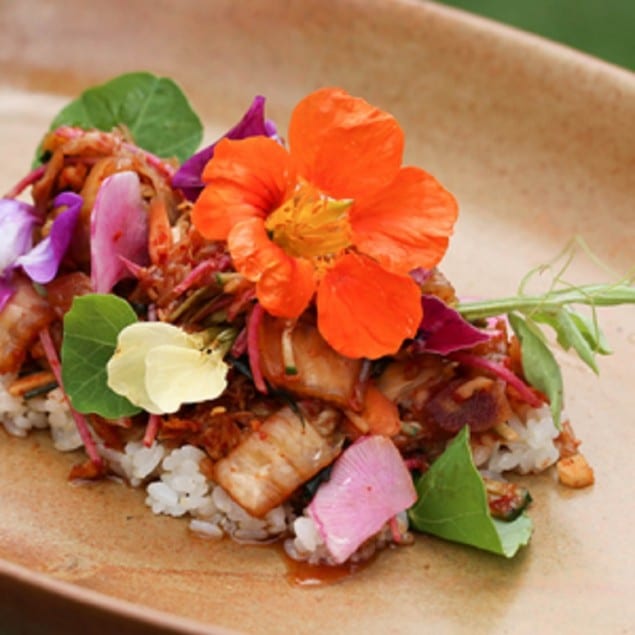 Tangy, refreshing Kimchi for this salad takes seven days in brine. Image: Jordan Winery
Jordan Winery Estate 's popular Estate Tour and Tasting begins with a visit to the estate's garden. Wandering the rows of fruit, flowers and vegetables, guests are invited to nibble ripe berries and enjoy the flowers and vegetables.
See Also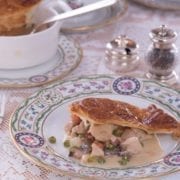 Next, via the Mercedes transport, you'll head through the vines and the olive trees down to an idyllic setting replete with huge shade trees, and a peaceful pond where ducks paddled by. A massive stone table pre-set with various Jordan Chardonnays and Amish style boxes hold delicious morsels prepared by the Jordan chef. A combination of vintages contrasted and complemented by sweet and savory bites.
Last stop is the dramatic glass-sided structure at the top of a hill for a tasting of rich reds. Here the careful gardening, and intense flavors come into play: the vegetables, herbs, fruits, ingredients and flower garnishes all come from the estate garden.  The edible magic here is courtesy Executive Chef Todd Knoll, who grew up in multi-cultural Hawaii and creates inspired tastes to complement the fruit-forward wines of Jordan Estate.

Last of Summer Garden In Jordan Winery's Kimchi Salad
Fresh and tangy, this is the perfect end of summer salad straight from your garden and into the brine.
Author:
Executive Chef Todd Knoll
Cuisine:
Modern California Fusion
Ingredients
4 pounds Napa cabbage, cut into ½" strips
1½ pounds Lacinato kale, chiffonade (½ pound reserved)
¾ cup Kosher salt
10 cups water
1 pound bok choy, cut into ½" strips
1 cup white soy
3 Tbsp. Saeujeot (Korean salted shrimp)
1 ½ cups Demerara sugar
26 garlic cloves, minced
½ cup fresh ginger, finely grated
1 cup Kochukaru (Korean chili powder)
⅓ cup fish sauce (preferably Red Boat)
1 bunch scallions, cut into 1" pieces
2 baby leeks, cut into ¼" rounds
3 cups baby carrots, sliced
2 cups watermelon radishes, julienned
6 Japanese cucumbers, ¼" slice
1 cup Nasturtium leaves and blossoms
Instructions
In a large bowl or tub combine cabbage, kale, salt and enough water to cover.
Allow the greens to brine overnight.
The next day squeeze as much of the brine out as possible and place the greens in a large non-reactive working bowl.
To the bowl add all of the remaining ingredients but the reserved kale, cucumber and nasturtium. Toss all ingredients thoroughly to evenly distribute and then place in a sterilized pickling crock or tub. Gently weigh the mixture down and loosely cover.
Allow the kimchi to begin to ferment at room temperature for 24 hours.
After 24 hours, the crock may be moved to refrigeration.
Toss the mixture every two days for a total of seven days.
Add the reserved kale and Japanese cucumber and toss once more to combine.
Refrigerate for a final day and the kimchi is ready to serve.
I enjoy the texture and bite of the one-week-old kimchi, but it will become even more complex as the fermentation progresses.
Keep revisiting and readjusting seasoning as desired.
I gently fold in the nasturtium blossoms and leaves at the time of service.
Other fresh garniture may also be added at this point; fresh peas, favas and their greens are seasonal favorites.
Michelle M. Winner
Michelle was born with a fork in her hand. As a culinary travel writer and confirmed foodophile she delights in the world-wide discovery of new flavor profiles, spices, salts and herbs. Based in one of the world's foodie meccas; Portland, Oregon, not far from "Pinot Noir Heaven" Michelle shares culinary travel and chef's recipes. Her photography has appeared in Saveur Magazine and she has contributed culinary travel articles to Forbes online, WSJ online, Business Insider, Condé Nast Digital Media, Islands magazine and many others. A confirmed globetrotter, she still keeps her bags packed and fork in hand (well . . . except through airport security.)