Polenta makes for a gluten-free "crust" in this tart-like vegetarian dinner full of unexpected flavors.
By Vicky Cohen and Ruth Fox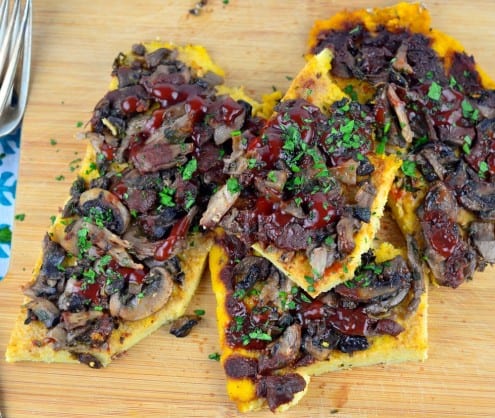 Cashew Polenta with Mushrooms and Tomato-Pomegranate Reduction
Polenta makes for a gluten-free "crust" in this tart-like vegetarian dinner full of unexpected flavors.
Author:
Vicky Cohen and Ruth Fox
Ingredients
1 cup instant polenta (see note for not instant polenta)
3 cups cashew milk (see note for not instant polenta)
½ tsp salt
? tsp black pepper
½ tsp dried oregano
1 tsp veggie broth powder Optional
2 tbsp extra virgin olive oil
1 pound assorted mushrooms, sliced (we used portabella, crimini and oyster)
¼ tsp salt
? tsp pepper
2 garlic cloves grated
½ fresh grated parsley
1 tsp herbes de provence
Cooking spray
Parley to garnish
Tomato-Pomegranate Reduction
2 tbsp tomato paste
1 tsp extra virgin olive oil
½ cup pomegranate juice
2 tsp sugar ( we used Wholesome sweeteners)
pinch of salt
Instructions
Line a baking sheet with parchment paper or aluminum foil and coat with cooking spray
In a medium size sauce pan, combine cashew milk with salt, pepper, oregano and veggie powder if using it. Cook on low until tiny bubbles start to form on the surface.
Add polenta, stirring constantly until you reach a creamy consistency, about 3 minutes.
Spread polenta on the baking sheet, about ¼- ½ inch thick. Set aside to cool
In the meantime, prepare the mushrooms:
Heat olive oil in a large skillet. Add mushrooms, garlic, parsley, salt, pepper and herbes de provence. Cook over medium heat, stirring often until all the water from the mushrooms is gone, 5-7 minutes.
Spread mushrooms over polenta and drizzle with Tomato – Pomegranate reduction.
Serve immediately. If you are making this dish ahead you can put it in the fridge and then warm it up in the oven before serving.
Tomato-Pomegranate Reduction
In an non stick skillet, combine tomato paste and olive oil. Cook over medium heat for 5 minutes, stirring constantly
Add pomegranate juice, sugar and salt. Continue cooking for 3-5 minutes until it thickens
Note: If you use instant polenta you will need 6 cups of liquid and 30 minutes of cooking time.