This soup requires a little bit of planning ahead; reconstituted dry mushrooms add a depth of flavor you can't get from fresh mushrooms.
By Yuliya Childers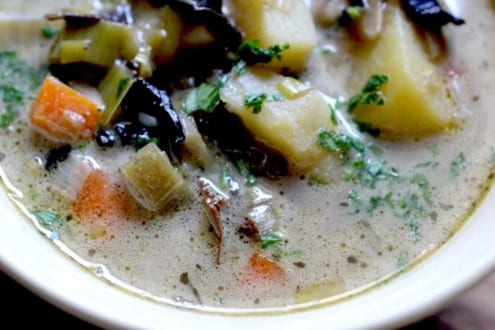 Dry Mushroom and Leek Soup With Farro
This soup requires a little bit of planning ahead; reconstituted dry mushrooms add a depth of flavor you can't get from fresh mushrooms.
Ingredients
For the soak:
1 cup of dry mushrooms, preferably mixed varieties, I used non-equal quantities of chanterelles and trumpets
2 cups of filtered unheated water
½ tsp salt
For the soup:
2 tbsp cooking fat
2 stalks celery, diced
2-3 medium carrots, diced
2 medium size leeks, dark green parts discarded, the rest cut in half, rinsed and sliced thinly
3 cloves garlic
½ tsp fenugreek
½ tsp cumin (optional)
½ tsp dry tarragon leaves (optional)
½ tsp dry basil leaves (optional)
1 bay leaf
10-15 black peppercorns crushed
½ cup white wine
3-4 cups stock or water, I used light beef stock
2 handfuls of pearled farro or barley (approximately ½ cup)
3 medium potatoes, peeled and diced
more salt and pepper to taste
½ cup cream or half-and-half (totally optional)
fresh parsley to garnish
Instructions
The night before making the soup, rinse the dry mushrooms in cold water, then place them into a bowl, cover with filtered water and add ½ tsp salt. Let mushrooms sit overnight to rehydrate and generate some mushroom base for you at the same time.
Word of warning, no matter how well you rinse dry mushrooms, they will retain some of the sand or dirt, so your best course of action is to wait until they are rehydrated, remove them from the soaking water (reserve the water, you will need it later!) and rinse in fresh water a few more times before using in a soup, shaking and agitating the mushrooms vigorously. As for the soaking water, the best way to rid of the remaining grit is to pass it through a paper towel into another bowl — works like a charm!
Make the soup: cut carrots and celery into small dice. Slice the leeks thinly crosswise. Chop the garlic.
Heat the cooking fat in a dutch oven or a soup pot, over medium heat. Add leeks, carrots, celery and garlic all at once to the pot, sprinkle some salt and fresh ground pepper, and proceed sautéing in cooking fat, stirring occasionally, for about 7-8 minutes or until they are soft, wilted and translucent.
Chop the rehydrated and rinsed mushrooms as uniformly as possible, to resemble the size of the vegetable dice above. Add mushrooms to the vegetables, and continue cooking for about 4-5 more minutes, stirring once in a while to prevent scorching.
Add wine, stir thoroughly, and scrape the bottom of the pot with spatula to loosen all the stuck bits. Cook for another 2-3 minutes, until wine is about reduced in half.
Add mushroom soaking water (hopefully by now you have already passed it through the paper towel to remove the sand), and stock (or equivalent water amount). Bring to a boil.
Add potatoes and farro. Bring to a boil again. Reduce heat to low.
Add all the seasoning and herbs. Check for salt content. Cover the pot and simmer gently for at least 30 minutes, checking farro/barley for doneness periodically. The grain shouldn't fall apart on contact, and shouldn't be overly mushy. We are looking for soft pulp with somewhat chewy core. Once the grain reaches that state, the soup is done.
At this point you may add cream or half-and-half, if you like your soups lighter in color and creamier.
Garnish with fresh chopped parsley and serve while hot. Slurping is mandatory!
Yuliya Childers
Yuliya Childers is a self-proclaimed cooking and writing addict born and raised in a cosmopolitan city of Odessa on the Black Sea coast. She started cooking at quite an early age and learned most of her skills by watching others and reading cook books. Made-from-scratch naturally grown food is her passion. Yuliya believes that truly good food either creates or invokes memories. Her blog Eat Already! is focused on everyday creative yet un-pretentious cooking that anyone with basic skill can replicate. Yuliya's recipes are usually accompanied by childhood memories or family stories related to the dish in some way. Her recipes are honest, eclectic, multi-cultural, imaginative, and often outside the box. Currently she's into artisan breads, traditional cooking, and everything fermented… Yuliya is cooking and writing about it from Alabama.