A range of Fall flavors come together in a melt-in-your mouth cookie.
By Zerrin Gunaydin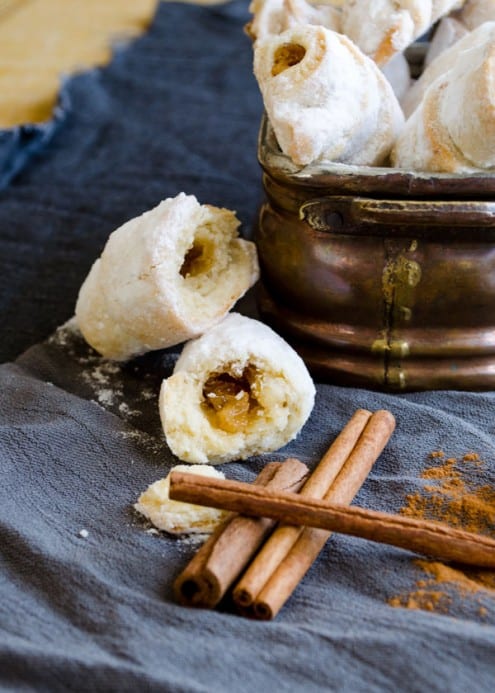 Apple rolls are always great sweet treats but they are even better in Fall since there are various fresh apples at bazaars in this season. My favorite is always green sourish ones, but these rolls are made with sweet apples, you decide the color. I saw some organic apples at our local bazaar last week and used them in this recipe, you know organic foods have better tastes and these rolls became divine with that distinctive flavor of apple.
You can find apple rolls in many pastry shops in Turkey and they are called elmali kurabiye –apple cookies. The shape of them might change though. Some of them are so thin and small, some are thick, some have little filling, some have a generous amount, so you are free to make such changes. The filling is always the same though, a mixture of cinnamon, walnut and apple. This is one of my favorite combinations in sweet treats. The flavor of cinnamon couldn't go better with another fruit! And walnut gives a nice nutty flavor to this mixture. If you like this combination, you should check out this Easy Apple Pie too!
The dough of these cookies is as important as the filling. It must be melting in your mouth, and you can eat as many as you like.I used all purpose flour for this recipe, but I sometimes make it with whole wheat flour and I love the brownish color more. Also, unlike the traditional one, it gets a little crispy that way and I love it too!
Traditional apple rolls don't have lemon zest in the dough, but I love its refreshing flavor in it. I think it complements the combination of flavors in the filling.
Cinnamon Walnut and Apple Roll Cookies
A range of Fall flavors come together in a melt-in-your mouth cookie.
Ingredients
Dough:
2 and ¼ cup flour
125g butter, at room temperature
1 tbsp olive oil
3 tbsp icing sugar
½ tsp baking powder
1 egg
2 tbsp yogurt
1 tsp grated lemon zest
filling:
3 apples, peeled and grated
½ cup walnut, crumbled
¼ cup sugar
½ tsp cinnamon
1 tbsp icing sugar to coat cookies
Instructions
Preheat oven to 180C.
Start making the filling. Heat a skillet and cook apple and sugar in it until it absorbs the juice.
Add in cinnamon and walnut and cook for a few minutes.
Let it cool.
Mix all ingredients for dough.
Make a big ball and divide it into 8 balls.
Roll them out and cut into 8 equal pieces.
Share the filling on those pieces and roll them up.
Repeat the same for all dough balls.
Line a baking pan with parchment paper and place apple rolls on it.
Bake for 20 minutes and let it cool.
Dust with icing sugar before serving.
Zerrin Gunaydin
Zerrin Gunaydin is a food blogger living in Turkey. She loves to share recipes mainly from Turkish cuisine on her blog Give Recipe. Zerrin is trying to inform people around the world about Turkish cuisine, which has a very large repertoire with its various kind of dishes.