Skip sweet cookies one day and put your baking prowess to work whipping up these salty, crunchy crackers.
By Zita Nagy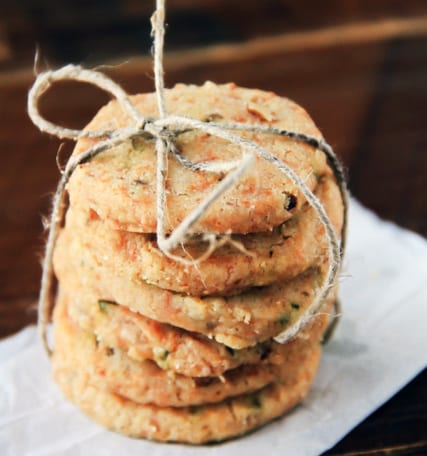 Basil, Walnut and Pecorino Crackers
Skip sweet cookies one day and put your baking prowess to work whipping up these salty, crunchy crackers.
Ingredients
150 g white spelt flour
100 g cold butter, diced
100 g pecorino cheese, grated
10-15 lemon basil leaves, chopped
3 tablespoons walnut, roughly chopped
1 teaspoon salt
Instructions
In a bowl crumble the cold butter with the flour. Add salt, cheese, basil and walnut. Mix everythig together until incorporated. Divide the dough into half and transfer each of them to clingfilm and shape into logs (10-12 cm long, 3-4 cm diameter). Wrap well and place in the fridge until hard, at least 1 hour.
Meanwhile preheat the oven to 170C (325F) and line a baking sheet with parchment paper. Unwrap the logs and cut crosswise into 5 mm thick slices. Arrange the crackers on the prepared pan. Bake the crackers until golden brown on the edges and lighter in the centre (for about 15 minutes). Transfer to a wire rack and let cool completely. The crackers will keep in an airtight container in cool dry place for up to 10 days.