Brie En Croute with Apples and Onions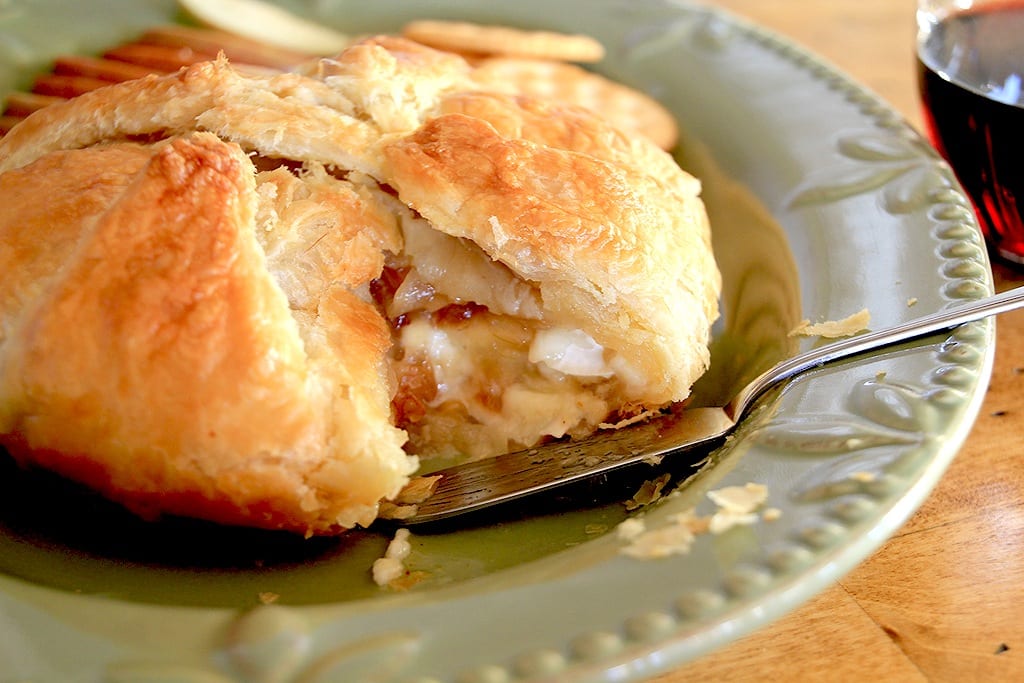 Spoil your guests with this as an appetizer or serve with just a salad and a bottle of wine for a romantic night in.
By Taylor Kadlec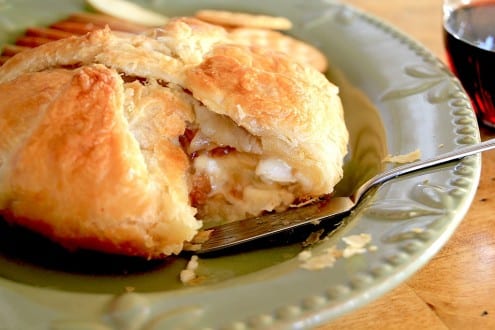 Brie En Croute with Apples and Onions
Spoil your guests with this as an appetizer or serve with just a salad and a bottle of wine for a romantic night in.
Ingredients
3 tbsp unsalted butter
1 yellow onion, sliced
1 apple, peeled and diced
3 tbsp brown sugar
½ tsp ground cinnamon
⅛ tsp ground nutmeg
salt, to taste
1 (8 oz) wheel of Brie
1 sheet of puff pastry
1 egg white
1 tablespoon water
Instructions
Place butter in a medium saucepan over medium-low heat.
Add onions.
Cook, stirring often, until they start to become brown and caramelized, about 15 minutes.
Add the apples, brown sugar, cinnamon, nutmeg, and salt and cook about 10 more minutes, until the apples begin to soften and release their juices and evaporate.
Remove from heat.
Preheat oven to 375 degrees F.
Spray baking dish or pan with cooking spray, or line with parchment paper.
Cut wheel of Brie in half horizontally to make two thinner wheels.
Place the bottom in the center of the puff pastry.
Spread about half of the apple and onion compote over the cheese, then top with second disc.
Top with remaining compote.
Bring the puff pastry up around the brie and apple layers, pinching the edges together.
Whisk together egg white and water to create the egg wash.
Brush surface of puff pastry with egg wash.
Bake in preheated oven until golden brown, about 45 minutes.
Let rest 5 minutes, then serve on platter with knife, crackers, slices of apple and a glass of Frei Brothers Reserve Cabernet Sauvignon.
Enjoy!
Taylor Kadlec
Taylor Kadlec is a lover of all things food including baking, cooking, and of course, eating. She is a self-taught baker and cook, and she shares her kitchen adventures on her blog Greens & Chocolate, where healthy cooking meets sinful indulgence.