The brown sugar and vanilla adds a smoky depth to the flavor of these buttermilk French toasts.
By Bowen Close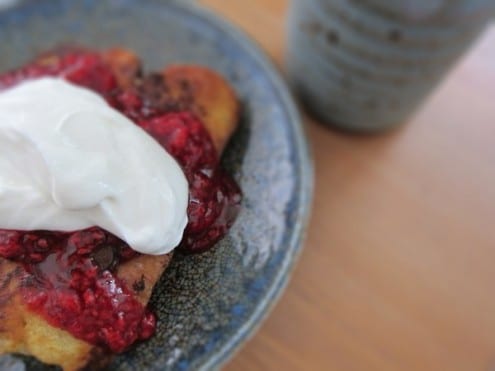 I've always loved mornings. I wouldn't go so far as to say that I'm a "morning person" and I'm definitely not a naturally early riser, but I do find that I'm more productive and far more relaxed in the mornings than I am later in the day. Maybe that's because I exercise first thing in the morning and the endorphins haven't yet worn off, or because the day's stresses haven't gotten to me yet, or because I still have a good outlook on the day, or because if I'm working from home I'm generally still wearing comfortable clothing and footware. (Do not underestimate the power that stretchy pants have to make me a happy person.)
Answering emails at my kitchen table, relaxing after a long morning run with a huge mug of peppermint tea and a background soundtrack of NPR is much different than sitting in an office, wearing heels and sipping on a paper cup of coffee.
All of this makes my new work schedule quite nice. Most weeks I have at least two days that I'm home until lunchtime, which leaves plenty of time for a leisurely work out and a good home-cooked breakfast or a long visit to the local bakery/coffeehouse.
And that home-cooked breakfast part is actually pretty key, because I've never had so much time before to experiment with breakfast foods. We usually go to the favorite local bakery at least one weekend morning, and that doesn't leave a lot of time for playing with breakfast recipes. But now, there's time.
A few things to note about this recipe for buttermilk brown sugar french toast: I love the subtle sour tang the buttermilk lends to the recipe, and it's a great way to use up leftover buttermilk from other recipes since it calls for so little. It works particularly well with a sweeter bread like challah, but would work well with other bread as well. I don't know that I'd use a sourdough since that might be a sour overload, but you could likely balance that with either more sugar in the batter or sweeter toppings. The brown sugar and vanilla add a smoky depth to the flavor, but if you wanted to use another sweetener and forgo the vanilla, that'd be good too. Try using honey, or agave, or maybe even your favorite liqueur to add the sweetness, the options are endless.

Holiday Breakfast - Buttermilk Brown Sugar French Toast
The vanilla and brown sugar lends a smokey depth to these delicious French toasts.
Recipe Type:
Breakfast, Dessert
Ingredients
1 egg
¼ cup buttermilk, well-shaken
1 heaping tsp. brown sugar
1 tsp. all-purpose flour
½ tsp. vanilla extract
4½?-slices challah (or other bread)
Canola or other flavorless oil for frying
Toppings: maple syrup, fruit, etc.
Instructions
Whisk together the egg, buttermilk, sugar, flour, and vanilla. The mixture may be slightly thick, but that's okay. Pour into a shallow dish and soak the bread slices at least 1 minute on each side, until well saturated.
Meanwhile, coat the bottom of a skillet (I used non-stick, but cast iron or not non-stick would work well too) with the oil and heat over medium-high. Heat until a drop of the french toast batter flicked into the pan results in a loud sizzle.
Add to the pan as many pieces of custard-soaked bread as will fit without crowding. Cook for at least 2 minutes on each side, until golden brown. The flour in the batter may cause it to come off the bread if you flip too early, so don't be impatient. The batter may brown more darkly than you're used to, but that's okay.
Serve with desired toppings.
Bowen Close
Bowen Close believes that food should make people happy and healthy, and loves bringing together people with creative, delicious food made from the heart. She loves making farm-inspired, flavorful dishes with sustainable ingredients - whether that's a big plate of roasted veggies, a towering chocolate layer cake, or a cocktail utilizing backyard ingredients - and collects recipes and other food-related stories on her website, Bowen Appétit. She is a chef, cooking instructor, and food writer living in Southern California with her husband and fully stocked pantry.