A dump and push kind of instant pot butter chicken, that is perfect for sliders or just over rice.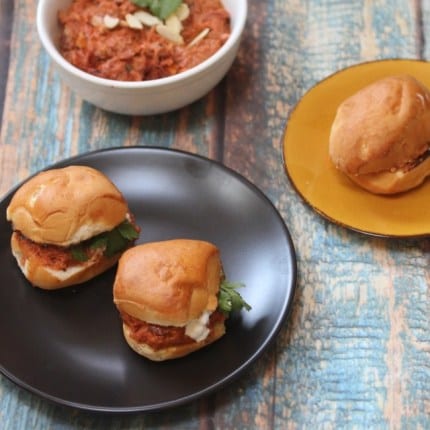 Every so often, we stumble onto a recipe that spells genius for us. Right now it is this pulled butter chicken. Done in practically a dump and push step in the instant pot, I am left with a batch of seriously good chicken that can be adapted for several things.
There was no sauteeing onions, or fussing involved. Added the ingredients, turned on the instant pot, let the chicken cook. Pulled the chicken into shreds with my fork. Yes, it was soft and fork tender. I cooked down any additional liquid.
There was just enough left to ensure that the chicken stayed moist. A yogurt and cilantro dressing brings the perfect contrast to the flavors. So when it is cold, cold, cold try this batch of easy and comforting pulled butter chicken.
Click here for the yogurt sauce recipe.
Buttered Chicken Sliders
Author:
Rinku Bhattacharya
Recipe Type:
Appetizer, Main
Ingredients
For the Pulled Butter Chicken
½ cup yogurt
1 and half pounds boneless skinless chicken thighs (the bone in ones will offer extra flavor)
2 teaspoons minced garlic
2 teaspoons minced ginger
½ cup chopped tomatoes
¼ cup canned tomato sauce
2 teaspoons tandoor masala
1 teaspoon garam masala
1 and ½ teaspoons salt
1 and ½ teaspoon sugar
3 tablespoons butter
2 teaspoons dred fenugreek leaves (optional, but seriously amps up the flavor)
For the cilantro yogurt sauce
Click the link above for the recipe.
Instructions
Mix together the yogurt, chicken, garlic, ginger, tomatoes, tomato sauce, garam masala and salt and sugar. See note.
Place the mixture in the instant pot, set on five minutes of pressure and allow for a natural release.
Remove the cover, turn on saute mode and add the butter and fenugreek leaves if using.
Pull the chicken into shreds using two forks and remove any bones.
Cook for 3 to 4 minutes until most of the sauce is evaporarated.
Mix the yogurt with the chopped cilantro.
Split the rolls, spread with the chicken mixture. Top with a little yogurt sauce. Sandwich together and serve.
Notes
Marinating the chicken earlier helps a lot with both flavor and planning ahead.