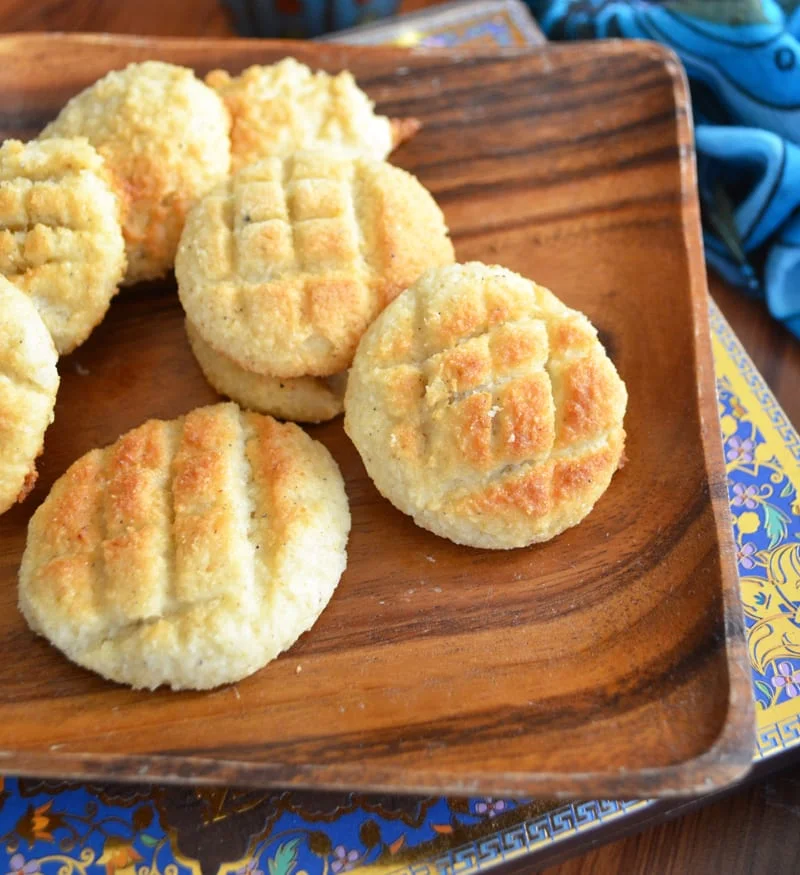 These cardamom- and coconut-flavored cookies have a delicate, melt-in-your mouth texture from the semolina flour.
By Sawsan Abu Farha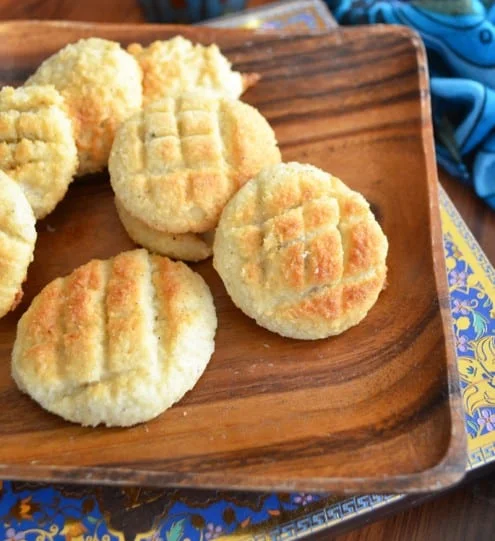 Bolinhas are cardamom flavored coconut and semolina cake-like cookies from the Indian state of Goa. When they come out of the oven, they are a little crisp/ crunchy on the outside and soft on the inside. When they cool, their texture changes into a melt-in-the-mouth cloud of coconut and semolina with the wonderful taste of cardamom whispering from the back ground
What is unusual about these cookies is that they are made entirely with semolina and fresh grated coconut. There is no flour in them. To make them you have to allow the batter an overnight rest so that the semolina can soak up liquids. That is what results in the irresistible melt in your mouth cake-like cookie.
Bolinhas de Coco
These , cardamom- and coconut-flavored cookies have a delicate, melt-in-your mouth texture from the semolina flour.
Ingredients
2 cups (500 ml) (5-1/3 oz) (150 gm) fresh grated coconut, packed
1-1/2 cups (360 ml) (9 oz) (250 gm) semolina
1-1/4 cups (300 ml) (8-3/4 oz) (250 gm) granulated sugar
¾ cup water (180ml) (6 oz) (175 gm) water
A pinch of salt
2 tablespoons (30 ml) (1 oz) (30 gm) ghee (clarified butter) or melted unsalted butter
2 large eggs
8 to 10 pods cardamom, powdered (about 1-1/2 teaspoon)
Instructions
Run the grated coconut in your processor or the small jar of your blender a couple of times so that the flakes are smaller and uniform in texture. Do not grind into a paste. Keep aside.
Put the semolina in a pan and toast/ roast it, over low to medium heat, until it starts giving off an aroma, and looks like it's about to start changing colour. This should take a couple of minutes. Do not brown. Transfer the semolina into a bowl and keep aside.
In the same pan, pour the water and add the sugar to it. Place it on medium heat and keep stirring until the sugar dissolves completely. Once the sugar has dissolved, keep stirring the solution and let it cook for about 2 minutes. Turn off the heat. The sugar solution should just begin to start forming a syrup but is still watery. Do not cook until it forms a thick syrup.
Add the toasted/ roasted semolina and mix well. Then add the coconut, salt and ghee (or melted butter) and mix well. Put the pan back on the stove, and over medium heat stir the coconut mixture until it is really hot and easily forms a thick clump. This should take about 2 to 3 minutes.
Take the pan off the heat and let the semolina coconut mixture cool to room temperature. Transfer this into a bowl or container, cover and refrigerate for at least 8 hours, ideally overnight. For really fluffy biscuits/ cookies, the overnight rest is recommended.
The next day, take the dough out of the fridge and let it come to room temperature. Separate the yolks from the egg whites.(See notes) Lightly beat the yolks with a fork to break them and add to the dough. Also add the powdered cardamom and mix well with a wooden spoon or fork.
Whisk the egg whites by hand until frothy and add to the dough. Mix well till incorporated.
You will now have a slightly moist and sticky dough. Refrigerate this dough for about half an hour so it firms up a bit.
Pre-heat your oven to moderate 180°C/350°F/gas mark 4. Line your baking trays with parchment or grease them well with some ghee or melted butter.
Take the dough out and pinch off walnut sized bits of dough. The dough should be firm enough to handle without difficulty. If the dough is sticking to your palms, lightly dust your palms with flour before shaping the dough. Roll the bits of dough into balls and then flatten them very slightly.
Decorate the top by marking criss-crosses (3 equidistant lines one way and another 3 crossing them at right angles), with a table knife. Press down a bit but not too deep or right through the biscuit/ cookie. Use up all the dough this way.
Place the shaped dough on the baking trays leaving a little space between them. Bake in a preheated moderate oven for about 20 to 25 minutes until they're a golden brown and done. Let them cool on the sheets for about 5 minutes and then transfer to racks to cool completely.
Store the biscuits/ cookies in airtight containers. This recipe makes about 4 dozen Bolinhas de Coco.
Notes
Once the first part of the dough has been made it must be refrigerated for at least 8 hours. About 10 hours to overnight is even better, because this allows the semolina to absorb moisture and become soft. It also produces fluffier cookies. If you can find fresh grated coconut, please use that as it gives you the best taste and texture. If you're using frozen grated coconut let it come to room temperature before using it. If using dehydrated shredded coconut or desiccated coconut, please look for the unsweetened kind. Also re-hydrate your coconut by adding about ½ cup warm water to 2 cups of dehydrated/ desiccated coconut and let it sit for about half an hour. After half an hour, drain off any excess water, if any and then use in the recipe. You should have moist coconut not wet coconut. The first time I made these I made them following the recipe and separated the egg white from yolk. The second time I forgot that step and actually ended up having cookies that rose more in the oven and were better in texture
Sawsan Abu Farha
Passionate food explorer Sawsan Abu Farha lives in Jordan and enjoys mixing east and west in her kitchen aiming to get the best of both worlds.Juggling work, motherhood, blogging and a passion for food and food photography, she shares her journey in her blog "Chef in disguise".