Iceland's land and waters are kept pure through strict regulation and age old traditions of conservation. That purity is felt even in their food. Get a Taste of Iceland in New York at the NORTH Festival October 2-7.
By NORTH Festival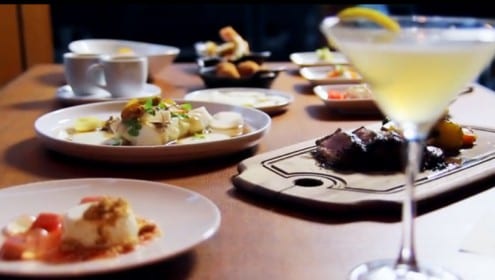 Long before there was "organic", there was Iceland.  The Icelandic culinary traditions favor pure, wholesome products that deliver bright, fresh flavors.  Rich, unpolluted landscapes and abundant clean water offer the perfect environment for growing the best food.  The tight regulations enforce the highest standards in hygiene, taste, and appearance.  The proof is in every delectable meal they serve and in every wild blueberry picked from the hillsides.
Long before there was "free-range", there was Iceland.  In spring, lambs are sent high into the mountains to graze on the bounty of the clean volcanic soil then rounded up by horseback in the fall.  The tradition still goes on and explains why Icelandic lamb tastes so perfect and delicate.  Icelandic meat never lives in a factory.
Long before there was "artisanal", there was Iceland.  Whether they're making cheese, butter, chocolate, or vodka, the product stands out for its purity and homemade flavor. Iceland is a country without any additives, preservatives, or chemical-enhancement.  The food follows the same philosophy and you can taste the difference:  a bite of Iceland tastes 100% natural.
Buy Tickets for ACME vs. Dill, and get a Taste of Iceland in New York at the NORTH Festival October 2-7. Dinner is an 8 Course Menu
Buy Tickets for ACME vs. Dill, Taste of Iceland in New York Lunch 4 Course Menu