It had been sometime since I had attended a dinner at the James Beard House.  The former residence of revered cook and food author, James Beard, is now a mecca for visiting chefs and fine-dining enthusiasts. So it should come to no surprise that I accepted the invitation to dine at the house not knowing anything about the guest chef or the event. Sure enough, I was pleasantly surprised as that evening we were transported to Steamboat Springs, Colorado's Latin and global fusion restaurant, Bésame.
Entering the James Beard house is frankly underwhelming. After all, this was a residence that was never meant to be a restaurant. But after being greeted and given their table numbers in a tight drawing room, diners immediately walk through a fairly small kitchen where executive chefs, sous chefs and prep chefs meticulously prepare canapés and hors d'oeuvres. This is where the admiration and subtle grandeur begin. It's quite a unique walkthrough for guests who rarely get so close to the behind-the-scenes fine-dining prep. Certainly, it's an even more jarring experience for the invited chefs who are not only looking to put out one of their best services at such an esteemed eatery, but have to do so in a foreign kitchen, with their diners passing by, gawping and taking pictures.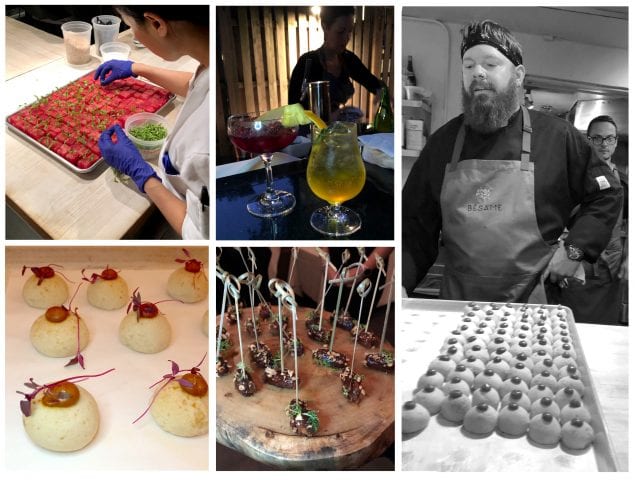 Executive Chef Joe Campbell and his team from Bésame noticeably came prepared to cook at the Beard House. The chefs seemed unfazed as diners moved past the prep counter where final touches were being added to canapés. Microgreens finished off both the Sangria-soaked Compressed Watermelon sprinkled with smoked-maldon salt and the Pan de Yucca –chewy and cheesy bites of Latin bread topped off with a dollop of salsa macha. My favorite appetizer of the evening was the Iberico Chorizo Stuffed Dates. Stuffed dates are a go-to tapas for me at any Spanish restaurant, but I've never tried ones filled with chorizo and glazed with a fish sauce caramel, then sprinkled with crispy garlic. The fusion of western and eastern flavors was well-balanced and quickly whet my appetite.
As we enjoyed the appetizers, I spoke with Besame's co-founder, Hannah Hopkins, who explained how the flavors we were experiencing truly represented her Colorado restaurant and why she was so proud to showcase them in New York City. The restaurateur is also an accomplished chef whose first restaurant was just north of the city. Its success gave her the ability to relocate to Steamboat Springs, Colorado where she now co-owns two thriving eateries, Mambo (regional Italian and New American cuisine) and Bésame (Regional Latin flavors and Global Fusion). So finding herself back in New York celebrating Bésame's talent at the Beard House was a homecoming like none other.  Hopkins further explained that Bésame, itself, is an ebullient celebration of not only food, but of art, culture and music. The food may be high-end, but there is nothing fuddy-duddy about the popular downtown restaurant.
Her description of Bésame's atmosphere was supported by the apéritifs being made and served in the Beard House's courtyard to accompany the Latin-inspired appetizers. One was the Chica Morada, a purple corn punch made with pineapple, cinnamon clove and that brandy-esque spirit Singani 63. There was absolutely nothing stodgy about that drink. More sophisticated, was Rena's Saffron Gin & Tonic. Rena is Bésame's cocktail curator, Rena Day, who made her own saffron and lemongrass tonic to combine with Sleeping Giant Gin. Orange and rosemary finished the cocktail which was light, floral and a truly unique take on your run-of-the-mill G & T.
After cocktail and canapés, diners took their seats in the upstairs dining rooms where fastidiously set tables in warm yet elegant lighting set the stage for Chef Campbell's plated courses. Most of the courses may have been elevated for the one-night event (not every plate may get gold leafing in the Steamboat location) but all the developed flavors and masterful techniques would be familiar to Bésame's regulars. Chef Cambpell's cuisine is informed by years of culinary study at Le Cordon Bleu and training from culinary greats Chef Tim McKee and Chef Landon Schoenfeld. He even studied in Asia under a former Chef for the Royal Family of Thailand.
The training in the east would explain his skilled use of fish sauce with the stuffed date canapé and the dinner's surprising fourth course — a Thai Green Curry featuring Colorado beef, king oyster mushrooms, coconut cream and nam prik. Reading the menu, the curry dish surely seemed out of place. But the bright flavors of the deconstructed course were so finely balanced it ate right in line with the other dishes. With that much skill, it made further sense why Bésame's menu has a Global Flavors section.

The other three plated courses were testaments to Chef Campbell's Latin cuisine expertise. The first course, a Scallop Ceviche with smoked trout roe, passion fruit, leche de tigre, coriander and orange zest was bright, tangy and the perfect prelude to the duck course.  The tender Duck was served alongside a huilacoche gordita, chili mango and queso fresco. All sat on top of a mole that completed the dish with its creamy dark complexity.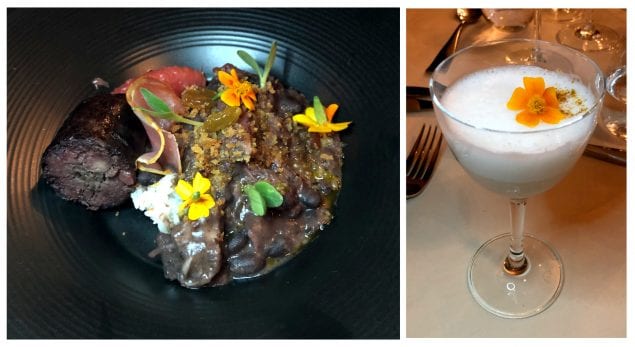 My almost-favorite dish of the evening was the Feijoada (which is also one of my favorite dishes to say). I will definitely be ordering Chef Campbell's version of the traditional Brazilian black bean stew when I visit Steamboat Springs. His Feijoada dish is flavored with four different types of pork, including blood sausage and Fermin lomo iberico which added such depth to the beans it made the rice and jalapeno vinaigrette necessary. It was topped with a farofa that gave the stew just the right amount of crunch. Unlike the other dishes in the meal which were masterfully paired with wines, the Feijoada was paired with a Caju Amigo cocktail. The drink cut through the richness of the black stew with the sharpness of the Latin sugarcane spirit, Avuá Amburana Cachaça. The frothy creaminess of the cocktail was achieved by mixing the cachaça with a cashew orgeat and an aquafaba.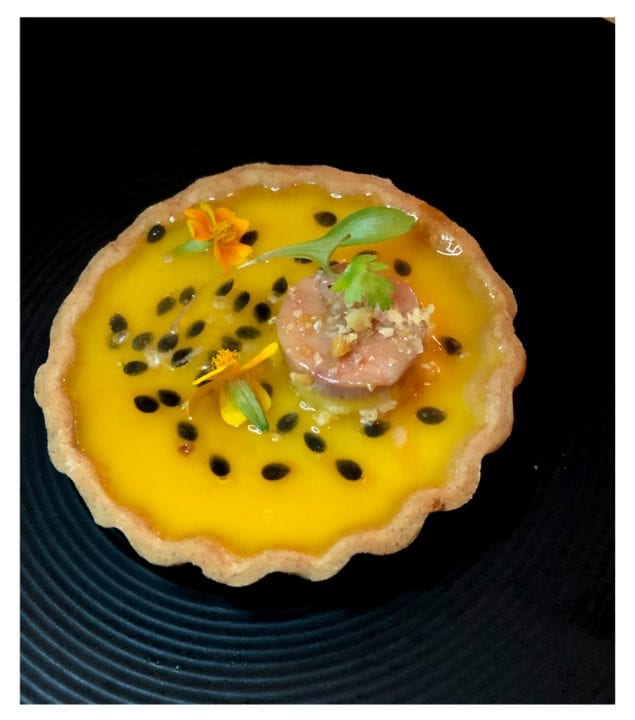 Surprisingly, my favorite course was the last of the evening. I'm typically not big on dessert, but the tart filled with passion fruit mousse and topped with Hudson Valley foie gras and pop rocks was the perfect ending to the meal. Though I've had the buttery liver with sweets and have seen pop rocks on fine-dining menus, before, I've never had them combined with the seemingly competing tartness of passion fruit. A spoonful of all three hit all the right spots in my mouth harmoniously. The bold dish may not have been every diner's favorite (but that night it was to my benefit, because I got to finish my dinner partner's portion).
Clearly, Hannah Hopkins has brought together the right talent in Steamboat. If you're there, take advantage of the Latin and global experience Chef Joseph Campbell and the Bésame team have refined. I can attest, It's truly Beard House worthy.
Bésame – Steamboat has happy hour specials daily from 4pm to 5:30pm, The Dining room & Bar is available daily from 4pm to close. They can be found at 818 LINCOLN AVENUE, STEAMBOAT SPRINGS, CO 80487 telephone 970 761 2561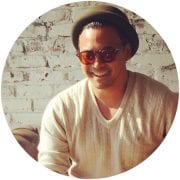 jordi adiao
I learned early in life to embrace your awkwardness... now, are you going to eat your chicken skin?