Feijoada is the national dish of Brazil and is the ultimate beans and rice dish. Made with several kinds of pork meat, slow-simmered to maximize flavor and served with refreshing slices of orange.
By Kimberly Killebrew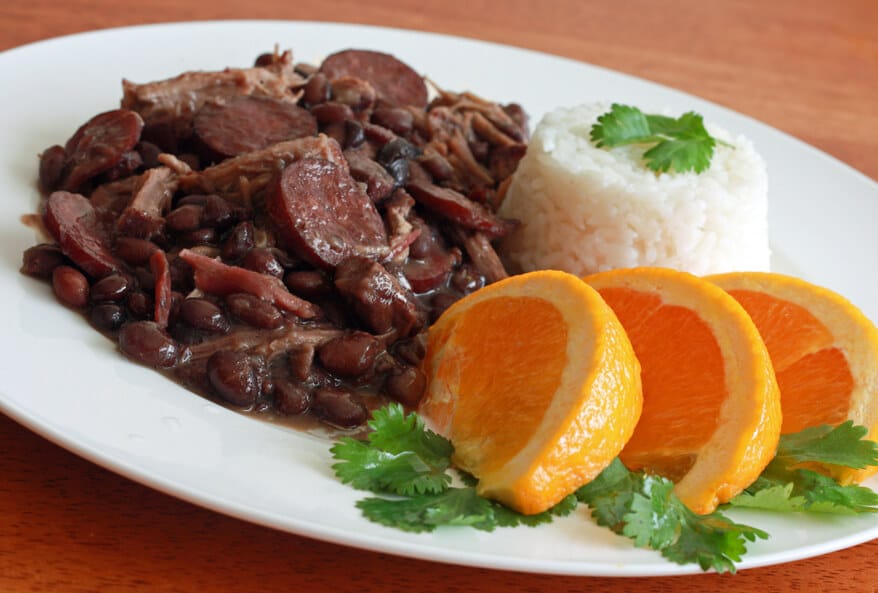 Feijoada (pronounced fay-jwa-da), is the National Dish of Brazil. It is essentially a black bean and meat stew, most commonly served with sliced oranges and rice, though fried bananas and chilies are also common accompaniments. Feijoada is made in virtually every Brazilian home and there are countless versions of it. This dish is found everywhere from the most humble of homes to the most sophisticated restaurants in Rio. Many restaurants even feature a "Feijoada Day."
Feijoada not only uses practically the whole pig, it uses a whole family of pigs! Fresh, cured, salted, sausaged, and smoked – all thrown in together in one big pot of savory goodness. My version uses pork roast (slowly cooked in all the juices and later shredded), bacon, spicy sausage, smoked sausage, and smoked ham hocks. All of this is slow-cooked for a couple of hours with black beans and seasonings.
How about a little history on the origin of the dish?
Feijoada is believed to date back to the 16th century when it was made using the cheapest cuts of pork such as ears, snout, feet and belly. There are variations as to origin of this dish, one of them linking it to the 1.3 million slaves brought from Africa to work the sugarcane plantations of Brazil. Beans were a staple the African slaves were already familiar with from their homeland and when they were fortunate enough to benefit from leftover scraps of pork from the slave-owner's kitchen, they made a meal of it that would eventually become the country's national dish.
That's the more romanticized version of its origin. Another version links it to Portuguese-influenced stews. Brazil was part of the Portuguese Empire until it won its independence in 1822, thus there is a lot of Portuguese influence in Brazilian cuisine.
See Also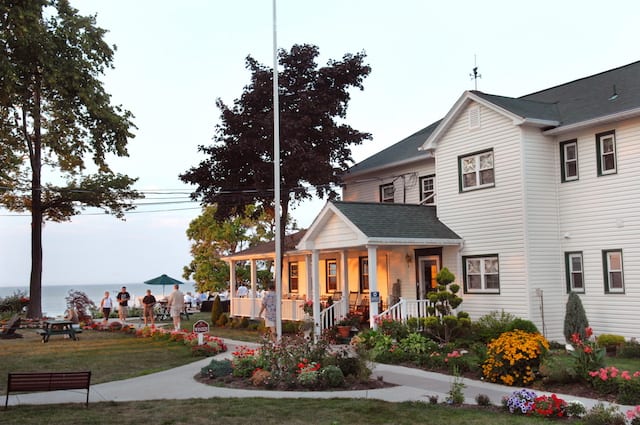 Perhaps its origin in a combination of the two.
In any case, Feijoada is world comfort food at its best. The slow-cooked, deeply flavorful and smokey taste of this meat and black bean stew is addictive. The sweet and refreshing citrus provides a pleasing contrast and offers a quick cleansing of the palate before second servings of the stew are (inevitably) requested.
Alright, let's get to that Feijoada recipe!
Print
Feijoada – Brazilian Beans and Rice
Feijoads is the national dish of Brazil and is the ultimate beans and rice dish. Made with several kinds of pork meat, slow-simmered to maximize flavor and served with refreshing slices of orange.
Author:

Kimberly Killebrew

Prep Time:

5 mins

Cook Time:

2 hours

Total Time:

2 hours 5 minutes

Yield:

6

1

x
1

lb dry black beans

3 Tbsp

olive oil

1

lb pork shoulder, left whole and shredded at the end of cooking, or cut into chunks

2

large onions, sliced

5

cloves garlic, minced

1/2

pound fresh Italian or other spicy sausage, casings removed and crumbled

1/2

pound smoked sausage, such as linguica or kielbasa, sliced

1/2

pound thick sliced bacon, cut into small pieces

1

smoked ham hock

4

bay leaves
Water

2

beef bouillon cubes

1/2 teaspoon

black pepper
Salt to taste
Hot sauce, according to heat preference
Orange, washed and cut into slices
Instructions
Soak the beans in a large bowl of water overnight.
In a large Dutch oven, heat the olive oil over medium-high heat and brown the pork shoulder until caramelized on each side. Remove the pork and set aside. In the same pan, add the bacon and cook until slightly crispy. Add the onions, stir to combine, and cook the onions until soft and translucent, about 5 minutes. Add the garlic and cook for another minute. Add the crumbled spicy and smoked sausage and cook until the spicy sausage is no longer pink.
Return the pork roast to the pot along with the smoked ham hock. Drain, rinse, and add the black beans to the pot. Add the bay leaves, black pepper, and beef bouillon cubes. Cover the contents of the pot with water until the meat is just barely covered (about 2 quarts). Bring it to a boil, reduce the heat to low, cover and let cook for 2 hours, or until the beans are soft. About 1 1/2 hours into the cooking time, if using whole pork roast, remove it, shred it, and return it to the pot. If the feijoada is too liquidy, uncover the pot and continue to cook for another 20 minutes or so to allow some of the liquid to evaporate. Add more salt to taste, if needed. Add some hot sauce, like Tabasco, according heat preference. Discard the bay leaves.
Serve with rice and orange slices.
Kimberly Killebrew
Raised in Western Europe, widely traveled, and currently residing near Seattle with her husband and children, Kimberly loves preparing and experimenting with a large range of flavors and cuisines. This is reflected in her food blog, The Daring Gourmet, where she invites all to "tour the world through your taste buds." Passionate cook, recipe developer and photo enthusiast, her culinary repertoire includes everything from gourmet to simple comfort food, and, as she puts it, "simply downright good eats."