Comforting banana bread muffins with a crunch of granola hidden inside and scattered on top. A fun treat anytime of the day.
By Traci York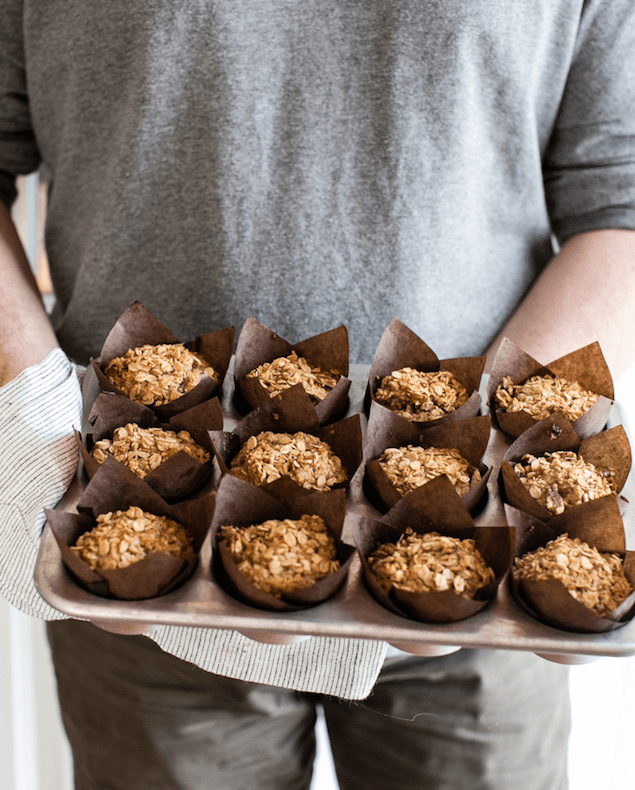 Muffins = Comfort Food
What is it about them…. not quite bread, sometimes teetering between a dessert and breakfast food. Sweet or savory, they are a grab-and-go snack… or slow food to be enjoyed alongside soup or chili.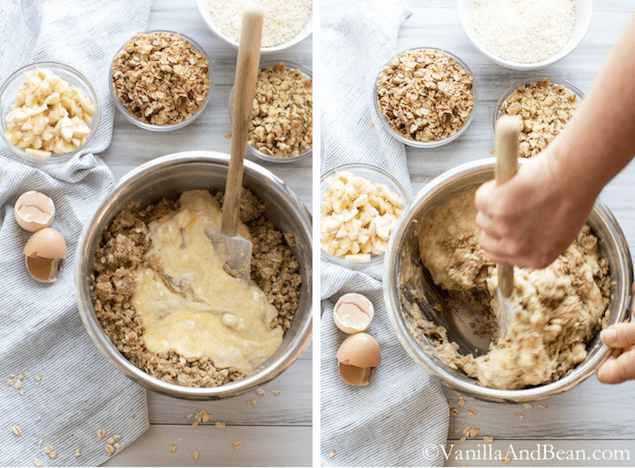 And then there's banana bread or muffins. I don't recall falling in love with banana muffins until well into my twenties. I'm not even sure when the love affair began or what recipe it was from. But I remember the first time I tasted the recipe from which Banana Oat Crunch Muffins came. It was in my teaching days, it was Friday, and it had been a long week. With the students off to their next class, I headed to a meeting with other teachers. There is where I discovered these muffins.
I remember them so distinctly because they made my day. A fellow teacher had brought them to share, and they couldn't have shown up at a better time. I was hungry. I wanted to eat. These muffins, y'all. I think banana muffin love has been rekindled.
See Also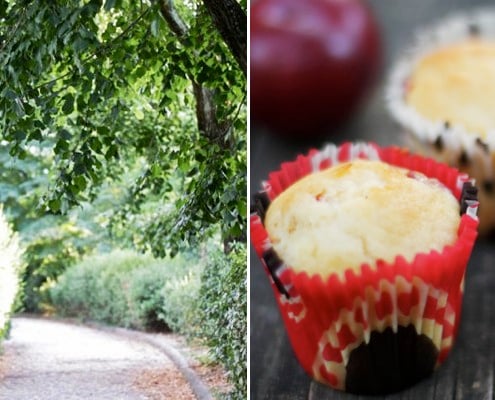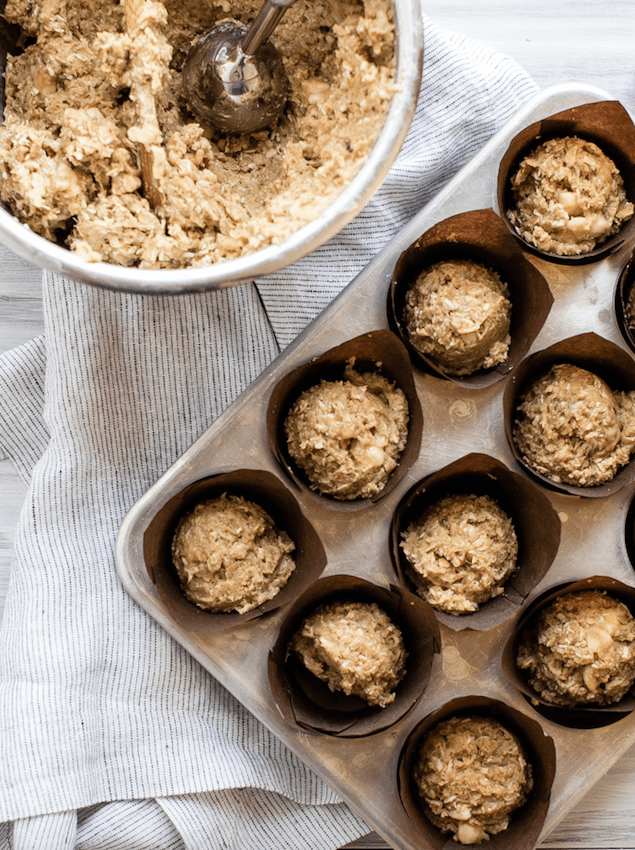 Part of the crunch factor comes from granola that's folded into the batter, then sprinkled on top before baking. For this recipe, I included maple pecan homemade granola (Find the recipe here.)because I almost always have some on hand. Store-bought granola can be used, although the muffin will be sweeter due to the increased sugar content of commercial granola; just make sure it doesn't have any dried fruit in it. These muffins are big and the recipe yields 21 muffins. They're a delicious choice for sharing at the office, with friends, your fellow teachers, or at brunch. They freeze beautifully too.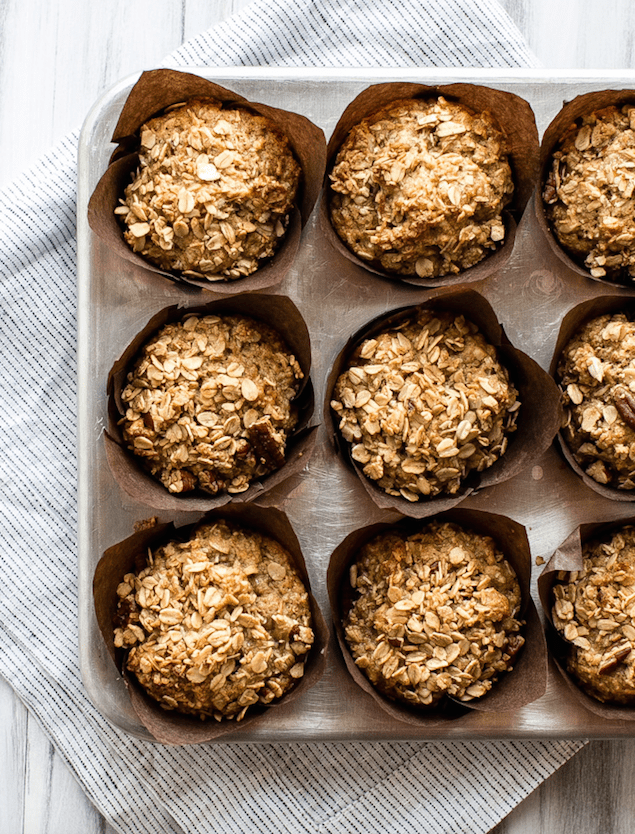 Banana Muffins with Granola Topping
Comforting banana bread muffins with a crunch of granola hidden inside and scatter on top. A fun treat anytime of the day.
Ingredients
2 C (296g) White Whole Wheat Flour
2 Tbs (16g) Corn Starch
2 tsp Baking Powder
1 tsp Baking Soda
½ tsp Sea Salt
1 C (94g) Thick Rolled Oats
1¼C (248g) Brown Sugar, break up any chunks
1 C (189g) Melted Virgin, Unrefined Coconut Oil, warm to the touch
2 (278g) Large Eggs, lightly beaten
½ C (136g) Greek Yogurt
2 tsp (16g) Vanilla Bean Paste (or Vanilla Extract)
1 C (214g) Bananas, mashed (about 2 bananas)
½ C (126g) Bananas, diced (about 1 banana)
1 C (92g) Walnuts, medium chop
1½ C (170g) Granola, divided
1 C (92g) Coconut, unsweetened and shredded
Instructions
Preheat oven to 350F (177C).
Line two muffin pans with 21 muffin paper liners.
Sift the flour, cornstarch, baking powder, baking soda, and salt in a large mixing bowl. Add the oats and brown
sugar. Stir. To the flour/oat mixture add the melted coconut oil. Using a wooden spoon, mix well (the batter will
be thick).
In a small bowl, whisk the eggs, yogurt, vanilla bean paste and mashed bananas until combined. Pour into
flour mixture and stir in, gently, until ingredients are evenly distributed.
Gently fold in the diced bananas, walnuts, 1 C (113g) granola and coconut until all ingredients are distributed.
The batter should be thick.
Using a measuring scoop, scoop ¼ C (82g) into each muffin cup. Or use a overfilled large cookie scoop (#20)
to make portioning a snap! Use the remaining ½ C (57g) granola to sprinkle about 1 Tbs over each muffin.
Bake for 25­30 minutes or until a toothpick comes out clean. The tops of the muffins should be golden and
some dark golden brown.
Remove muffins from pan about 10 minutes out of the oven. Cool completely on cooling wrack.
Store in a covered container for up to two days or freeze in a freezer proof container or freezer storage bags.
Notes
*Store­bought granola may be used (with no dried fruit), but the muffins will be sweeter due to increased sugar content.
Traci York
A Texas native and former omnivore, Traci is the author and photographer behind Vanilla And Bean, a vegetarian food blog where you'll find savory and sweet recipes and photography to inspire. Although flavors of TexMex influence her cooking, she now resides just North of Seattle WA where farms and farmers markets abound. This is where she finds her inspiration. After a career in education, Traci set off to pastry school to learn in the French style and hone her baking skills. While working at an organic, artisan bakery Traci started Vanilla And Bean to share her love of good food.