Baked Eggs – The Perfect Breakfast Dish
Baked eggs may seem like a fancy breakfast but they are really very easy to make and they require very little time to prepare.
By Sawsan Abu Farha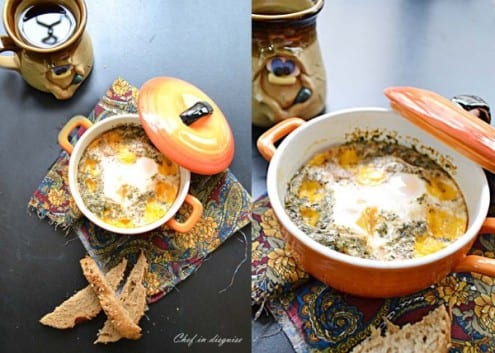 Baked eggs may seem like a fancy breakfast but they are really very easy to make and they require very little time to prepare. Add the fact that they are a great way to individualize breakfast with minimum effort. Everyone can choose the additions they would like on their eggs,herbs, cheese, cold cuts and vegetables. The possibilities are endless and it is so easy to please everyone.

Baked Eggs - The Perfect Breakfast Dish
Baked eggs are really the perfect breakfast dish. Super simple, and delicious.
Ingredients
3 servings (one adult and two children)
4 Eggs (see notes)
2 slices smoked turkey ( or your favorite cold cut meat )cut into strips
cheddar cheese cut into cubes
salt
pepper
¼ cup milk or cream
½ teaspoon herbs (herbs de Provence)
1 teaspoon parmesan cheese
¼ teaspoon paprika
Butter or oil for the ramekins
Instructions
Heat your oven to 200 C (390F), position the rack on the middle position
Butter or oil individual ramekins or one large oven safe serving dish.
Crack one egg per child or two per adult
Add the cubed cheddar and the slices cold cut meat
Whisk the milk with the herbs, parmesan cheese, herbs, salt , paprika and pepper.
Drizzle one tablespoon of the milk herb mix on each ramekins
Bake the eggs for 15-20 minutes depending on the desired degree of doneness you like the eggs. Stay towards the lower end of the baking time if you like the eggs to be runny
Notes
Baking dish or ramekins You can use either, I personally like serving them individually and that also means everyone gets to choose the additions they like The Cheese: I usually use sharp Cheddar, it adds more flavor and the kids love the little pools of melted cheese but you can use any cheese you like. Smoked cheese, feta and Emmental are great with eggs too. No matter what cheese combo I use, I always add parmesan to the milk or cream for flavor Herbs herbs de Provence, oregano and basil from the dry department work beautifully with baked eggs Vegetables: Spinach, onions, tomatoes are great choices to add variety to your baked eggs but keep in mind that you need to saute them before adding them to the eggs for two reasons. For one they take longer to cook so if you add them raw, the eggs will be done before the vegetables get a chance to be cooked through. The other reason is to reduce the water content. If you add the vegetables raw your baked eggs will turn soggy Salt: if you decide to add cheese to your baked eggs just remember that you need to reduce the salt. You can always add salt but you can't take it away
Sawsan Abu Farha
Passionate food explorer Sawsan Abu Farha lives in Jordan and enjoys mixing east and west in her kitchen aiming to get the best of both worlds.Juggling work, motherhood, blogging and a passion for food and food photography, she shares her journey in her blog "Chef in disguise".