Take your weekend brunch to the next level of comfort food goodness with stuffed and baked bacon and egg potatoes.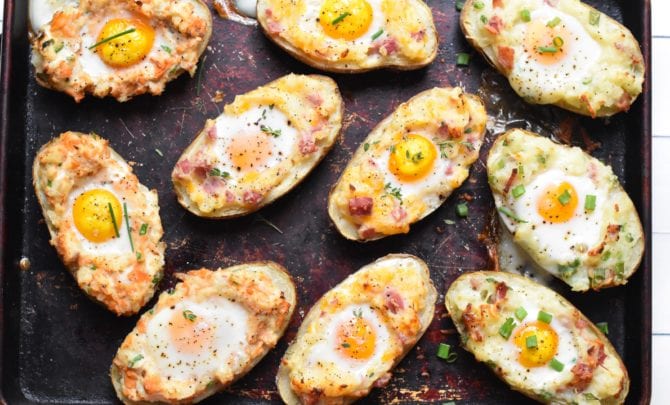 Teresa Blackburn
This article has been posted with permission and originally appeared as Bacon and Egg Potato Boats on Relish
TIP: If potato halves don't stand upright, cut a thin slice off the bottom to make a flat surface.
See Also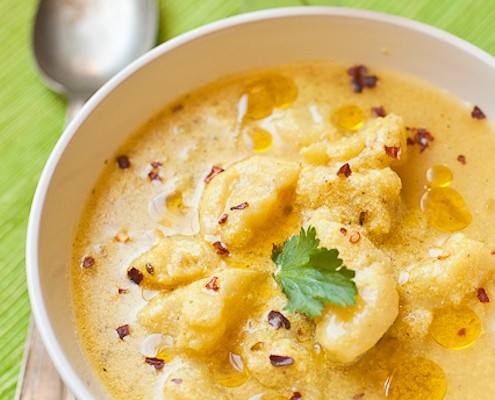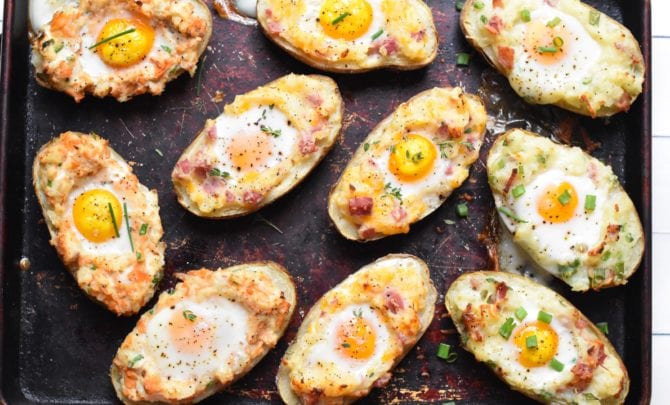 Ingredients
1

Russet potato

2

tablespoons

butter

2

tablespoons

milk

2

tablespoons

shredded Italian blend cheese

like Sargento

1

tablespoon

chopped green onion

2

slices

chopped

cooked bacon

1/2

teaspoon

salt

2

eggs
Instructions
Wash potato, dry and pierce several times with a sharp knife or fork. If baking, preheat oven to 425°F. Liberally sprinkle garlic salt on wet skin. For softer skin, rub potatoes with oil, sprinkle lightly with salt and pepper and wrap with foil.

Place potatoes on a baking sheet and cook 45 to 60 minutes, until a knife inserted in the middle meets no resistance.

Preheat oven to 400°F. Spray a baking sheet with cooking spray. After baked potato cools, cut in half lengthwise. Scoop pulp into a bowl, leaving about ¼-inch around the edges. Mash pulp with a fork. Add butter, milk, cheese, onion, bacon and salt. Stir well. Spoon?back into skins. With the back of ?a spoon, create a deep well. You may have to remove some pulp. Place on baking sheet. Crack one egg into each well. Sprinkle with salt and pepper. Bake 35 to 40 minutes, until egg whites are set.

Sprinkle with finely chopped bacon or parsley.
Notes
SWITCH IT UP!
Ham & Cheese: Substitute shredded cheddar or Swiss cheese for the Italian blend cheese and chopped ham (about ½ oz per potato half) for the bacon.
Salmon & Chive: Substitute sour cream for the milk, chives for the green onion and flaked cooked salmon (about ½ oz per potato half) for the bacon.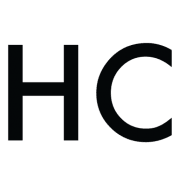 Relish
Offering more than 14,000 recipes plus features and DIYs on cooking, dining and entertaining, Relish celebrates America's love of food. Relish is about honoring cooking traditions while exploring new trends and ideas, which is why millions of people turn to both Relish.com and Relish Magazine for special occasion recipes, quick and easy weeknight suppers and culinary adventures.