This post is part of "The Art of Cheese", a partnership between Honest Cooking and Castello Cheese.
A festive phyllo pouch filled with aged Havarti cheese and whole cranberry sauce and dusted with powdered sugar.
By Denise Browning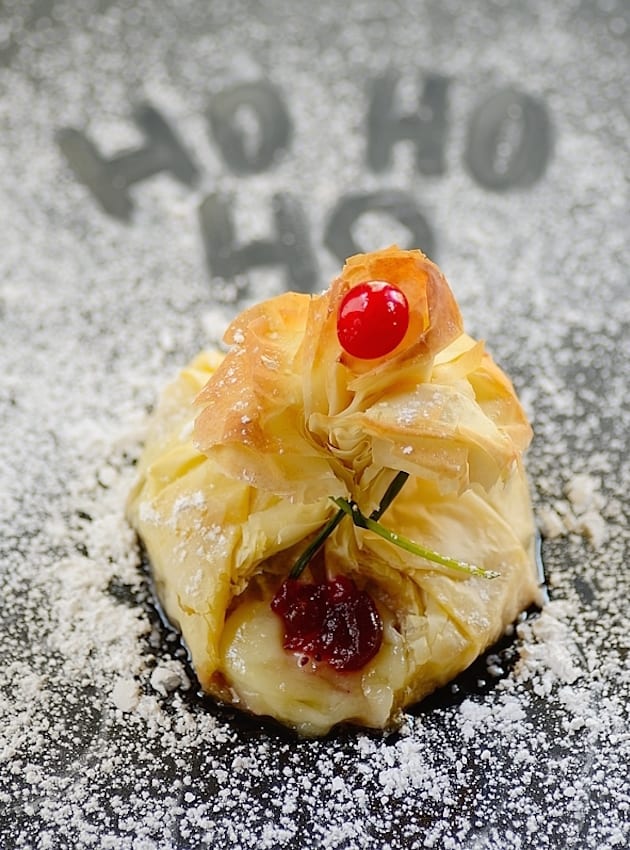 These little pouches, perfect for breakfast or a holiday appetizer, will delight you with a scrumptious explosion of flavors from the buttery and tangy Castello Aged Havarti cheese along with gooey whole cranberry sauce — all wrapped in crispy phyllo dough that is shaped to look like Santa's bag, and then dusted with (snowy) powdered sugar. Well of course it had to be delish, because Santa brings only the best for all you good girls and boys. Seriously, this Santa's Breakfast Pouch has it all — contrasting yet balanced textures and flavors. It is pure happiness in your mouth!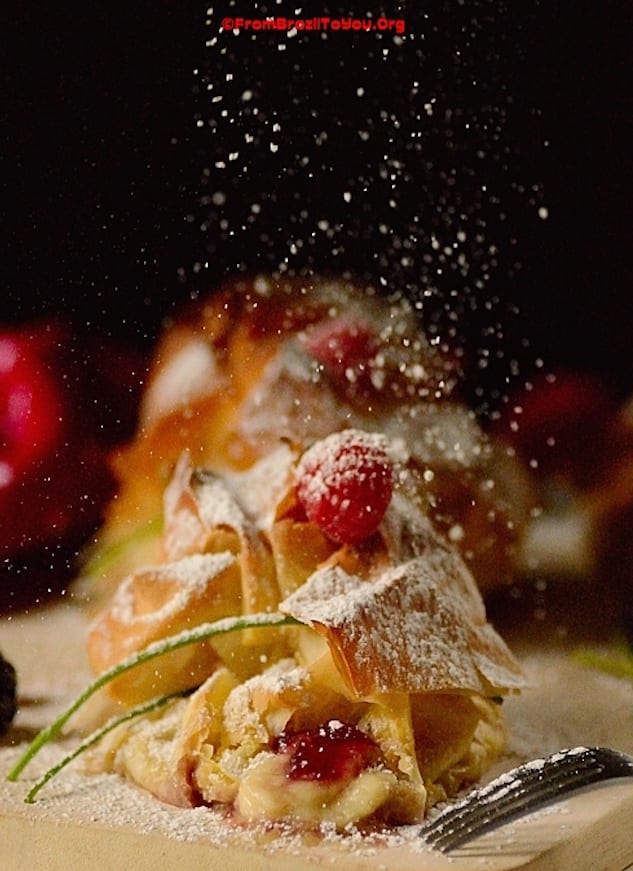 One of the reasons that I used Castello Aged Havarti is because it truly is one of my favorite cheeses.
Castello Aged Havarti cheese is delicious because it's based on the authentic Danish recipe for Havarti dating back to 1952, which utilizes traditional cheesemaking methods and matures over the course of 12 months. During the year-long maturation, a crumbly yet creamy texture takes form, as well as a rich, buttery flavor with tangy notes. I am telling you…this is a recipe for greatness, folks!
Castello Aged Havarti cheese also pairs well with red wine, pears, apples, caramelized onions, green vegetables, and many other foods. Any remaining cheese can be used on a cheese board with pears and/or apples, in sandwiches, shaved on top of salads and steamed vegetables, and so on. I personally use it in many different dishes, and of course it tastes amazing all on its own. There is just one problem that I have encountered so far… getting myself to stop gobbling up slice after slice
Print
The Art of Cheese — Flakey Phyllo Bites with Havarti and Cranberries
A festive phyllo pouch filled with aged Havarti cheese and whole cranberry sauce and dusted with powdered sugar.
Author:

Denise Browning

Yield:

5

1

x
Category:

Appetizer, Breakfast, Dessert
20

rectangular sheets (or

½

box) store-bought, thawed phyllo dough
PAM to spray (quicker option) or 4 Tablespoons melted unsalted butter to brush (the more flavorful option)

7 oz

(

200 g

) Castello Aged Havarti cheese, crumbled

1/3 cup

canned whole cranberry sauce (or raspberry or strawberry jam)

5

long, fresh chives to tie pouches (optional)
Powdered sugar to dust on top
Instructions
Place one rectangular phyllo dough sheet on a cutting board. Spray PAM or brush melted unsalted butter on the entire sheet. Place a second phyllo dough sheet on top of this and spray or brush again. Repeat this same process for a total of 4 stacked phyllo dough sheets. In a small bowl, mix both the cheese crumbs and cranberry sauce or jam together and spoon ? of the filling in the center of the stacked phyllo dough.
Fold stacked phyllo dough sheets to form a pouch or sac: first fold the stack of sheets in half diagonally to join together two of the diagonal corners, and secure them together between tips of thumb and forefinger. Next, gather together the remaining two diagonal corners to the first pair and secure, thus forming a pouch with the filling at the bottom of the pouch and the four gathered corners forming the top opening or mouth. Finally, squeeze together the gathered dough near the top of the pouch with an encircling thumb and forefinger in order to shape the neck of the pouch. Ensure that no stray folds in the neck or mouth of the pouch are left hanging loose and unsecured in order to avoid spillage of the contents of the pouch while baking. If desired you can trim any excess dough from around the rim of the mouth of the pouch before baking. NOTE: It is important to keep the phyllo dough sheets that are still awaiting use very well-covered while making each breakfast pouch, otherwise they will dry out and will break much easier when used.
Place cookie sheet on the oven's lowest shelf and bake at 400 degrees F (200 degrees C) for about 4 to 5 minutes or until lightly golden brown. Tie the neck of the breakfast pouch with a chive, sprinkle powdered sugar on top, and enjoy while still hot.

Denise Browning
Denise Browning is a native Brazilian foodie, trained Chef, cooking instructor, restaurant menu/recipe developer, and former lawyer. She is also the author of From Brazil To You - a blog that features Brazilian, fusion, and international dish recipes, stories, and photography of Brazil. Her writing has appeared in Cia Brasil Magazine, while her photography is frequently featured on Foodgawker, TasteSpotting, and Foodepix. She lives in Texas with her American husband and two children.