Reinvented Shepherd's Pie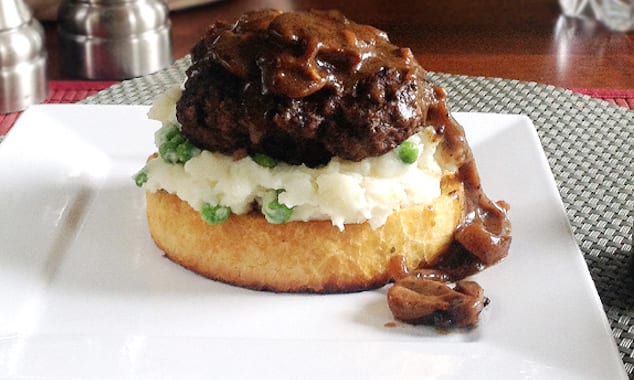 Comfort food that's fit for company, this Inside-Out Shepherd's Pie has all the delicious flavor in a gorgeous presentation.
By Christiane Potts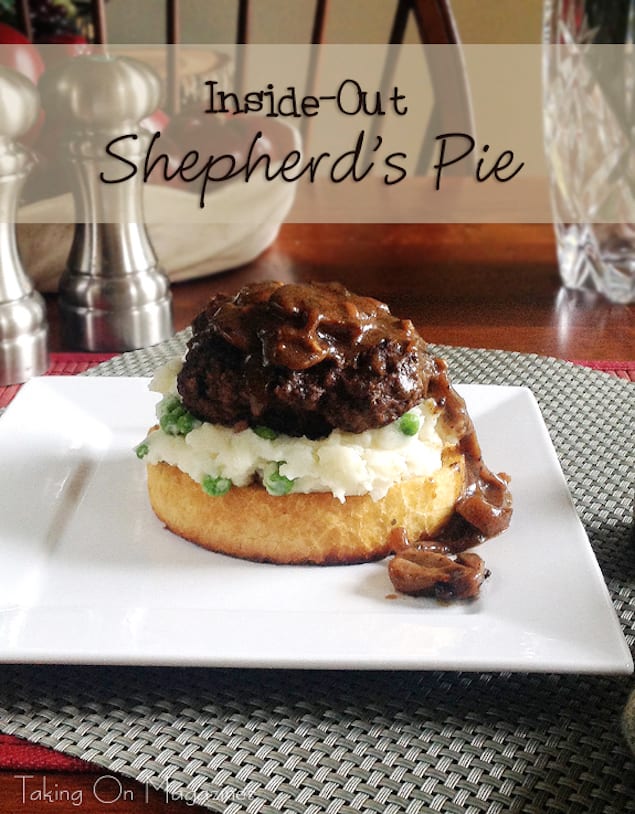 We're big fans of shepherd's pie and it's one of those dishes that makes a regular appearance on the dining room table. Needless to say, the family was a bit concerned about the fact that I was veering away from my tried-and-true recipe, so I had my fingers crossed as I prepared the components.
It was all easy enough, but, as with all deconstructed dishes, each part came together separately. So, while my meat patties cooked in a big skillet, my potatoes were boiling (I didn't bother buying frozen potatoes when I can make them myself for a whole lot less money), the oven was heating and my peas were being cooked in the microwave.
When the meat was cooked through, I removed it and added the mushrooms, onions and garlic, sautéing them for just a few minutes. I added in the gravy mix beef broth and thyme.
The gravy simmered while my Texas toast toasted and I mashed the potatoes with milk, sour cream and butter. I stirred in the peas, cheese and salt and was ready to go.
Unlike our usual family-style of serving, I took each finished plate to the table after stacking the toast with mashed potatoes, a patty and the onion and mushroom gravy.
The Verdict
The family needn't have been concerned; this was delicious. It's hard to beat beef, mashed potatoes and gravy, but throwing a slice of garlic toast into the mix came pretty darn close. Sophie did pick her way around the mushrooms and onions, but still enjoyed the meal.
I thought the gravy could have used a little less thyme, finding that it kind of overpowered the rest of the flavors. Otherwise, dinner was tummy-warming and very tasty.

What I'd Do Different Next Time
I'd reduce the amount of dried thyme to 1/4 teaspoon. This measurement has been noted in the recipe below.

Reinvented Shepherd's Pie
Comfort food that's fit for company, this Inside-Out Shepherd's Pie has all the delicious flavor in a gorgeous presentation. Cooking With Paula Deen Magazine, October 2014
Cuisine:
European-American
Ingredients
2 pounds ground chuck
2 tablespoons steak sauce
1 teaspoon salt
1 teaspoon ground black pepper
1 8-ounce package sliced fresh baby portobello mushrooms
1 onion, thinly sliced
1 tablespoon bottled minced garlic
1½ cups beef broth
1 .87-ounce package brown gravy mix
½ teaspoon dried thyme (reduce by ¼ teaspoon for less thyme flavor)
6 slices frozen garlic Texas toast, cooked according to package directions
Mashed Potatoes and Peas
1 24-ounce package frozen steam and mash potatoes, heated according to package directions
½ cup milk
½ cup sour cream
1 cup frozen peas, cooked according to package directions
½ cup shredded Parmesan cheese
1 teaspoon salt
Instructions
Mix together the ground chuck, steak sauce, salt and pepper in a medium bowl. Shape the mixture into six patties.
Cook the patties over medium-high heat for 5-6 minutes per side in a large skillet, until browned. Remove patties to a plate and keep warm. Reduce the heat to medium.
Drain off all but 1 tablespoon of drippings. Add the mushrooms, onion and garlic and sauté, stirring occasionally, for 5 minutes. Stir in the broth, gravy mix and thyme.
Return the patties to the skillet and bring the mixture to a boil. Reduce the heat and simmer for 10 minutes or until the gravy is thickened.
Make the potatoes by combining the potatoes, milk, sour cream and butter in a large bowl. Mash to desired consistency. Fold in the peas, cheese and salt.
Top each slice of toast with mashed potatoes, a patty and some of the onion and mushroom gravy. Serve immediately.
Christiane Potts
I'm a mom who loves to cook and I'm taking on the challenge of making magazine recipes at home; without a sous chef, without a test kitchen, without an endless food budget. The result is the truth about how well a recipe comes together, how good it tastes, and how accurate the ingredients and instructions are. For those who want to know before they try, this is for you.