As kids go back to school, it is hard for even adults to deny their love for peanut butter and jelly. The classic, sweet sandwich filling is perfectly salty and creamy and transports you back to your lunchbox days and wrapping your tastebuds in comfort with each bite. But life goes on and as adults, we've upgraded our tastes from the crustless white bread sandwiches of our youth. We've gathered 19 of our favorite grown-up ways to indulge your PB&J cravings.
By Ashley Wiggins
This article has been posted with permission and originally appeared as PB&J 19 Ways on Relish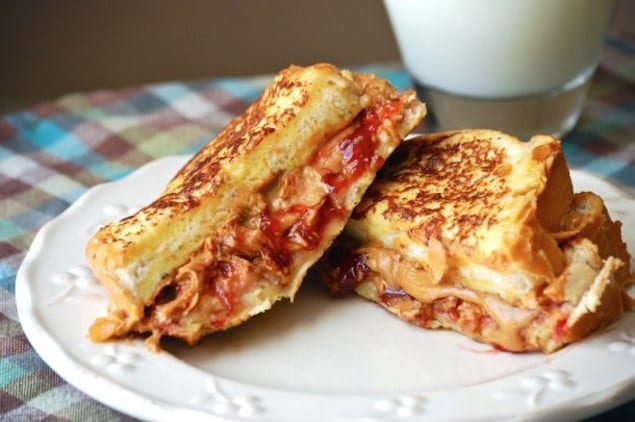 www.macaroniandcheesecake.com
Peanut Butter and Jelly Stuffed French Toast
Of all the PB&Js we've had, plus all the platters of piping hot french toast, we're not sure why we never thought to combine the two. Well, Stephanie over at Macaroni and Cheesecake did, and we can't thank her enough for our new favorite breakfast (and lunch, and dinner…) Find the recipe here.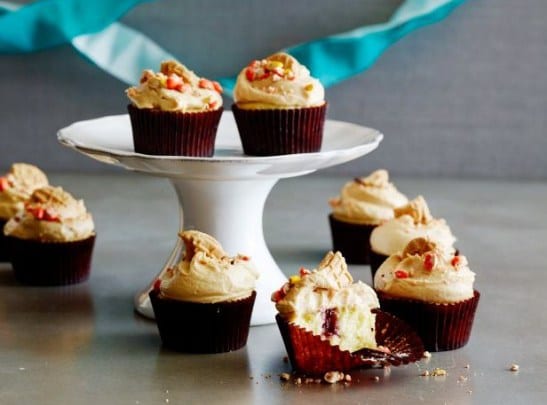 www.foodnetwork.com
Jelly-Filled Peanut Butter Cupcakes
We've never met a cupcake we don't like–including these that are fully customizable with your favorite store-bought jelly. All it takes is butter and cream cheese combined with powdered sugar and silky-smooth peanut butter to make a frosting that you'll be eating by the spoonful. Find the recipe here.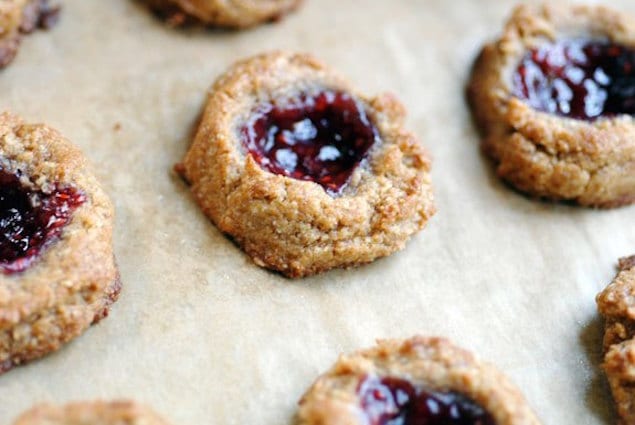 www.elanaspantry.com
Gluten Free Peanut Butter and Jelly Thumbprint Cookies
Giving up gluten shouldn't mean that you have to give up PB&J deliciousness, too. And whether you like your thumbprint cookies with wheat flour or without, everyone will feel good about this recipe from Elana Amsterdam. Find the recipe here.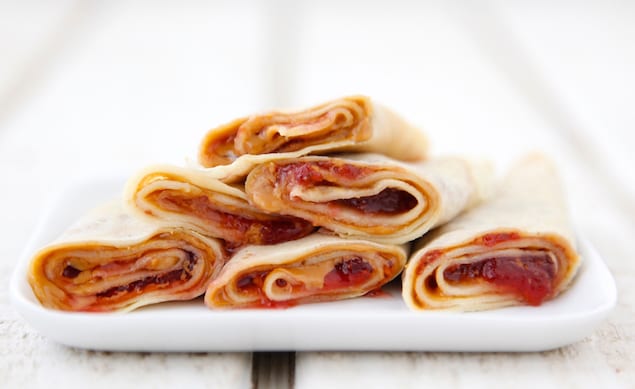 www.weelicious.com
Crepes with Peanut Butter and Jam
Though they look super-fancy, you don't have to be a world-renowned, French trained chef to whip up the perfect crepes. But once you fill them with peanut butter and jelly, you'll certainly feel like a star. Find the recipe here.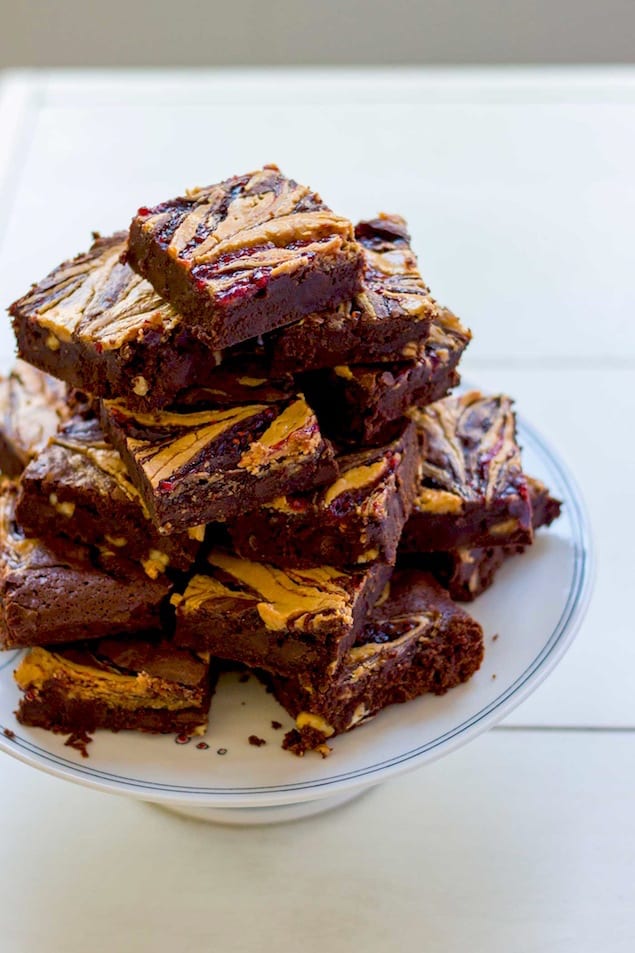 Peanut Butter and Jelly Brownies
You don't often see PB&J combined with chocolate, but in this recipe, the combo makes the perfect, decadent topping when swirled atop dense, fudge-y brownies. You have to give this one a try. Find the recipe here.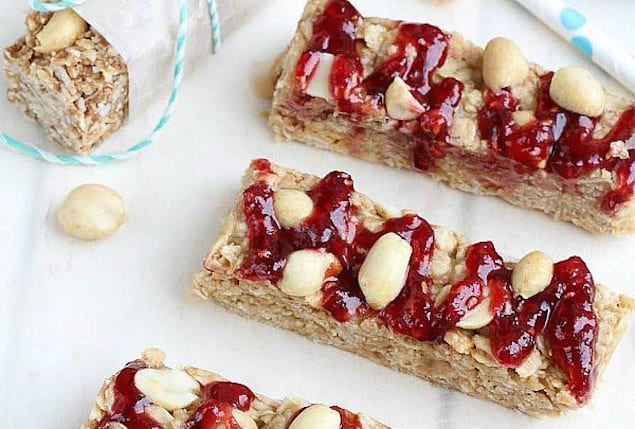 www.dessertnowdinnerlater.com
No-Bake Peanut Butter and Jelly Granola Bars
Can't decide whether to satisfy a sweet tooth with a PB&J sandwich or a granola bar? Have both at the same time. And better yet: Skip the chemical-laden store-bought bars and whip up something delicious and healthy at home. These bars have all the peanut butter and strawberry goodness you're craving, but they're made with coconut oil, honey and whole-grain oats. Find the recipe here.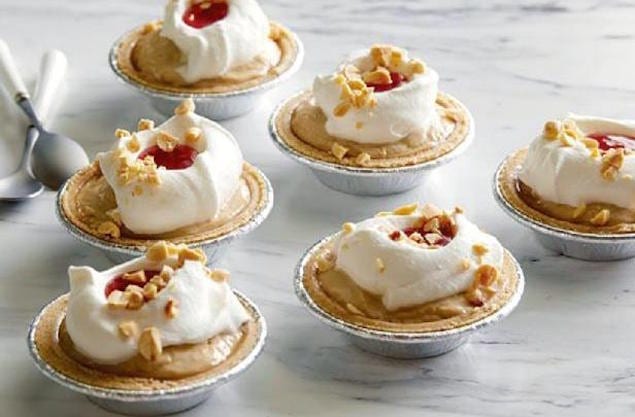 www.foodnetwork.com
Mini Peanut Butter and Jelly Pies
We admit that we don't have the greatest portion control when it comes to PB&J. We can blow through 2 or 3 sandwiches in one sitting—they're that good. Enter these cute little tarts made in mini pie shells. Classic, peanut butter flavor in individually-wrapped crusts. (We're still working on not eating a dozen at a time.) Find the recipe here.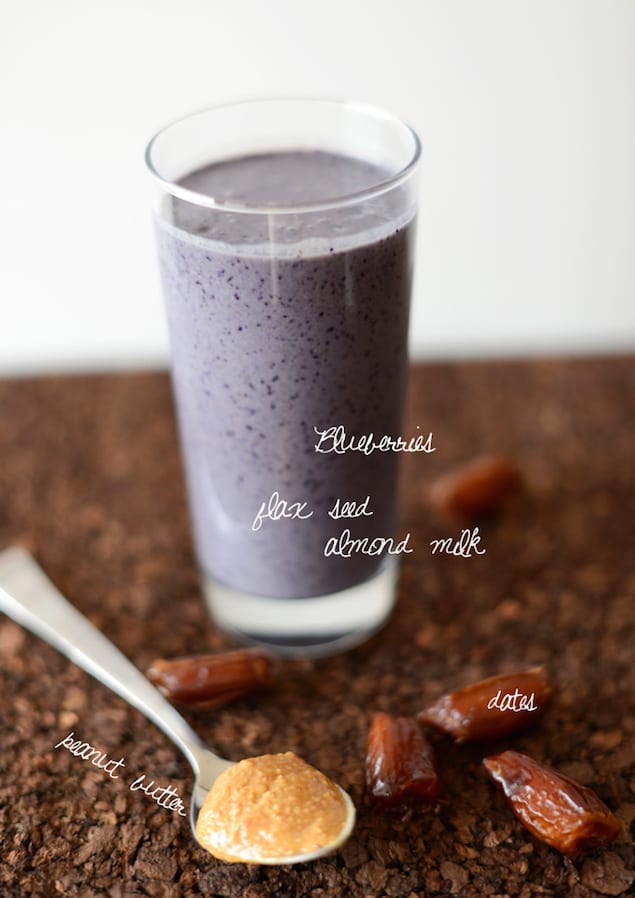 www.minimalistbaker.com
Peanut Butter and Jelly Smoothie with Dates
Dana at The Minimalist Baker has this amazing ability to pull together a few ingredients and turn them into an incredibly complex dish, and this breakfast-on-the-go is no exception. If the idea of a healthy, protein-rich smoothie leaves you shuddering with nightmares of bitter greens and chalky powders, this one's for you— in only 6 ingredients. Find the recipe here.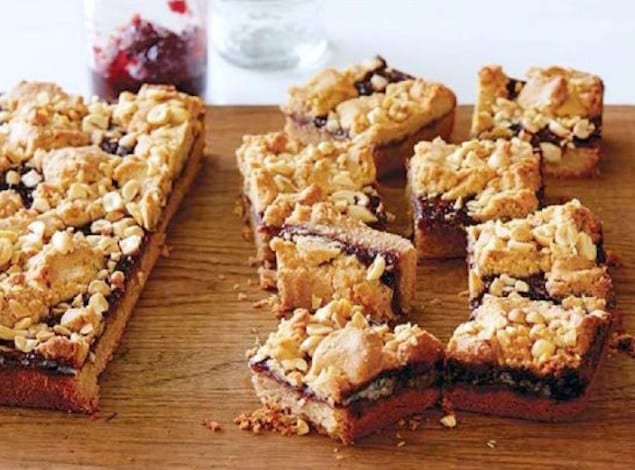 www.foodnetwork.com
Peanut Butter and Jelly Bars
A classic recipe from Ina Garten, these bars bring childhood memories back in a delicious crumbly bar. They're the perfect grab-and-go snack when a sandwich just won't do. Find the recipe here.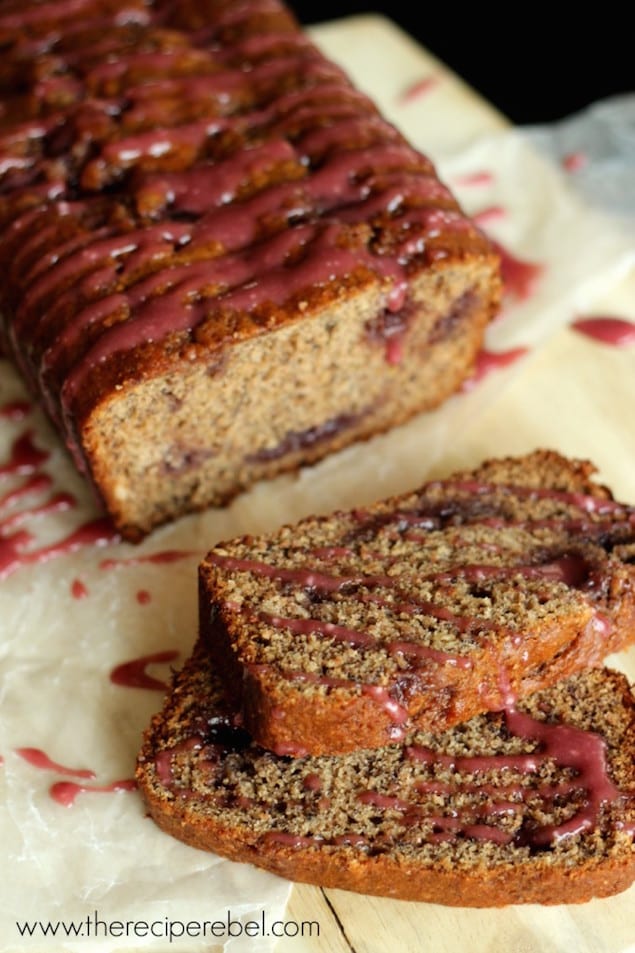 PB & J Banana Bread
Banana bread is delicious on its own, but Ashley at the Recipe Rebel took things to another level when she added PB&J flavor via peanut butter and strawberry jelly mixed into the batter, plus a jelly glaze drizzled on top. Factor in the super-moist texture from the yogurt, and this recipe is sure to be your new favorite. Find the recipe here.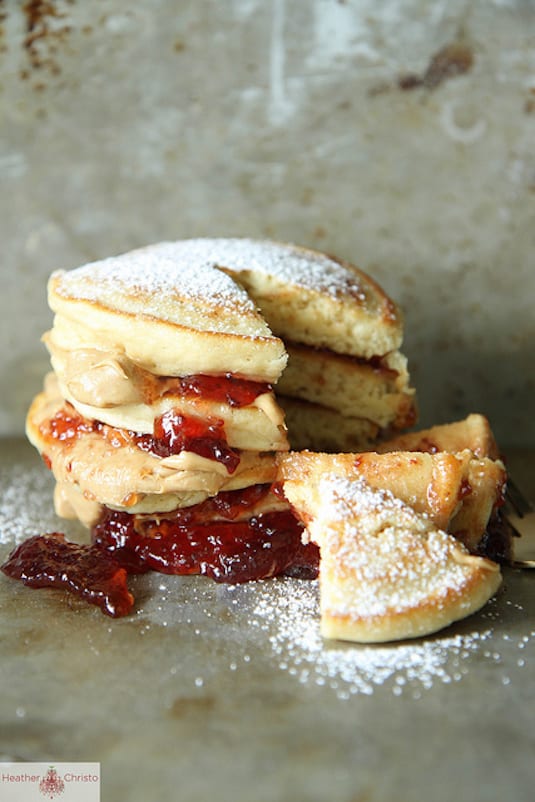 www.heatherchristo.com
Peanut Butter and Jelly Pancakes
You've never had pancakes quite like this before. The PB&J goodness starts with peanut butter mixed into the pancake batter. But it doesn't stop there. There's warm PB drizzled over the top, and plain-old maple syrup is given a jelly remix with fresh fruit and store-bought jam. Breakfast will never be the same. Find the recipe here.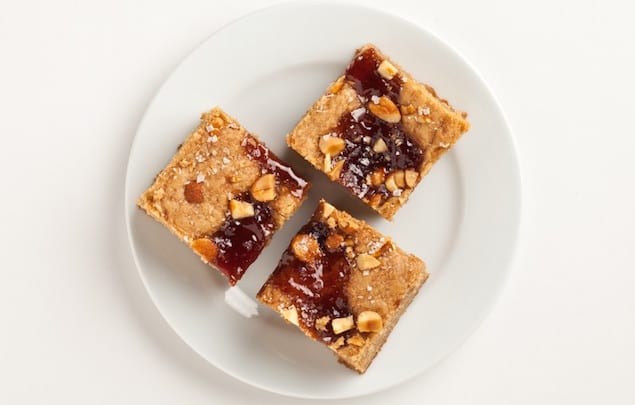 www.bonappetit.com
Salted Peanut Butter and Jelly Blondies
Next time you're heading to a friend's for dinner, skip the brownies and make these sweet and salty blondes instead. And be sure to bring a copy of the recipe— they'll surely want it for themselves. Find the recipe here.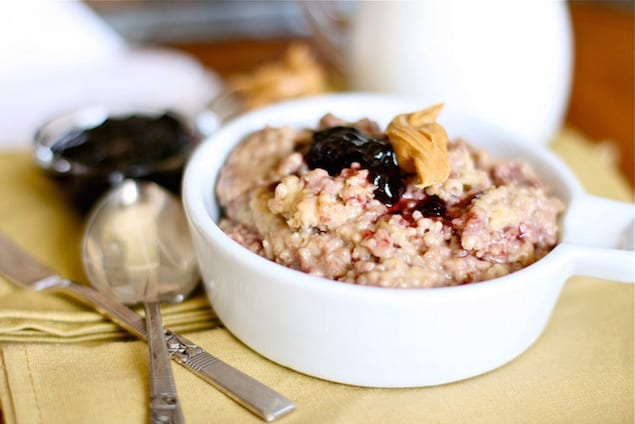 www.thehungryhousewife.com
See Also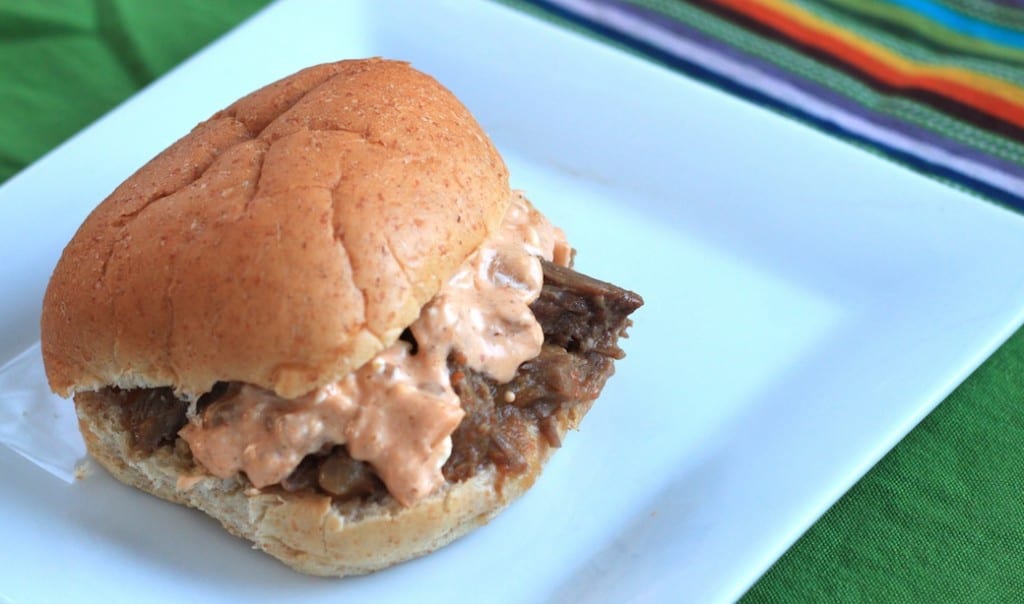 PB & J Oatmeal
We all know that oatmeal is a hearty and healthy breakfast , but it can also get a little, well, boring. Get your day started right by adding peanut butter and jelly to your morning oats. The warmth of the oatmeal will slowly melt the PB&J, making for a bowl of healthy decadence. Find the recipe here.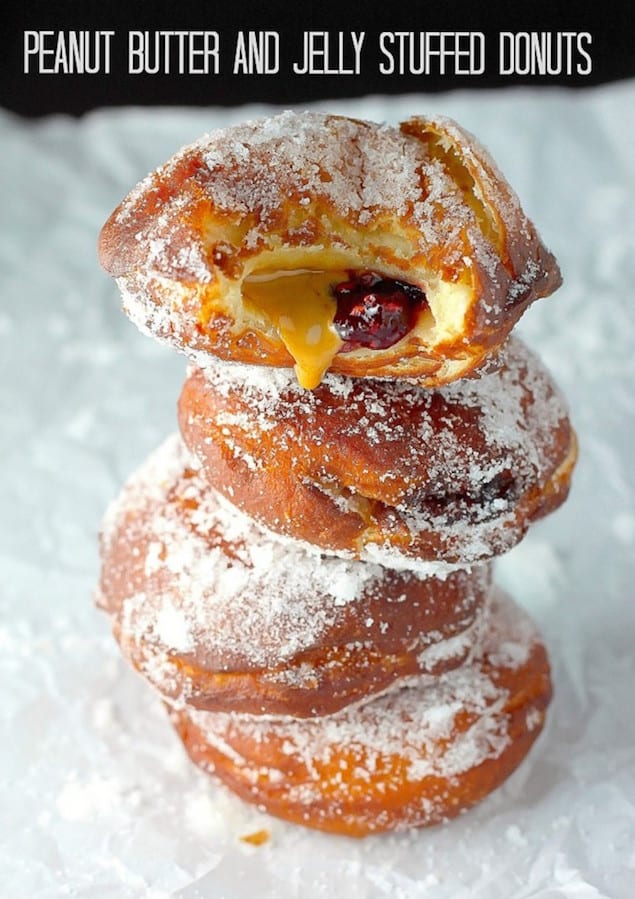 www.bakerbynature.com
Peanut Butter and Jelly Donuts
No need to wait for a special occasion to splurge on luscious filled donuts from your neighborhood bakery. The yeast batter is relatively simple to prepare, then you'll cut the dough, fill with peanut butter and your favorite flavor of jelly, and fry your way to PB&J bliss. Find the recipe here.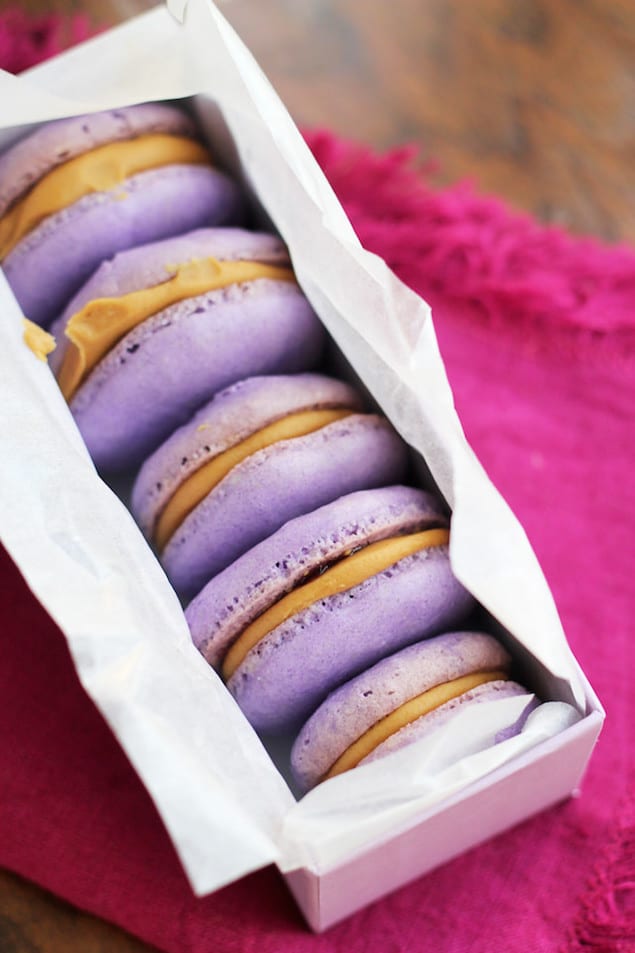 www.joanne-eatswellwithothers.com
Peanut Butter and Jelly Macarons
So you've tried the standard chocolate, vanilla and pistachio macarons, but have you tried the classic French pastry with a peanut butter and jelly filling? Consider this recipe your excuse, and whip some up at home. Find the recipe here.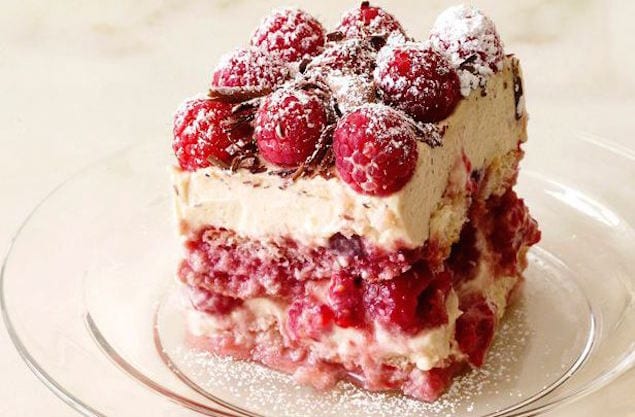 www.foodnetwork.com
PB & J Tiramisu
We're willing to bet that Italians don't typically take their tiramisu with PB&J, but they could. When lady fingers are layered with a peanut butter and a jelly-infused liqueur, there is nothing better. Find the recipe here.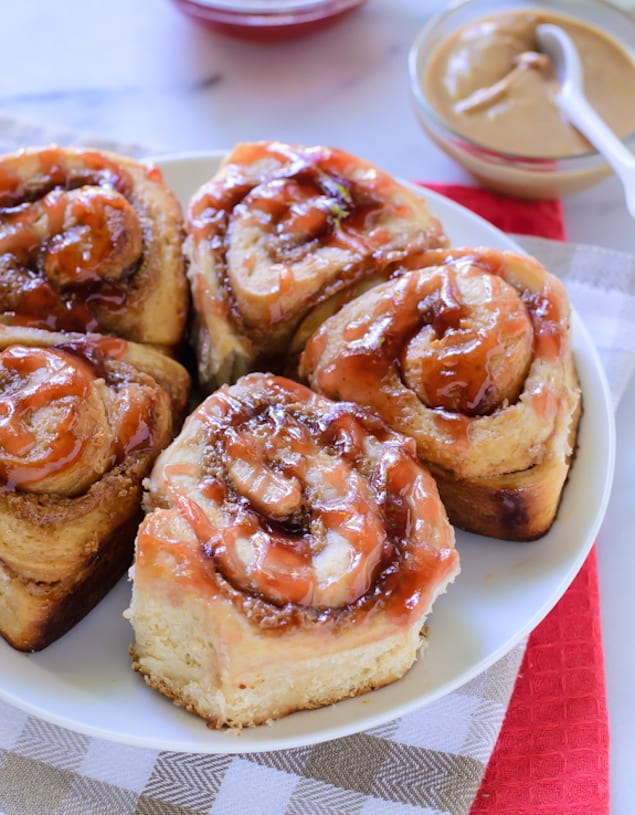 www.wellplated.com
Peanut Butter and Jelly Rolls
Cinnamon rolls are great, but when you want something sweet and nostalgic, try the deliciousness of a PB&J wrapped up into a yummy, sticky roll. Find the recipe here.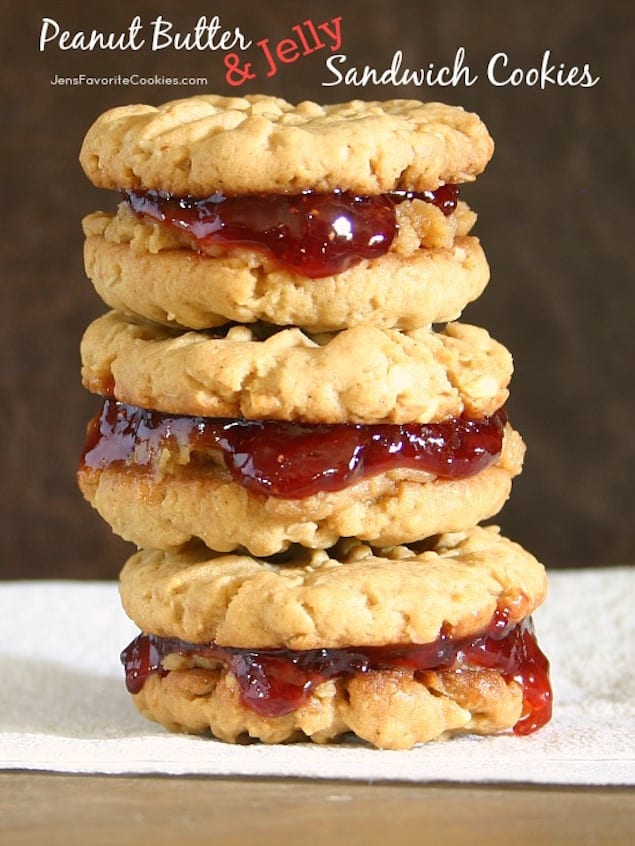 www.jensfavoritecookies.com
Peanut Butter and Jelly Sandwich Cookies
This recipe crams all of your childhood favorites into one yummy bite—like a Nutter Butter cookie, but so, so, much better. It's sweet jelly and creamy peanut butter sandwiched in between classic peanut butter cookies. Find the recipe here.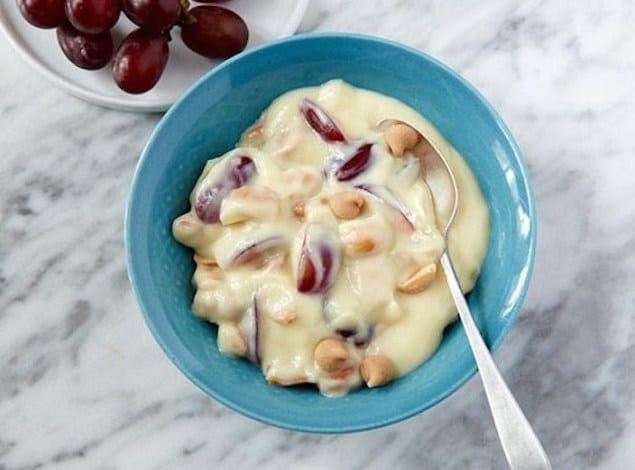 www.foodnetwork.com
Peanut Butter and Jelly Pudding
Just when you thought you'd seen every iteration of peanut butter and jelly possible, there's this: Vanilla pudding swirled with PB&J goodness. But this flavor doesn't come from a jar. Fresh grapes and chopped peanuts combine to bring the same salty-sweet combo you love—but in a decidedly less processed option. Find the recipe here.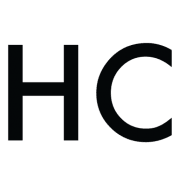 Relish
Offering more than 14,000 recipes plus features and DIYs on cooking, dining and entertaining, Relish celebrates America's love of food. Relish is about honoring cooking traditions while exploring new trends and ideas, which is why millions of people turn to both Relish.com and Relish Magazine for special occasion recipes, quick and easy weeknight suppers and culinary adventures.