Try this Dutch oven chicken recipe and, dare it be said as, "the most flavorful, non-spicy meal."
By Sarah Mason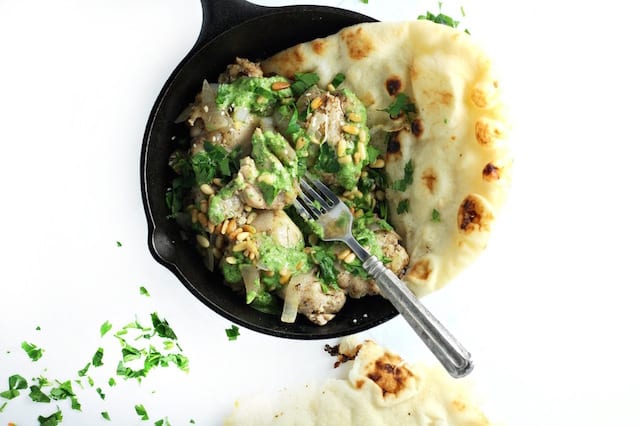 We need to talk.
About this chicken.
It's kind of ridiculous.
(Which is a word that took me like ten tries to spell. Are you even surprised?)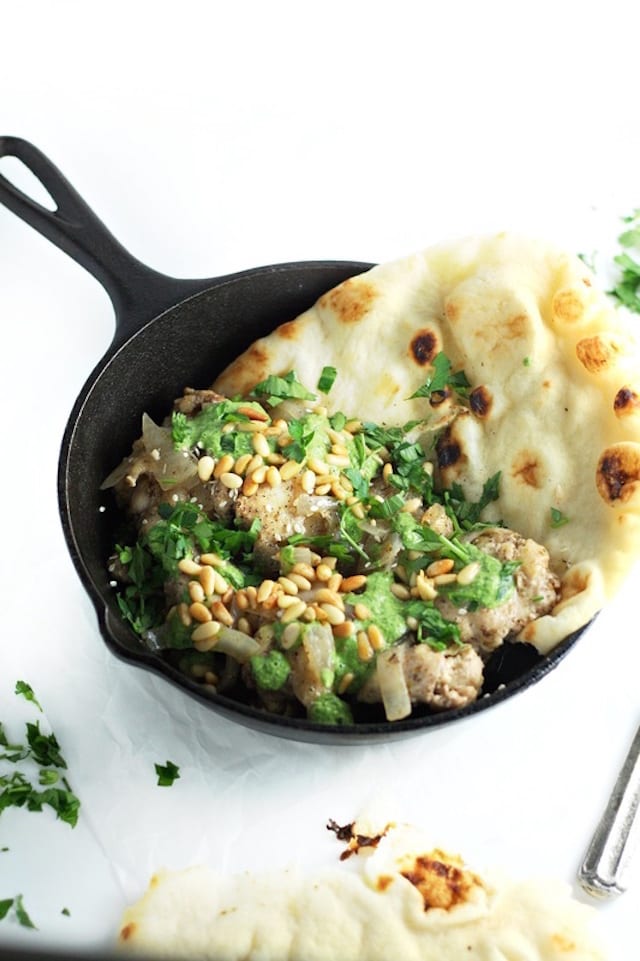 This may not look like much. It's sort of a pile of something. There's some chicken in there. Some green stuff. Are those nuts? I like the bread action.
BUT. I'll break it down for you. This pile. A glorious pile of food. It's wonderful.
I've told you all before how I'm not a huge "one pot" person. Like, if you make something in one pot it sort of all melts together into…plop. Which is bad because I like texture. I'm a texture person. That's why it took me so long to love soup (I'm over that now).
But here's the catch – this one's FULL of delicious texture. Crunchy, creamy, bread-y. It's tender chicken thighs smothered in green sauce plus naan and buttery pine nuts!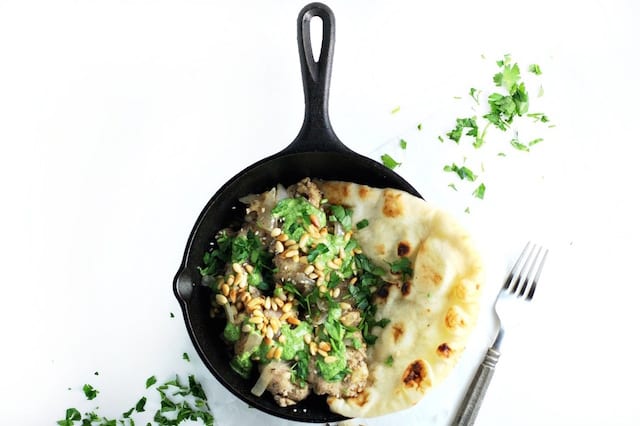 Oh oh, the nuts. Pine nuts already have a sort of buttery texture so when you then drown them in butter it kind of becomes a problem. In a good way.
See Also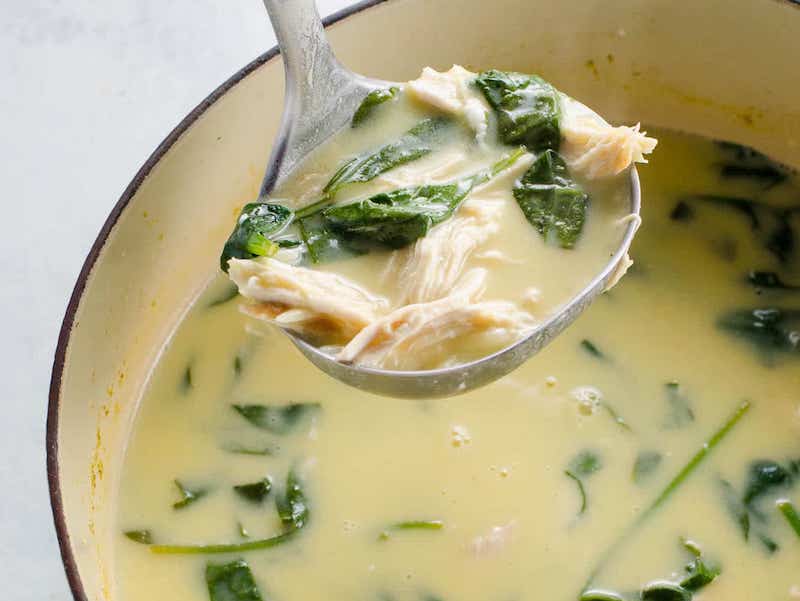 I may or may not have a nut collection in my pantry. At what point does a group become a collection? Four kinds of nuts? Six? Ten? Last I counted I think I had all kinds of nuts. It's horrifying.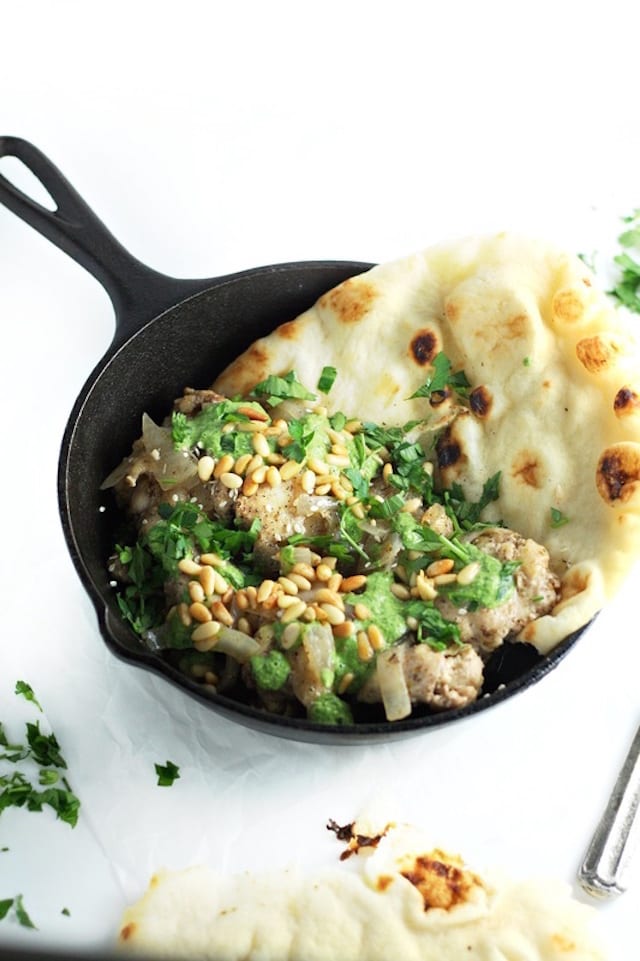 I get it. I rave about my own food. Everything is THE.ABSOLUTE.BEST. But now I have to tell you that this is really actually for sure the absolute best recipe ever. I love it sooo much and I want to rant about it and please don't make me stop.
We can just eat tender flavorful chicken together and not worry about my rants, okay?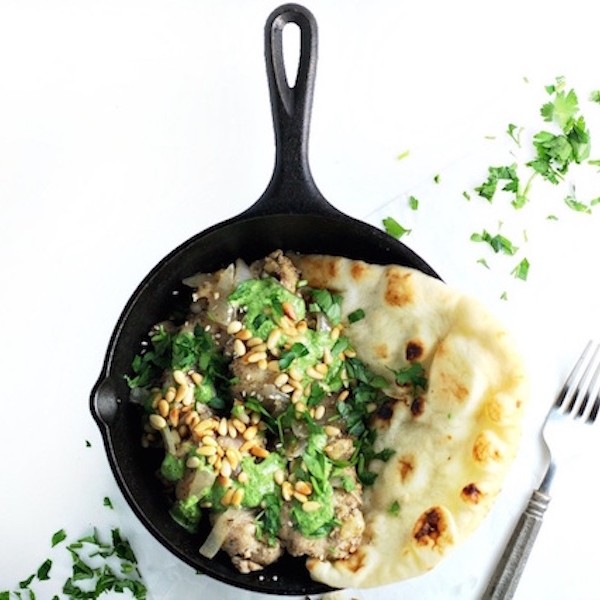 Za'atar Chicken with Green Tahini and Pine Nuts
Sarah Mason
Ingredients
2

tablespoons

butter

2

medium white onions

chopped

2

tablespoons

za'atar

see substitute below*

1

tablespoon

sumac

1-1/2

teaspoons

ground allspice

1

teaspoon

ground cinnamon

2

pounds

boneless skinless chicken thighs

1

cup

chicken broth

Salt and pepper

Naan

for serving

Parsley

for serving
Instructions
Make the green sauce: In a blender, combine all sauce ingredients. Blend until smooth. Taste and adjust to your liking.

Make the chicken: Melt 2 tablespoons butter in a dutch oven (or other heavy bottomed pot) on the stove top on medium heat. Add the onions; saute for 3 minutes. Add the za'atar, sumac, allspice and cinnamon. Cook for 3-5 minutes, stirring, until fragrant.

Arrange the chicken evenly across the bottom of the dutch oven. (You can add a splash of chicken broth if the butter has "dried up" to prevent burning/sticking). Sear the chicken thighs for 30 seconds per side. Add the rest of the chicken broth. Season with salt and pepper. Increase heat and bring to a boil, then reduce heat, cover partially and simmer for 25-35 minutes.

Make the pine nuts: In a small skillet over medium-high heat, melt the butter. Add pine nuts. Cook for 3-4 minutes, stirring, until pine nuts toast and lightly brown. Be careful not to burn them.

Assemble: Warm the naan in the oven or microwave. Spoon chicken into bowls. Serve topped with green sauce, sprinkled with pine nuts and topped with parsley.