I love this easy roasted garlic tomato sauce because it comes together in minutes but tastes rich and savory, like you cooked it for hours. Perfect on veggie meatballs, pasta and pizza – anywhere you need some extra flavorful sauce!
Roasted garlic is what makes it so good. Once it's blended up with the other ingredients it adds a thick richness and depth of flavor that makes the sauce taste like it cooked forever. It's so savory! I would proudly put this sauce up against a non-vegetarian sauce any old day of the week, and that's why I recommend this as a #MeatlessMonday choice. If you're not used to veggie cooking, this is a great recipe to experiment with because pretty much the last thing you'll say when you taste it is, wow, that's a vegetarian sauce.
Roasting garlic is really easy. All you do is cut the bottoms off a few heads of garlic, douse them in a little olive oil and pop them into muffin tins. Cover them with foil and bake in a 400 degree oven for about half an hour. That's it. Super easy.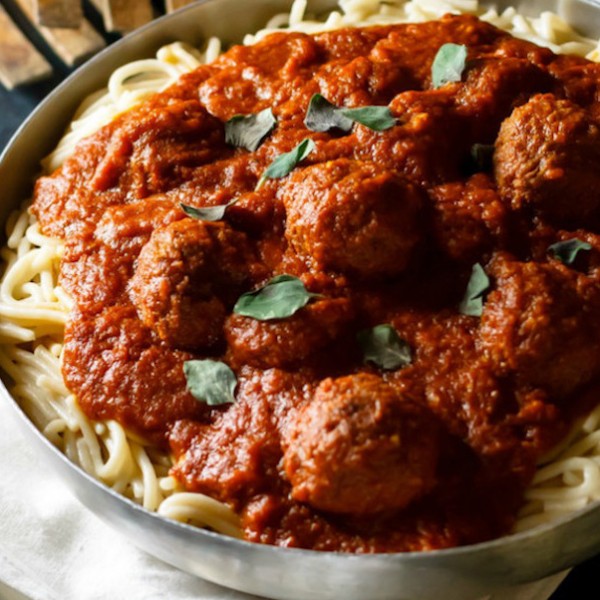 Roasted Garlic Tomato Sauce
Gin Butters
An easy roasted garlic tomato sauce comes together in minutes but tastes like it cooked for hours.
Ingredients
4-5

whole heads garlic

4-5

Tbs

olive oil

have extra handy

2 14.5

oz.

cans no-salt-added tomatoes

1 6

oz.

can no-salt-added tomato paste

1

Tbs

agave

maple syrup or your favorite sweetener

1½

tsp

oregano

1/3 - ¼

tsp

red pepper flakes

½

tsp

salt

pepper to taste
Instructions
Heat the oven to 400. Use a sharp knife to cut the bottoms off the garlic heads. Try to cut off just enough so that the cloves inside are exposed. Place a tablespoon of oil in a muffin tin for each head you'll be roasting. Add the heads, and kind of rub them around in the oil. Add more oil if you need to. Cover each head with a little foil and bake for about 30 minutes.

Combine all the remaining ingredients in a food processor.

When the garlic's done and cool enough to handle, squish the cloves out into the food processor. Get as much of the oil in there too as you can, because it carries a lot of flavor.

Pulse in the food processor until smooth. Transfer to a saucepan to heat through on the stove.
Gin Butters
Gin's a crazy food romantic who's head over heels for big flavors and fresh, healthy ingredients. She's extra-inspired by Indian, Mexican and Indonesian cooking, and will put peanut butter on just about anything.