Let this salad, served with a simple and bright tangerine dressing, make regular appearances on your table throughout the holidays.
By Sarah Schiffman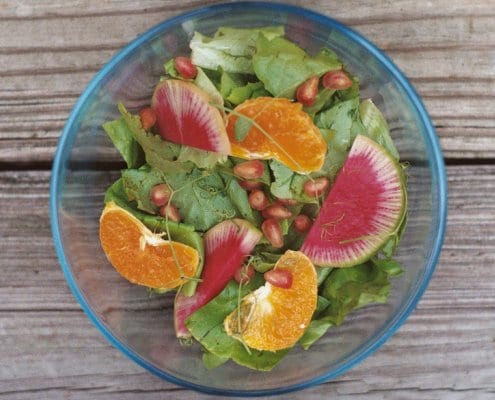 We've been collecting the prettiest produce this winter. All kinds of citrus and colorful greens, bright radishes and curling pea shoots. I've been going through boxes of film trying to document it all. This salad, served with a simple and bright tangerine dressing, has made a regular appearance at our table all season and I suspect that we'll be serving versions of it throughout the holidays.
Winter Butter Lettuce Salad with Tangerine Dressing
Focus on using the freshest ingredients you can find. We try and buy local as much as possible. Keep in mind that tangerines will vary in tartness. You can play with the amounts in this recipe, adding more olive oil or more citrus to come up with a formula that works best for you.
Ingredients
1 head butter lettuce, washed and torn into bite-sized pieces
1 small bunch of pea shoots, cut into bite-sized pieces
4 tangerines, peeled and sliced
2 watermelon radishes, trimmed and thinly sliced
Seeds from one pomegranate
¼ cup (25g) olive oil
Freshly squeezed juice from one tangerine
1 teaspoon fresh tangerine zest
2-3 cloves of garlic, minced
salt/pepper to taste
Instructions
For the salad: Combine the butter lettuce, pea shoots, tangerine slices, radish slices, and pomegranate seeds in a large bowl. Set aside.
To make the dressing: whisk together the olive oil, tangerine juice, zest, and garlic in a medium bowl until well combined. Taste. Add more olive oil or more tangerine juice to taste. Season with salt/pepper and toss to coat salad.