Sponsored Post – Whether you already love Italian wine or are just getting your feet wet, Santa Cristina is a highly acclaimed winery sitting high on a hill in Tuscany that you must try. Made in the region for over 65 years, Santa Cristina has become a benchmark Italian wine. Here are fun ways to feature their bottles.
These wine and cheese board ideas for fall will help you create a gorgeous charcuterie board that's delicious, seasonal, functional and pairs well with wine.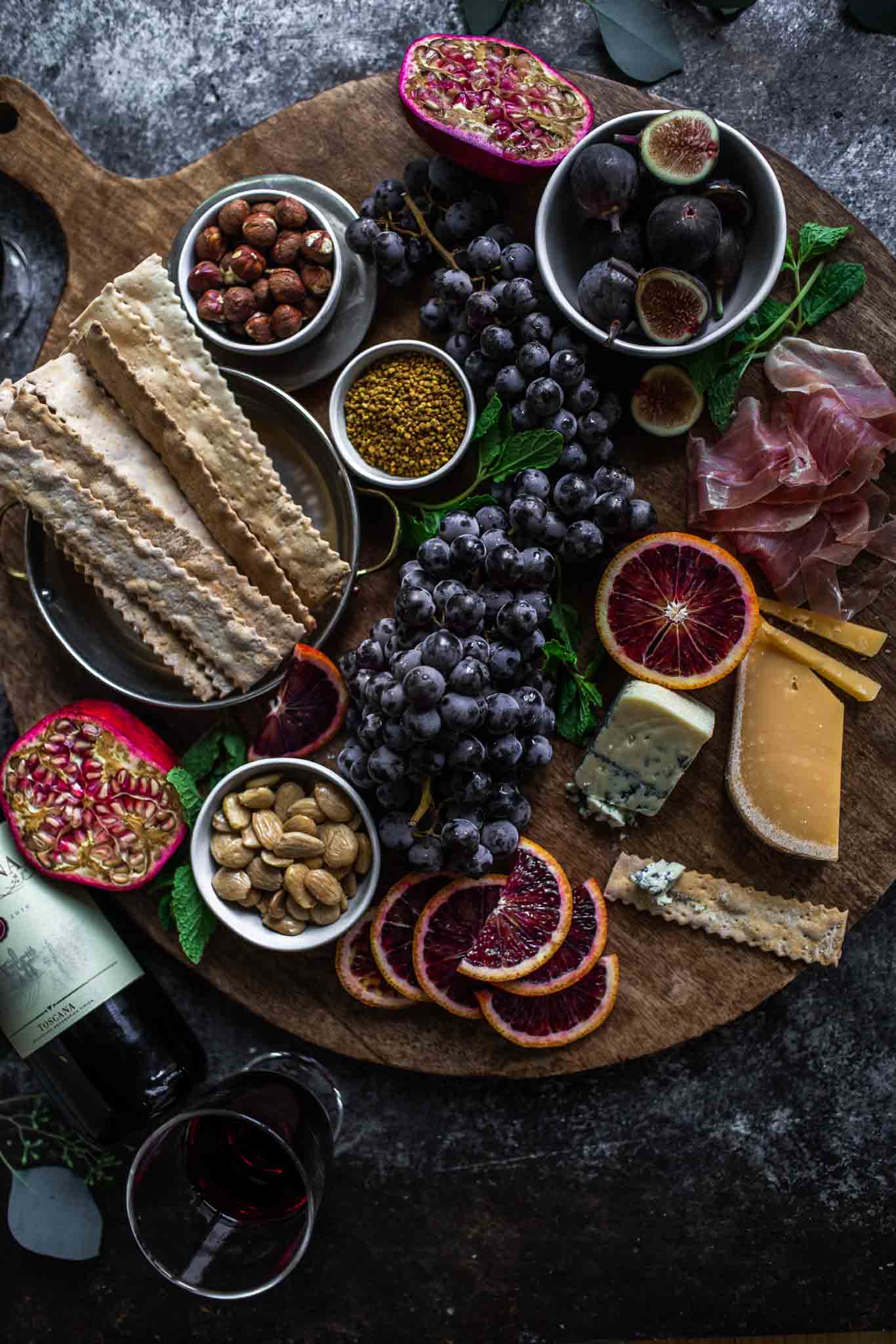 Cheese boards are one of my favorite things to throw together for a holiday party. I love that they're easy to throw together and all the work can be done ahead of time, but they are so stunning and definitely the centerpiece of any great party.
I also love that cheese boards can be customized to suit the season.
Here are my favorite cheese board ideas for fall:
Add seasonal accompaniments like apple butter, dried corn husks, or pumpkin seeds.
Use deeper, darker toned fruits – I like blood oranges, grapes and pomegranates.
A red wine for pairing. For this board I I chose a 2016 Santa Cristina Rosso. More on that below…
And here are the basics of creating a great cheese board:
Step 1: Choose your Cheeses
My method of attack is to choose two or three cheeses of varying types:
Aged: Havarti, Sharp Cheddar, Parmesan
Soft: Brie, Chevre
Blue: Camembert, Blue Cheese, Roquefort
Firm: Mimolette, Manchego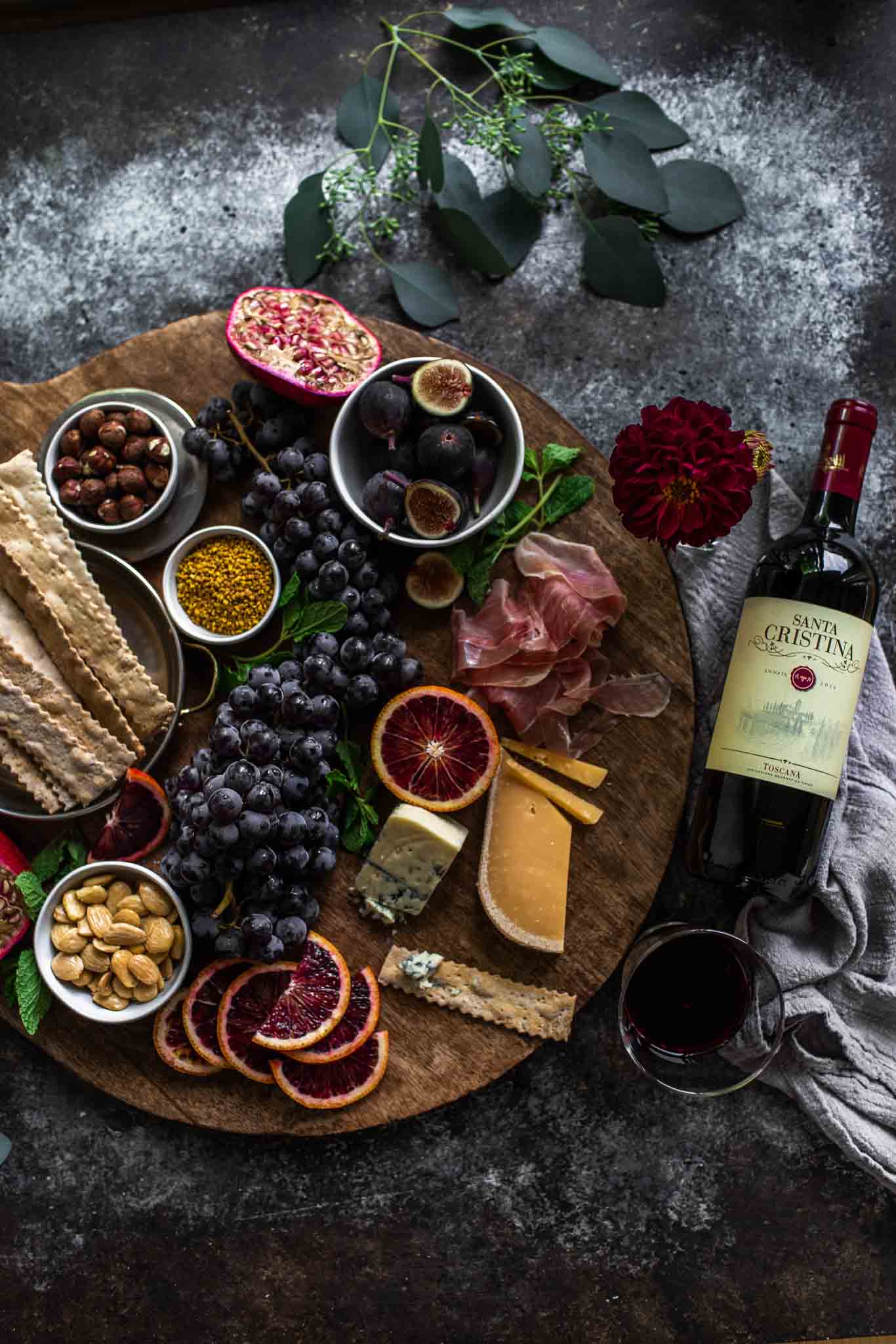 Step 2: Add your Accompaniments
Crackers or Bread. I love to serve up my cheeses with some artisanal crackers.
Fresh Fruit. Grab whatever looks great from your local market. During the fall season, you'll find some spectacular pears, figs, apples, grapes.
Charcuterie. Thinly sliced prosciutto, salami, turkey, paté.
Olives. Head to the olive bar at your local market and pick one or two of your favorites.
Nuts. Walnuts, hazelnuts, pistachios, Marcona almonds, even candied nuts. Pumpkin seeds would also make a nice accompaniment for this fall cheese board.
Bee Pollen. The bright yellow flakes that you see are actually bee pollen. It's actually very nutritious and is perfect for sprinkling on the fresh fruit.
Apple Butter. This version can be made in your slow cooker. Or buy it at the store.
Fig Preserves. I especially love these with creamy goat cheese.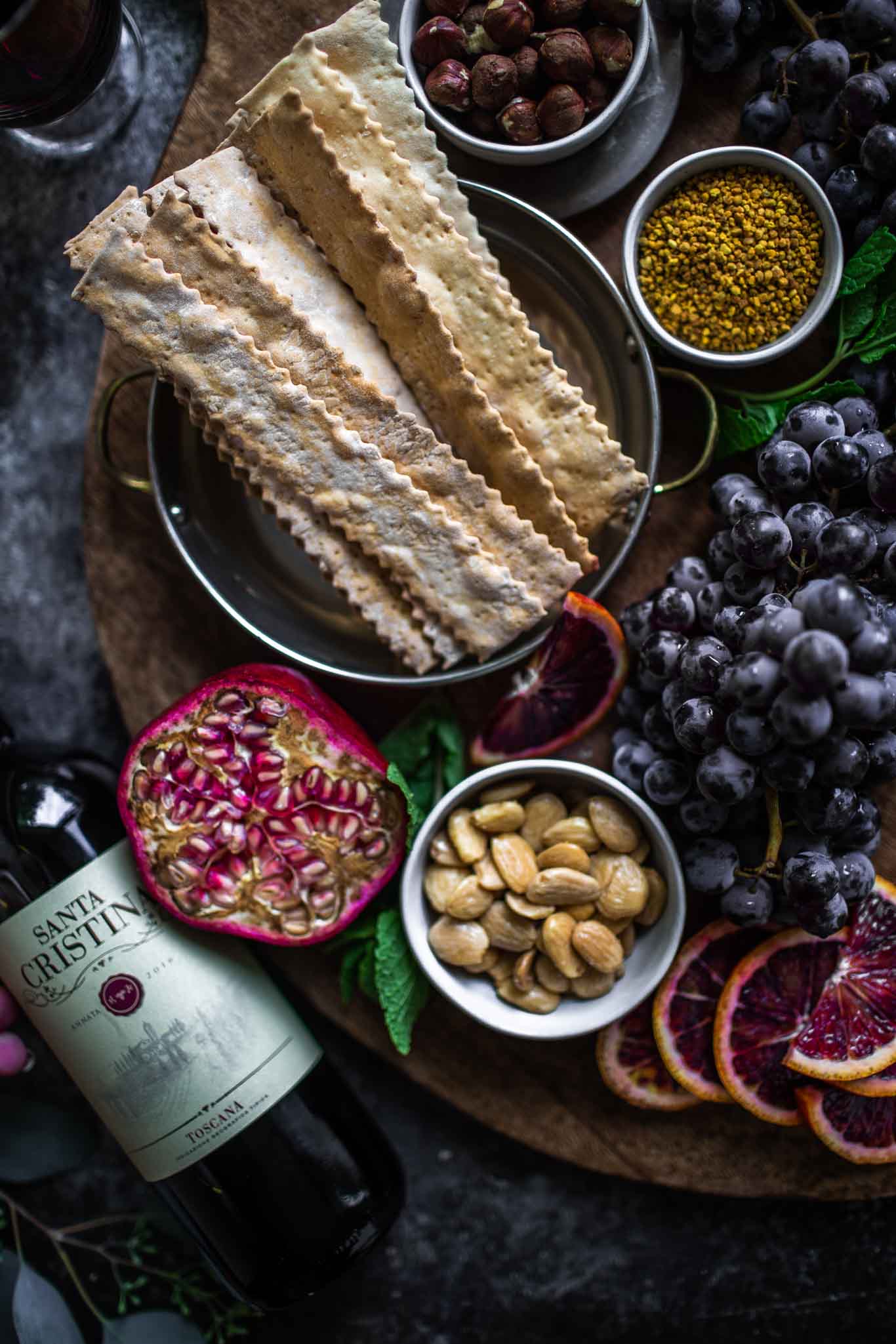 Step 3: Garnish for the Season
Grab a big board or platter and start arranging. I like to place my cheeses first and then I'll gather some greenery like apple leaves, orange leaves, dried corn husks, fresh herbs (I used mint here) and edible flowers. Slice up some of the fruit and arrange them on your platter along with the charcuterie, small dishes of olives, and your honey and apple butter spread. Be sure to have separate serving utensils for each of the cheeses and spreads, as well as a small dish for olive pits.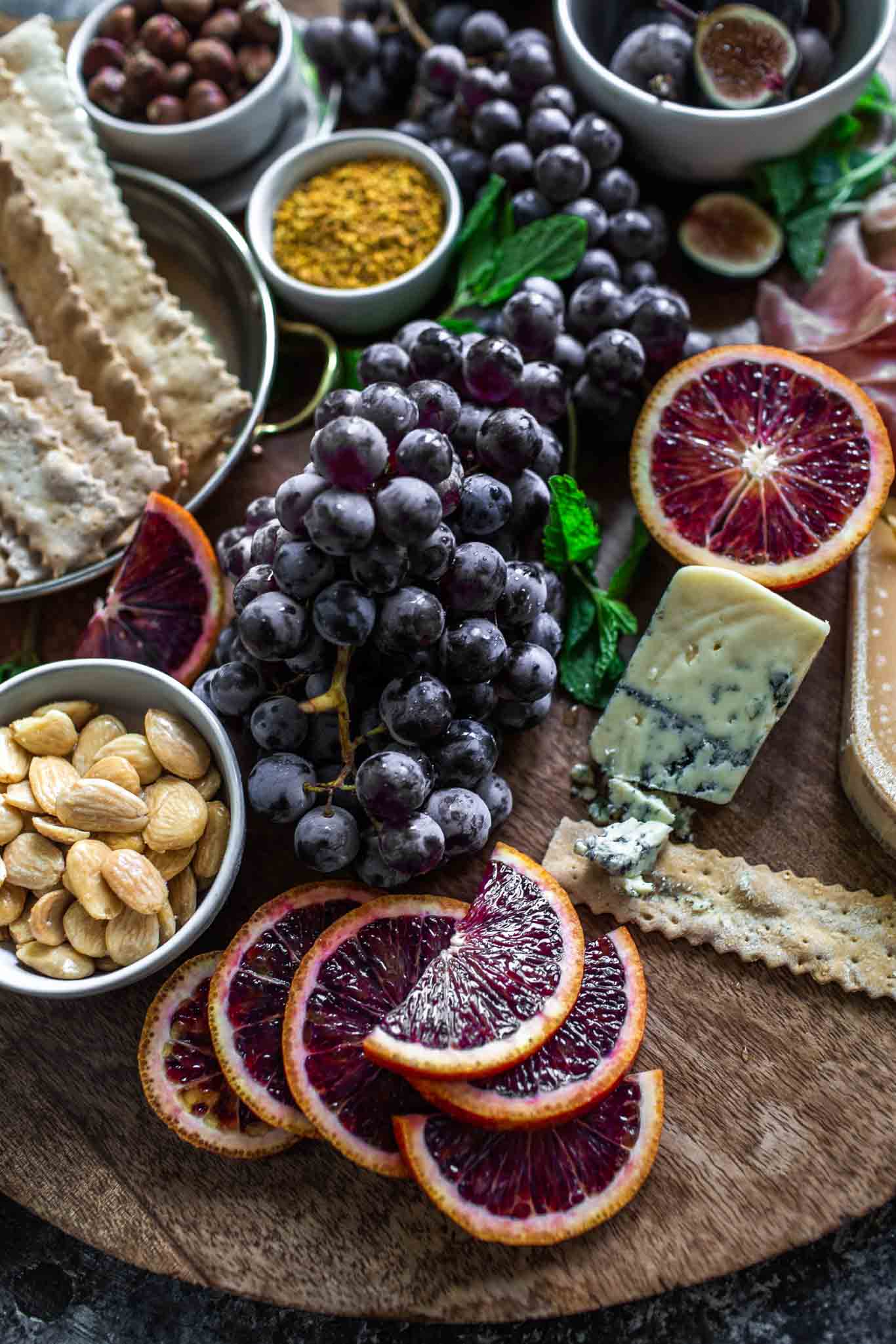 Step 4: Open the Wine
Choose one or two different types of wine, based on the number of cheeses you choose.
For this particular platter, I chose a 2016 Santa Cristina Rosso. It has aromas of cherries and plum, with a nice acidity. Its fruity notes and delicate finish make it a perfect companion to the varied cheeses that I served, and it can also compliment the fall fruits.
Some of my other favorite wines for pairing with cheese are Cabernet Sauvignon, Zinfandel, Pinot Noir, Merlot, Chardonnay and Sauvignon Blanc.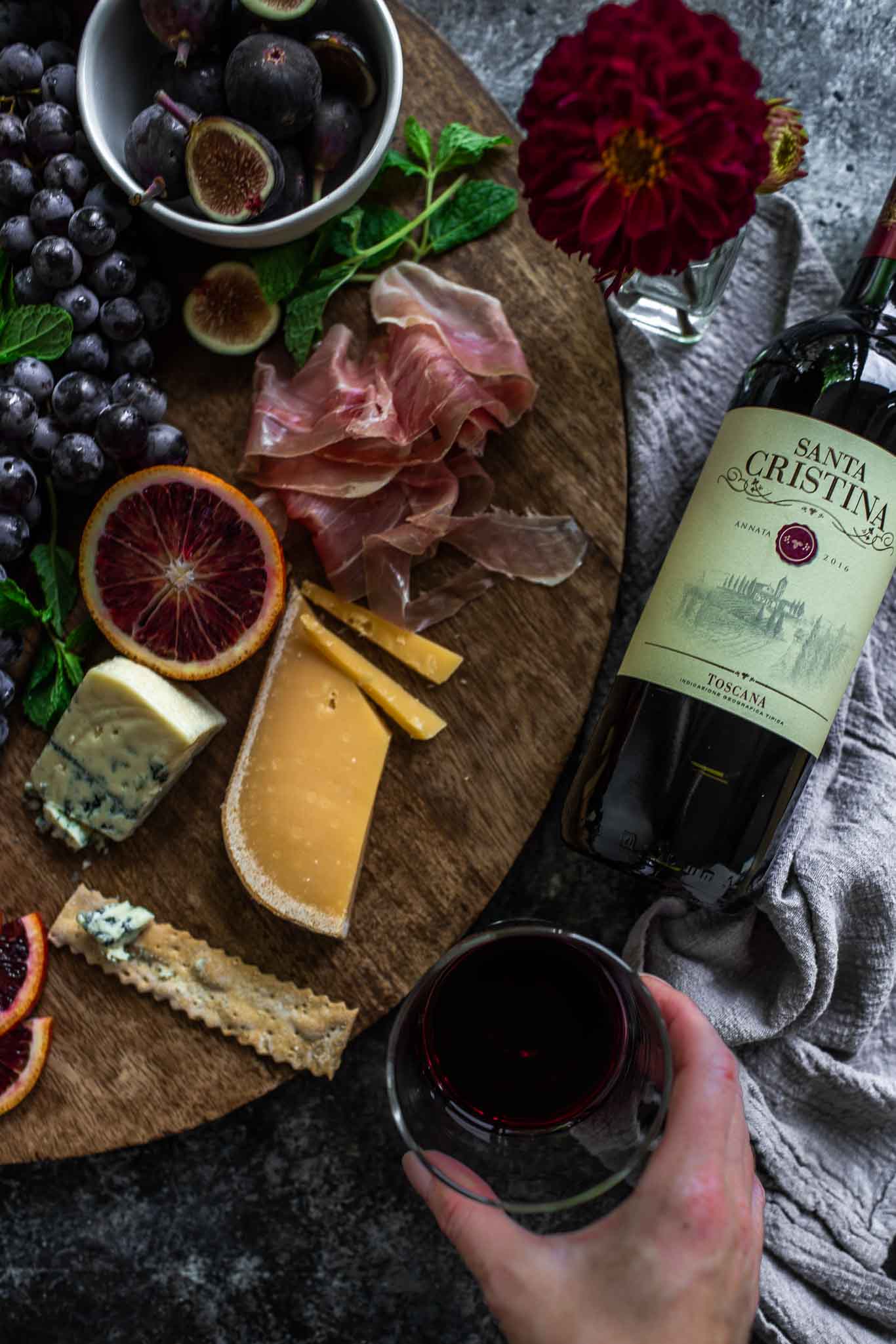 Step 5: Enjoy!
One of the key benefits to serving a cheese plate is that all your work can be done ahead of time, leaving you free to spend time with your guests.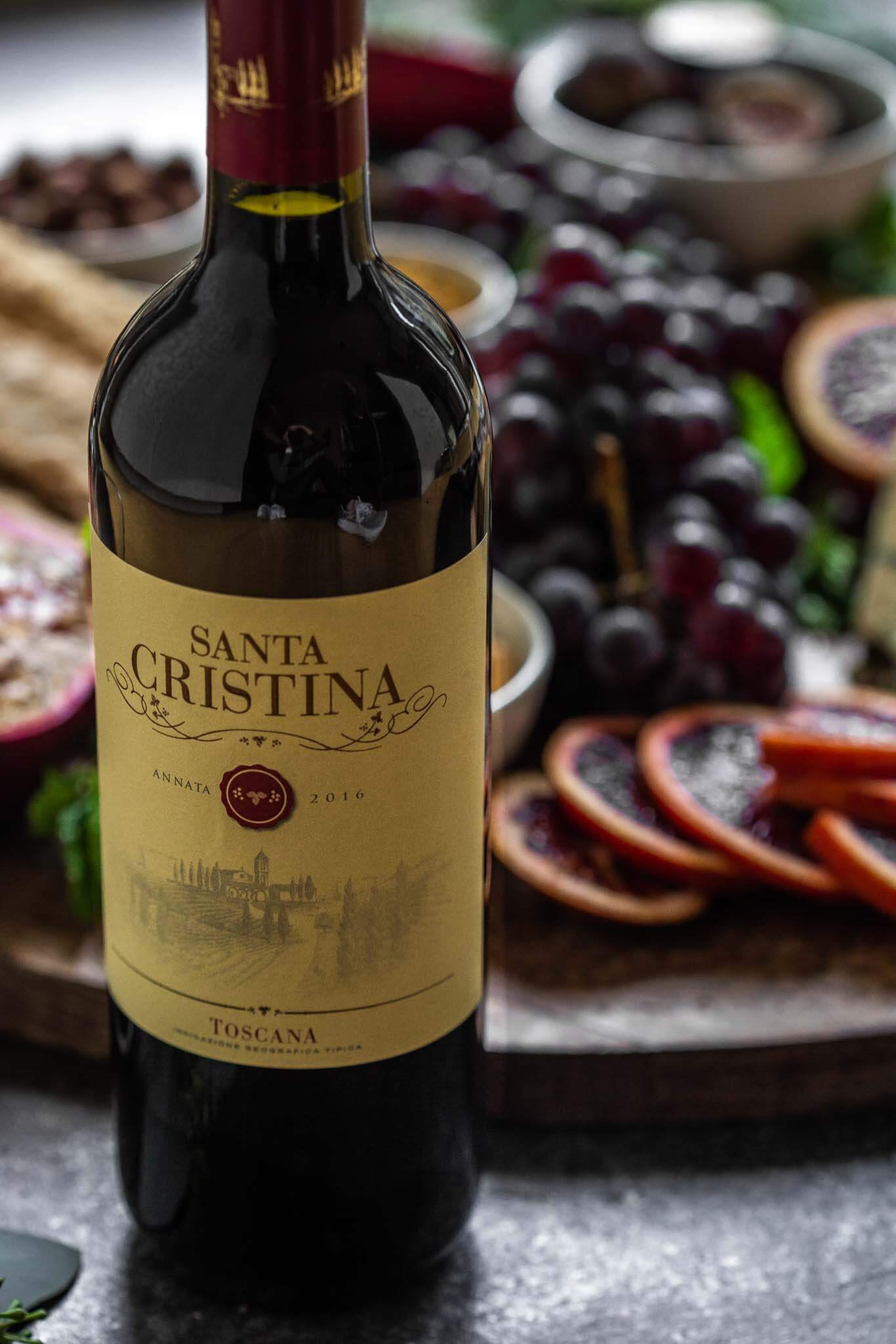 Erin Rebecca
I'm Erin - a self-taught weeknight cook. I occasionally like to delve into the more complicated recipes, like homemade pasta, Cioppino, and boeuf bourguignon. But for the most part, I work full-time, come home, pour a glass of vino and start cooking away.