These Pumpkin Lava Cakes are a fall twist on the classic chocolate recipe. They are SO easy, and ready in 20 minutes! They can be made Paleo, so they are gluten, grain and dairy free too.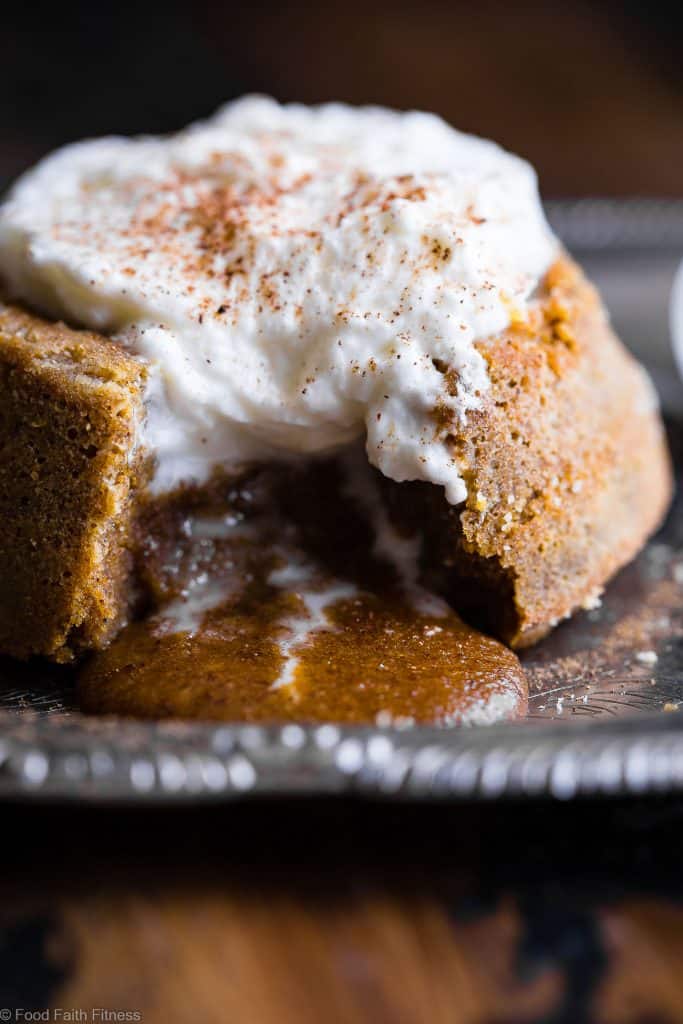 Did you ever play the game "lava" as a kid?
You know where you pretend your living room floor is hot lava and you spread a bunch of pillows everywhere, jumping to-and-fro, trying to not touch the floor for fear of BURNING TO DEATH?
This is not THAT lava.
This oozy-warm and SPICY-SWEET lava goodness is the kind of thing that you'd fall off the pillow ON PURPOSE just so you can get eaten alive but it's cinnamony deliciousness.
If you're the kind of person that, once September first hits, you turn on the fire place, makes a cup of maple pumpkin steamed almond milk and wraps yourself up in the coziest sweater, even though its still 90 billion degrees outside, and pin ALL the pumpkin recipes on Pinterest, this lava cake recipe is FOR YOU.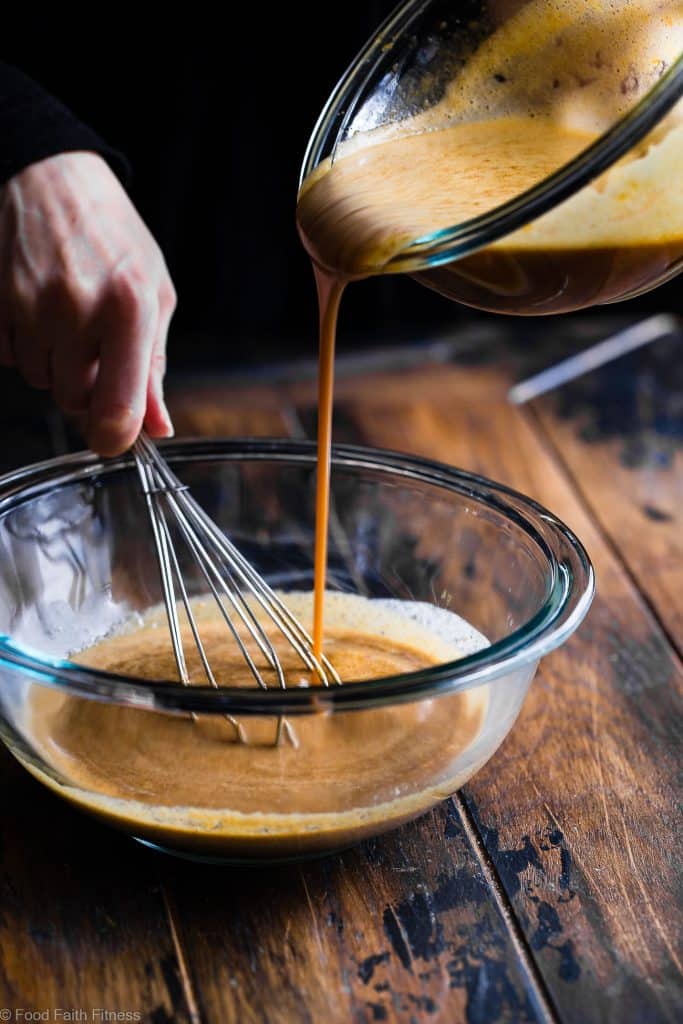 It's:
Supppper cozy with the perfect balance of sweetness and all the usual pumpkin pie spice suspects like ginger! Cinnamon! Clove! COZINESS.
Bakes in 15 minutes so you can still wear that chunky sweater without having to heat up your house for TOO LONG, causing you to have to – GASP – take it off!
SUPER pin-able, because there is always space on that pumpkin recipe Pinterest board that I know you started
It also is probably really, REALLY good with a side of that almond milk that you just made. Just sayin'
I always thought lava cakes could not get any better. I mean, when we're talking a peanut butter chocolate lava cake recipe or paleo chocolate lava cake recipe with almond butter, AKA chocolate + nut butter + oozy, melty GOODNESS, how could one even FATHOM something more delicious than THAT?
Something more delicious is basically just a unicorn. DOES IT REALLY EXIST ON THE EARTH THOUGH?
Most definitely did NOT expect to like this CHOCOLATE-less paleo pumpkin lava cakes as much.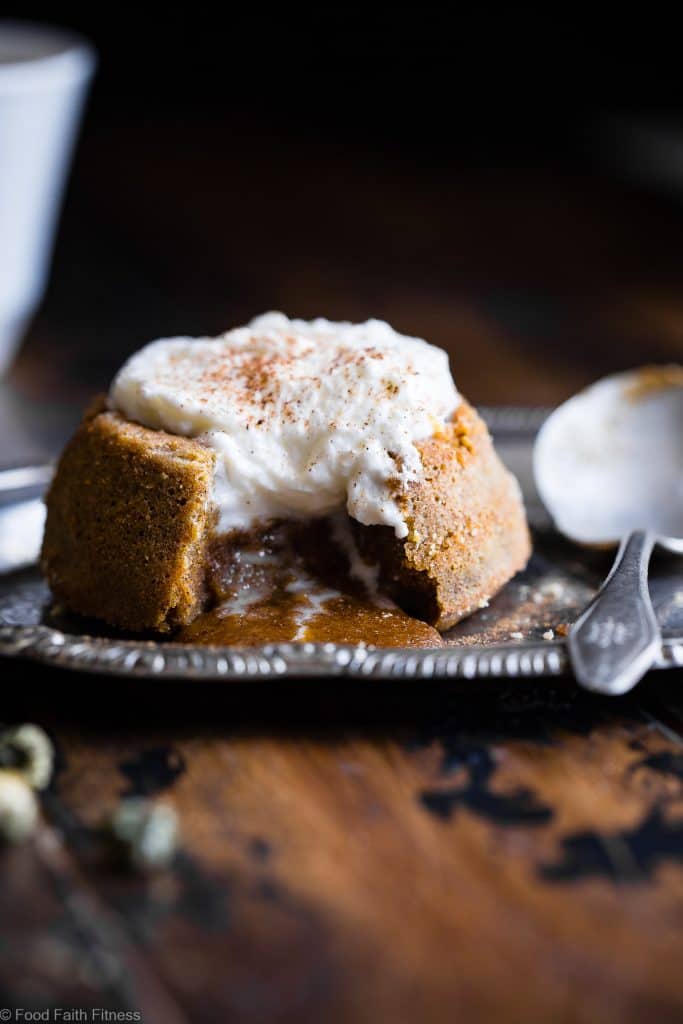 I mean, it had pumpkin and it was still cake, which is generally always a recipe for success. So, I knew it couldn't fail TOO HARD.
But would it live up to the rich, deep and INTENSE chocolatey-ness of the lava cakes that have blazed the molten trails before?
HOLY HOLY HOLY. I have NEWS FOR YOU.
Lava cakes WITHOUT chocolate, swirling around with the cozy flavors of pumpkin spice is TRULY everything nice.
The nutty undertones of creamy-dreamy almond butter that burst on the tip of your tongue as it tingles with MOLTEN PUMPKIN GOODNESS don't hurt either.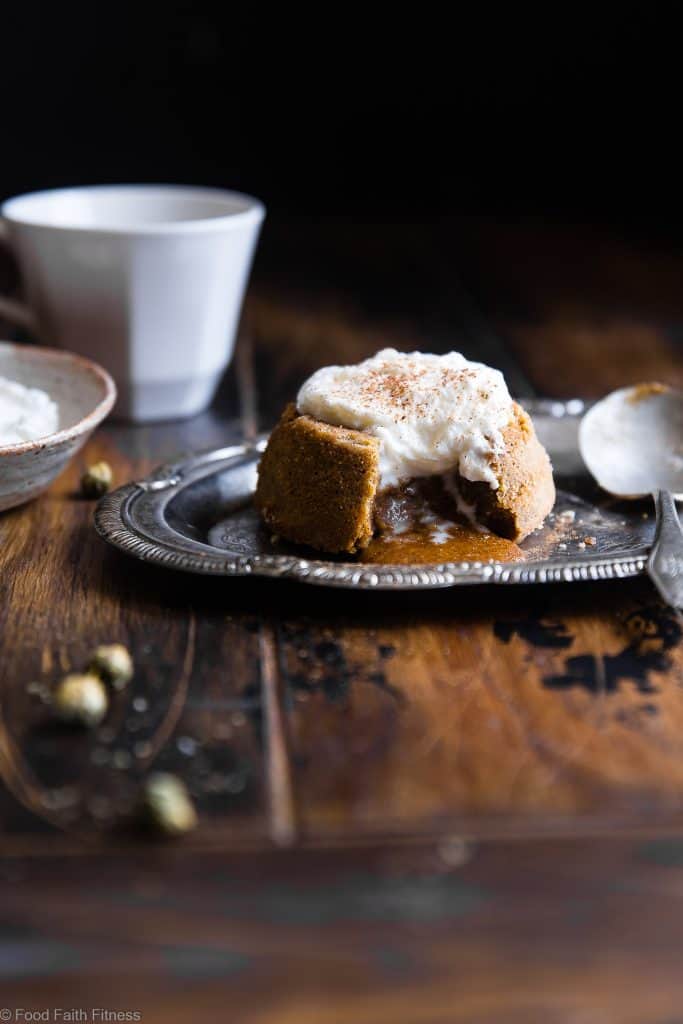 Don't be alarmed if that, after tasting one lava cake, you decided to go in for THE KILL. And by "kill" I mean KILLING the S-E-C-O-N-D one too. All by yourself.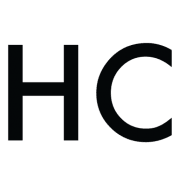 Taylor Kiser
Taylor is the blogger, recipe developer, photographer and general mess maker behind the blog "Food Faith Fitness." She is a Christian who is constantly trying to learn how to keep Christ at the center of her daily life. Taylor is also a health and fitness enthusiast who loves creating delicious recipes, with a healthy spin. However, Taylor also believes that moderation is key, so sometimes it's ok to just go and eat a cookie!