These Almond and Apple Shortbread Bars are intensely buttery, not too sweet and loaded with apples and almond frangipane. The recipe is almost too easy to be true!
We're in the season of heartier fare: Starchy roots and pumpkins, soups, stews, braises and baked goods that fill the kitchen with warmth and cinnamon.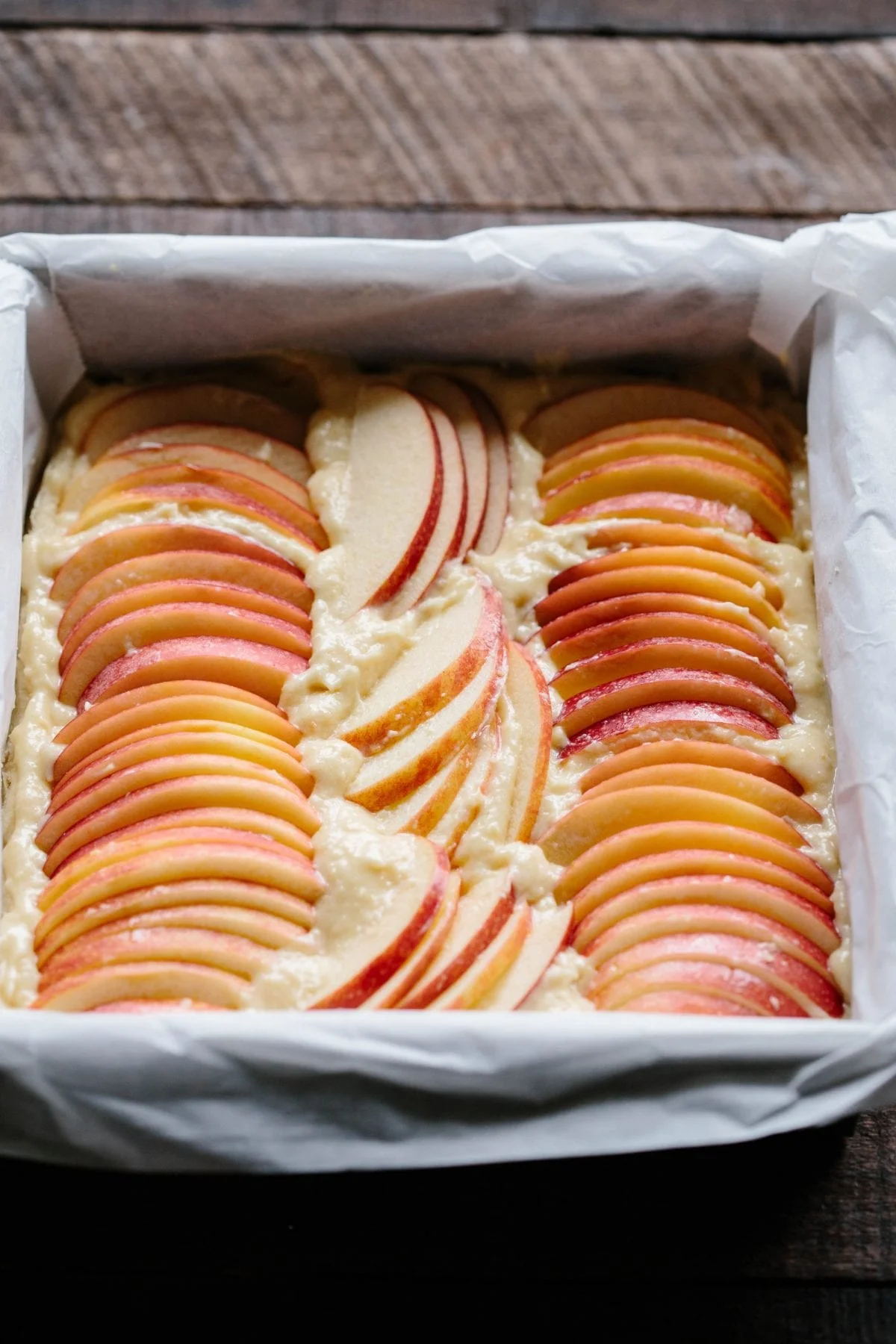 I'd been making fruit crisps, cakes and clafoutis all summer long, so I wanted to make something different to help usher in fall. I decided to do a riff on this Apricot Pistachio Tart by swapping in apples for apricots, almonds for pistachios, and making it into bars rather than a tart. This recipe is quickly becoming one of my favorite desserts ever, because it's really easy to throw together (seriously!), can be adapted to so many different flavor combinations, and most importantly, it's unbelievably good.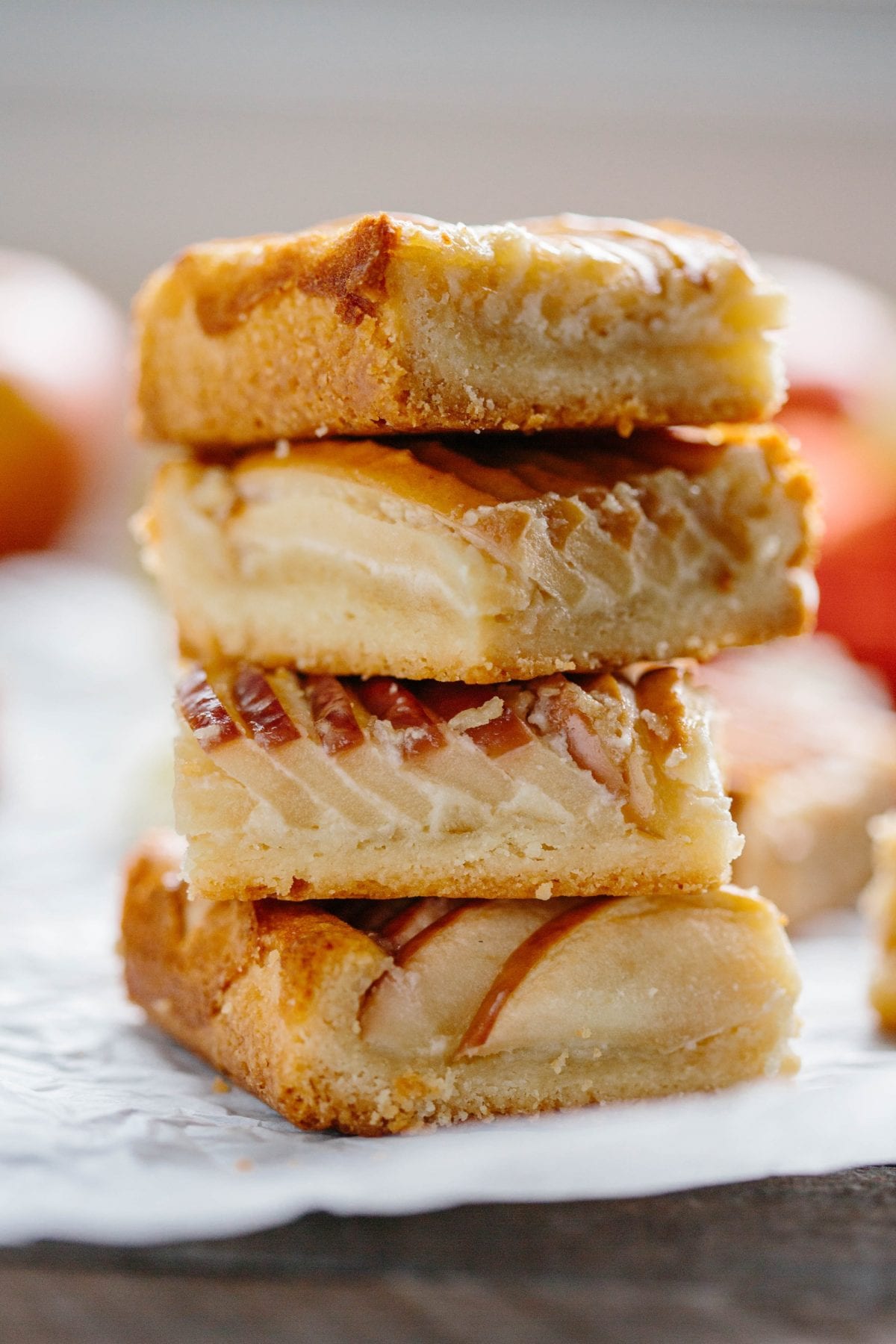 The shortbread crust is intensely buttery, barely sweet, and a just little bit salty. Then comes the almond layer, in the form of something called frangipane. It sounds ultra fancy and complicated because, you know, it's French. But that really couldn't be farther from the truth. Frangipane is essentially a pastry filling made from almonds, eggs, sugar and butter. It's so simple to make, and tastes like heaven. The classic version is made with almonds, but you can really make it with any nut you want.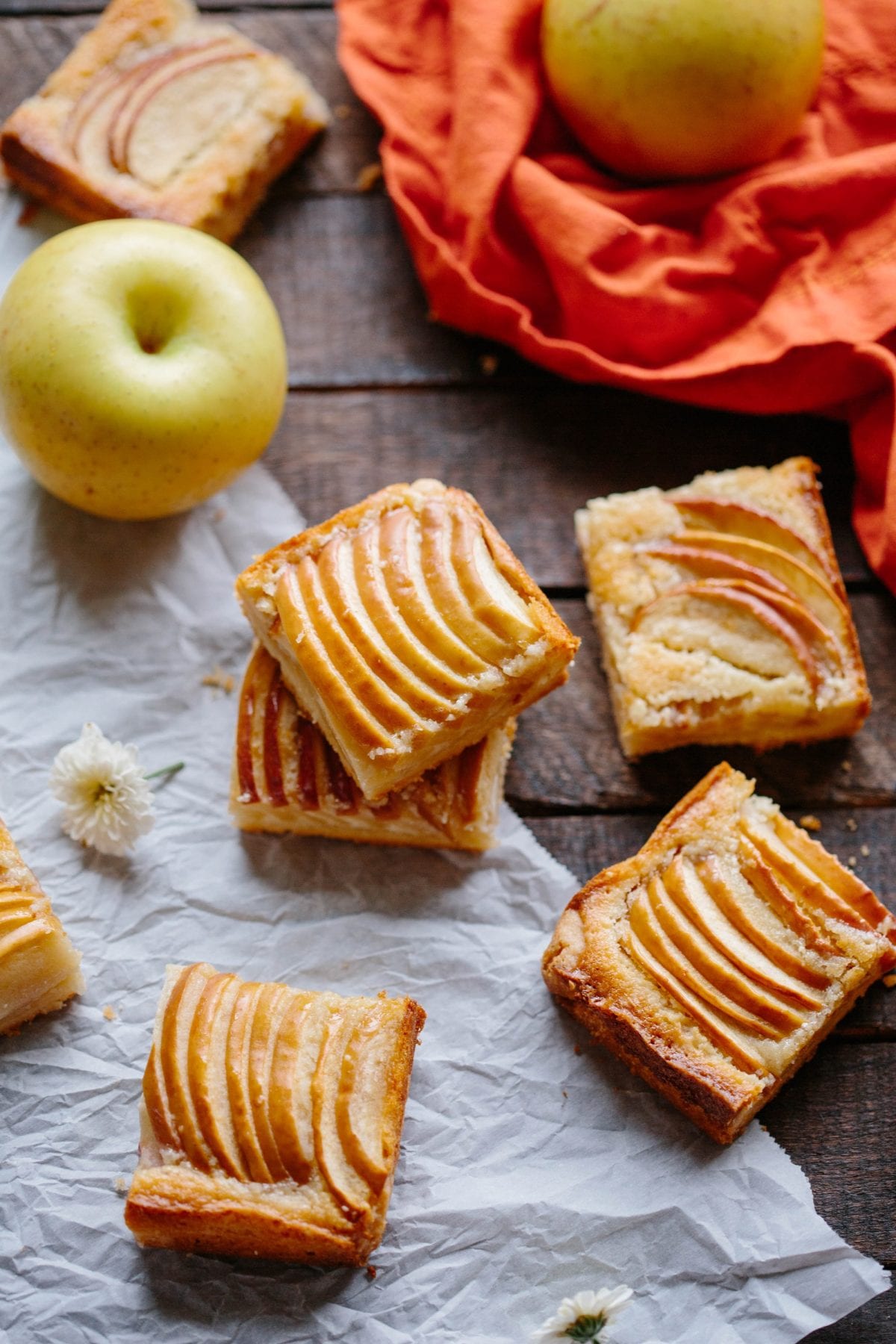 The frangipane gets spread on top of the shortbread crust, and then pieces of fruit – in this case, apples – get tucked in on top. The goal is always to create a pretty pattern, but in typical Coley fashion I spazzed out at the last minute and kinda screwed that up. I thought I'd be able to make a 3rd row of the fanned out apples, but then they didn't fit, so I panicked and, well… you can see how that panned out. I kept the photos in here to remind you that I do, in fact, mess things up (quite often). Here's the thing, once you slice these into squares, the arrangement of the apples no longer matters. Once you take a bite, you'll realize the only thing that matters is how delicious they taste.
These apple almond bars look humble. They look unassuming. They look like they might not even be worth the calories, but oh my friends, do not judge this book by it's cover. Everyone who tries one… even those who claim to be "not that into fruit desserts" all go crazy for these bars. I'm pretty certain you'll go crazy for them too.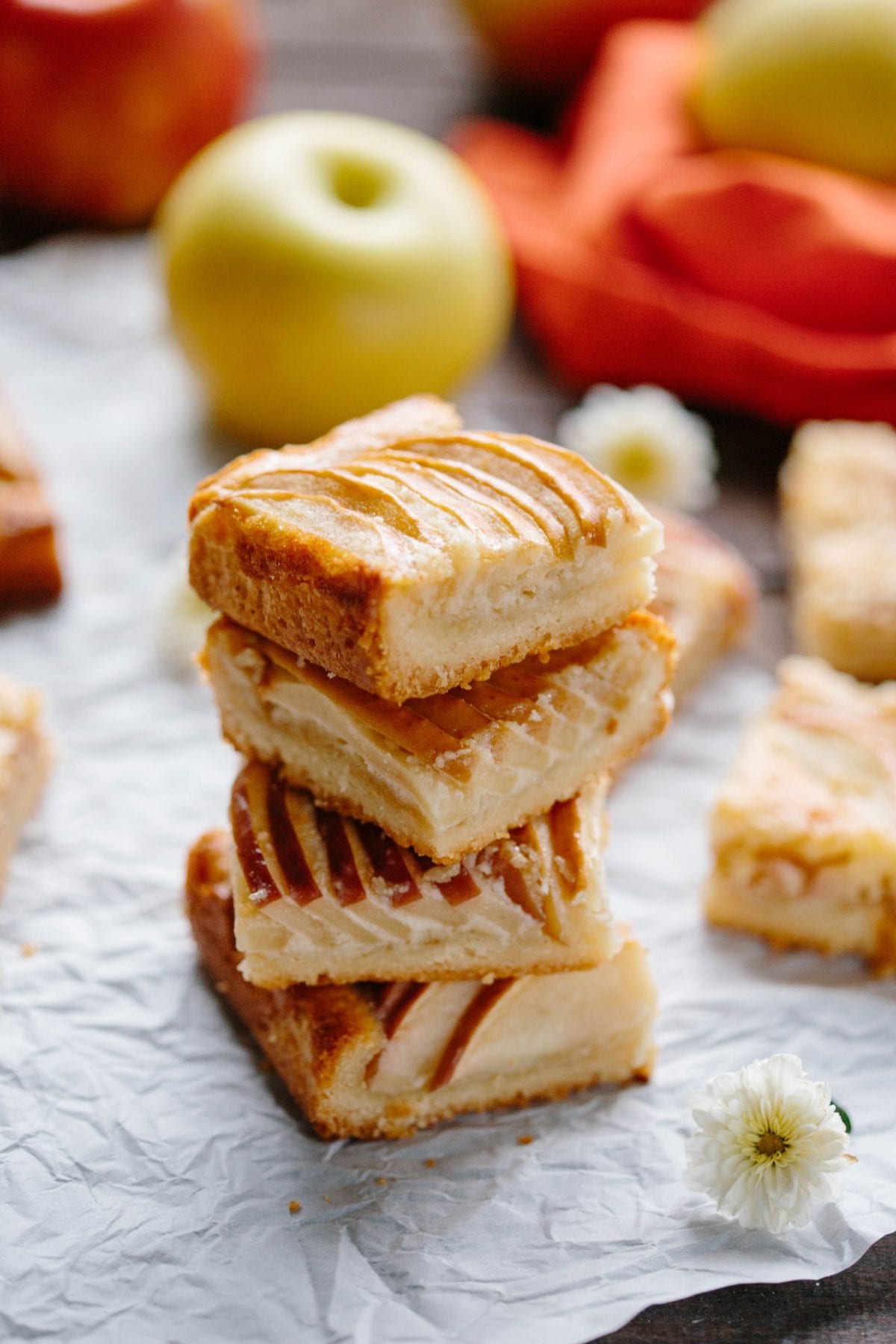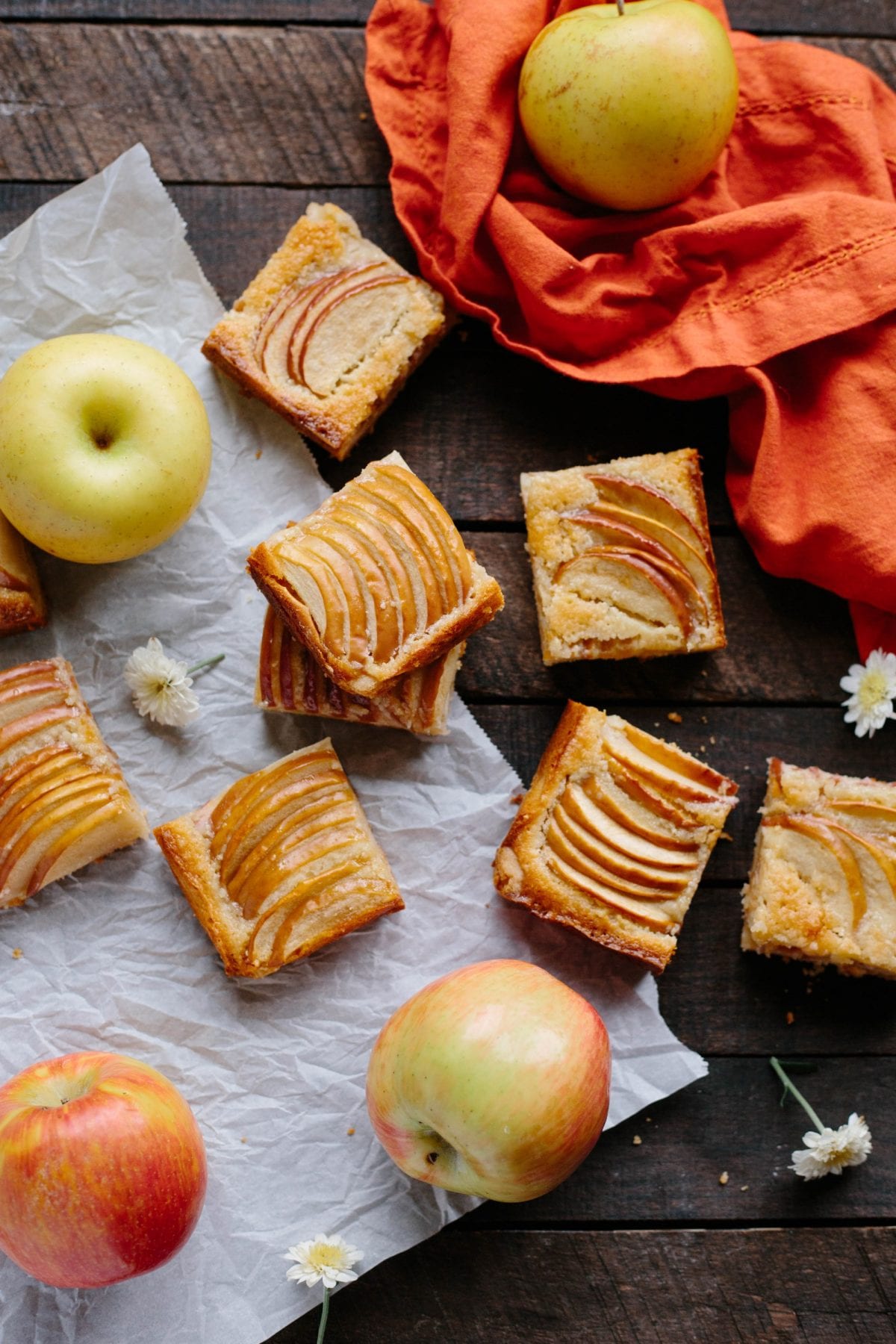 Click here for the shortbread crust filling.
Print
Almond and Apple Shortbread Bars
Author:

Nicole Gaffney

Prep Time:

20 minutes

Cook Time:

1 hour 15 minutes

Total Time:

1 hour 35 minutes

Yield:

9

to

16

bars

1

x
Category:

Baking
For the Crust:
Click the link above for the recipe.
For the Filling:
3/4 cup

sliced or slivered almonds (lightly toasted)

1 tablespoon

all purpose flour

1/4 teaspoon

kosher salt

1/4 cup

(plus

2 tablespoons

sugar)

5 tablespoons

butter (cut into pieces)

1

large egg

1 teaspoon

vanilla extract

2

apples (any variety (granny smith would be particularly nice), cored and thinly sliced or diced)
Instructions
Preheat oven to 350 degrees. Line an 8×8? pan with parchment paper.
To make the crust, add the flour, sugar and salt to the bowl of a food processor and pulse once to combine. Add the butter, then process until the mixture comes together and forms large clumps, about 30 seconds to one minute. Distribute the dough around the pan and press it evenly around the base and up the sides. Use the bottom of a glass to help even it out if needed. Bake for 15 minutes, until lightly golden. Remove from the oven and allow to cool before filling.
To make the filling, don't bother cleaning out the food processor and add the almonds, sugar, flour and salt, then pulverize until they form a fine powder. Add the butter and process until evenly distributed, then add the egg and vanilla, and blend until smooth.
Pour the filling into the cooled crust (it's okay if it's still a little warm, just not blazing hot) and spread it out into an even layer. Arrange the apple slices in a pretty pattern if you desire, or just throw the sliced or diced apples on top in a big (even) heap – it doesn't really matter.
Bake for one hour, or until a toothpick inserted in the center of the filling comes out clean. Allow bars to cool completely before cutting and serving. I prefer them chilled (and they're easier to cut that way too).