Watermelon and Balsamic Arugula Salad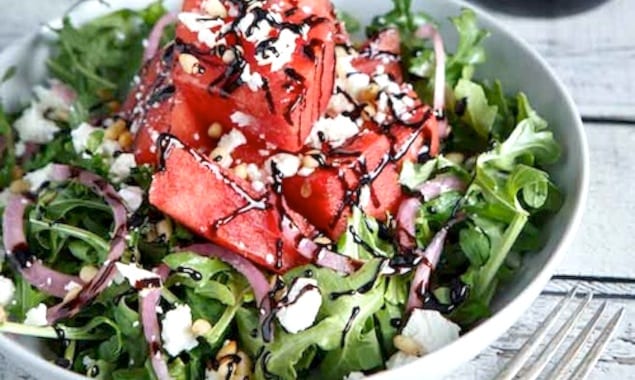 A refreshing salad recipe featuring watermelon, pickled onions, feta cheese, pine nuts, and a sweet honey balsamic reduction. Now that's a spring salad.
By Chris Cockren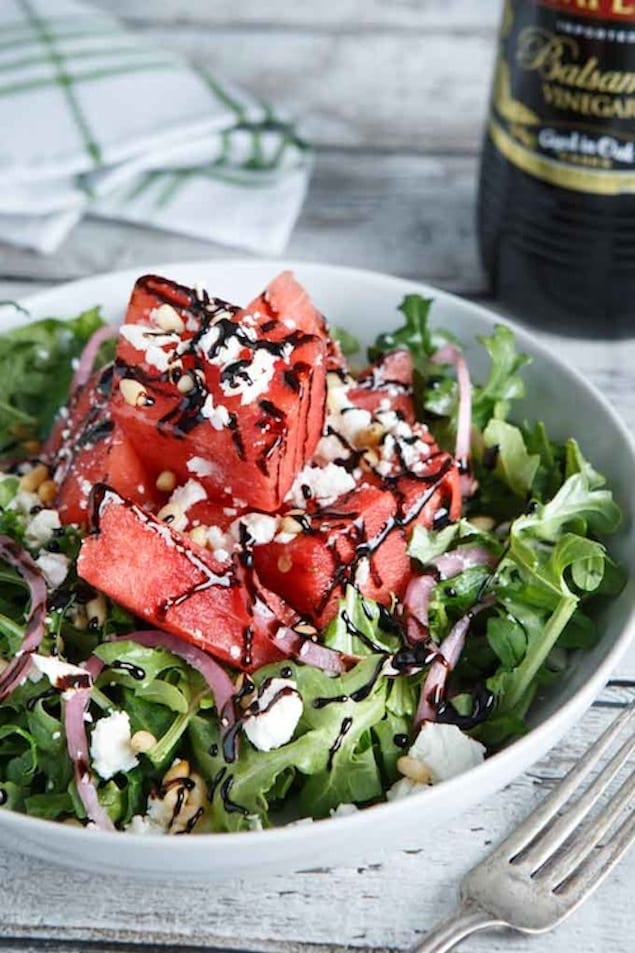 My absolute favorite way to enjoy balsamic vinegar is by slowly reducing it on the stove, creating a sweet and sticky syrupy glaze. I almost always have a squeeze bottle of it in the fridge, so it's always at the ready when duty calls.
If you don't have feta on hand, feel free to try goat cheese. That would be delicious as well. Just don't skip the pickled onions. It adds a whole other level of flavor awesomeness to this salad.

Watermelon and Balsamic Arugula Salad
A refreshing salad recipe featuring watermelon, pickled onions, feta cheese, pine nuts, and a sweet honey balsamic reduction. Now that's a spring salad. Adjust toppings and arugula based on preference and number of servings
Ingredients
½ cup balsamic vinegar
½ tablespoon honey
4 cups Baby Arugula
3 cups Seedless watermelon, cubed
½ cup Pickled Red Onions
¼ cup Feta cheese, crumbled
Pine nuts, to taste
Extra virgin olive oil, to taste
Kosher salt, to taste
Instructions
Combine balsamic vinegar and honey in a small saucepan over medium heat until just boiling. Reduce heat to low (a slow simmer is what you're after), stir occasionally, and let simmer until reduced by at least half. The balsamic will continue to thicken as it cools. Once completely cool, store in the refrigerator. I like to keep mine in a little plastic squeeze bottle.
Drizzle arugula with a little bit of olive oil and season with Kosher salt. Top with cubed watermelon, pickled red onions, feta cheese, and pine nuts. Drizzle generously with the balsamic reduction. Devour immediately.
Chris Cockren
Chris is a New York based food blogger that loves bringing friends and family together through food. On his blog, Shared Appetite, Chris chronicles his culinary adventures of eating his way in and around NYC, as well as cooking and entertaining at home.