This refreshing Watermelon and Lime Sorbet is super easy to make and you only need 2 ingredients for this sweet summer dessert.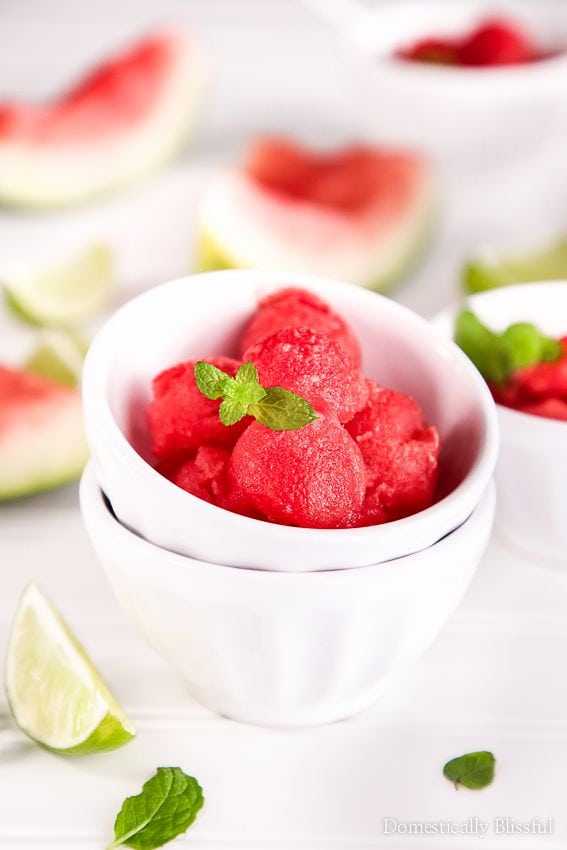 I still had so much watermelon left over after last weeks Grilled Watermelon Salad!
I decided that the only logical option was to create another new recipe!
And since last weeks recipe was a savory warm salad I decided to go in the opposite direction this week.
So I decided to create a frozen Lime Watermelon Sorbet that will keep you cool in this rising heat.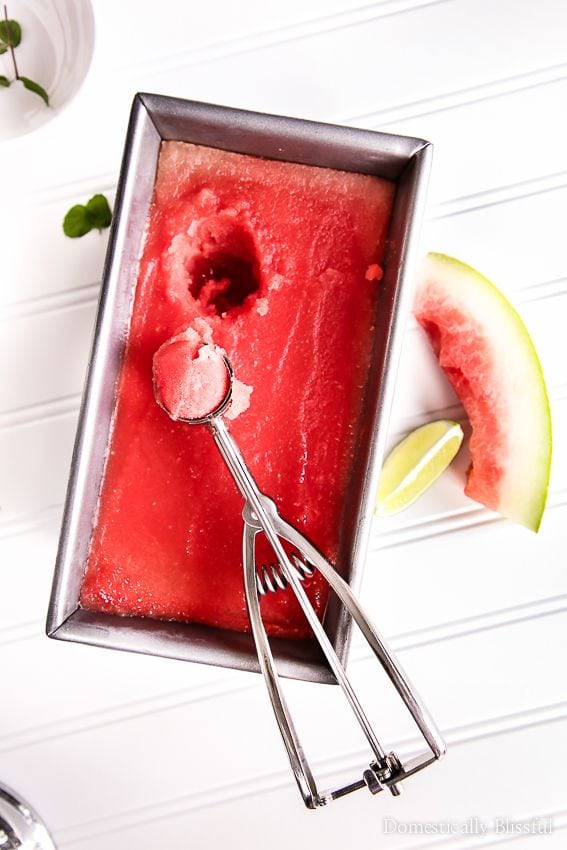 The crazy thing is that summer doesn't even start until next week.
So I kind of feel like I'm jumping the gun with all of these extra summery recipes.
But hey, I've already started planning my fall recipes for August, so if I don't start summer early I may accidentally skip it completely and go straight to fall!
And while I love fall with all my heart, I try to enjoy each season as it comes. Although that won't stop me from sharing apple and pumpkin recipes in August.
Honestly, I ate a pumpkin muffin 2 weeks ago & I couldn't stop brainstorming new fall recipes.
But since I just said that I try to enjoy each season in its own time, I probably should stay true to my word & focus on this Watermelon Sorbet.
So here are a few tips to help your sorbet turn out perfectly.
The condition your watermelon starts out in will affect its outcome. So avoid over ripened or mealy watermelon.
If your watermelon isn't sweet, to begin with, it isn't going to magically sweeten itself in the freezer. Sad but true.
Taste the blended watermelon before freezing, if it needs sweetening just add a little bit of your favorite sweetner (sugar, honey, ect.), a little at a time, until it's perfect.
Give your sorbet plenty of time to freeze properly. Freezing time will be affected by a variety of factors, such as the material of container you freeze it in, the depth of the container, & how cold your freezer is, to begin with.
Don't want to scoop out frozen Lime Watermelon Sorbet? Pour the watermelon mixture into popsicle molds instead for extra easy ready-to-go servings.
I hope you enjoy your Watermelon Sorbet as much as we do!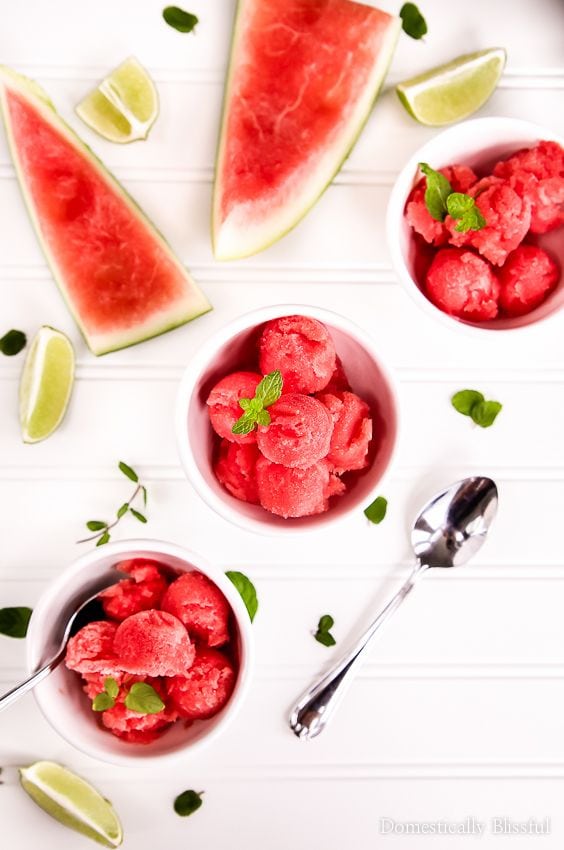 Print

Watermelon and Lime Sorbet
---
Author:

Giustina Blissful
5 Cups

Watermelon Balls (heaping & frozen *(1))

3

–

4

Tablespoons Lime
Mint (optional)
---
Instructions
First, place the 5 cups of frozen watermelon & 3 of tablespoons lime in a blender or food processor. *(2)
Blend until a shaved ice consistency has been created. Taste & add 1 more tablespoon of lime (blending it in thoroughly) if desired.
Enjoy immediately topped with mint or freeze for a firmer & more frozen texture.
Notes
*1. I used a melon scoop & placed the small melon balls on a rimmed baking sheet to freeze for a few hours.
*2. If you do not have a high powered blender/food processor you may need to let the watermelon balls defrost a little before blending.
Giustina Blissful
Hello! My name is Giustina and I'm a 20 something who is married to my best friend and love of my life. I think everything tastes better when made with love and a splash of lemon. Although love, life, and marriage is never easy I believe that it is always an adventure worth traveling!