Buttery, brioche dough makes these cinnamon rolls the best ever. Roll them up with a cinnamon filling, bake and drizzle with an easy icing for a spectacular treat.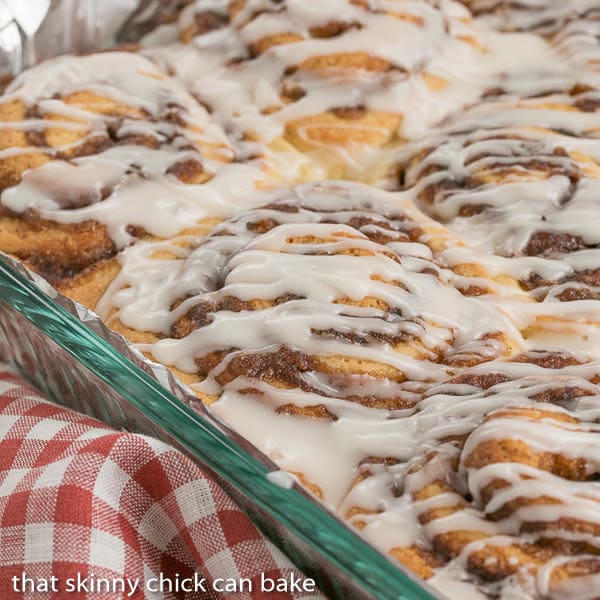 With a drizzle of powdered sugar glaze, this just may be the ultimate cinnamon roll recipe. Perfect for weekend company, Mother's Day or any darn day of the week!
I first made these cinnamon rolls one year during Lent. Nick and I both gave up desserts for a full 40 days. He, though, had been hounding me for weeks to make cinnamon rolls. We were both missing our sweets!
This was my third recipe attempt this winter and these were definitely the BEST cinnamon rolls of all that I tried. The tender, buttery dough was exquisite and all these needed with a little drizzle of a powdered sugar glaze as a finishing touch.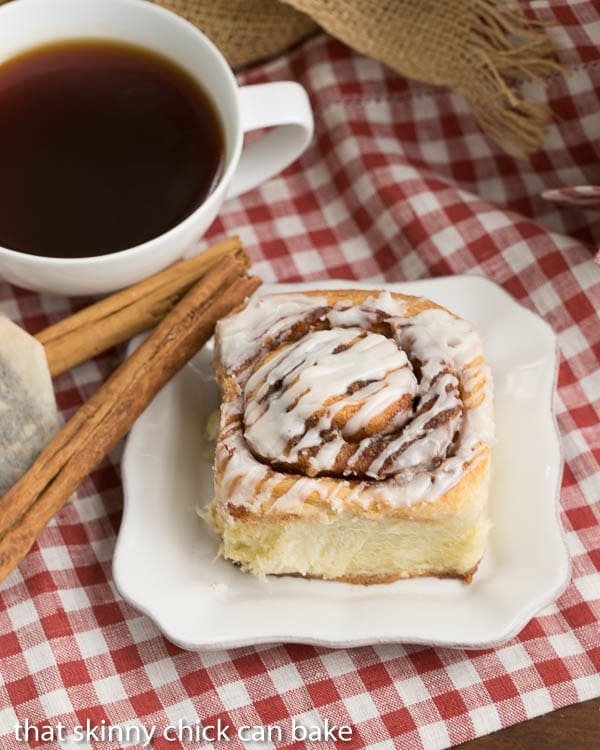 Bill's grandmother used to make dinner rolls, bread, pies and/or cinnamon rolls from scratch every weekend. She lived with his family for years, and they were all spoiled by her incredible baked goods.
Baking without a recipe, she made the dough by feel alone. Unfortunately, that means there were no recipes left behind.
I can't say my family is extremely picky when it comes to this breakfast treat. For years and years, we had a stash of Sara Lee frozen cinnamon rolls that just took a zap in the microwave before chowing down.
There may not have been visible tears when these were discontinued, but, I promise, there was much sadness. But using a Kitchen Aid mixer with a dough hook, homemade cinnamon rolls aren't that daunting. I hope you'll give this recipe for the best cinnamon rolls a try.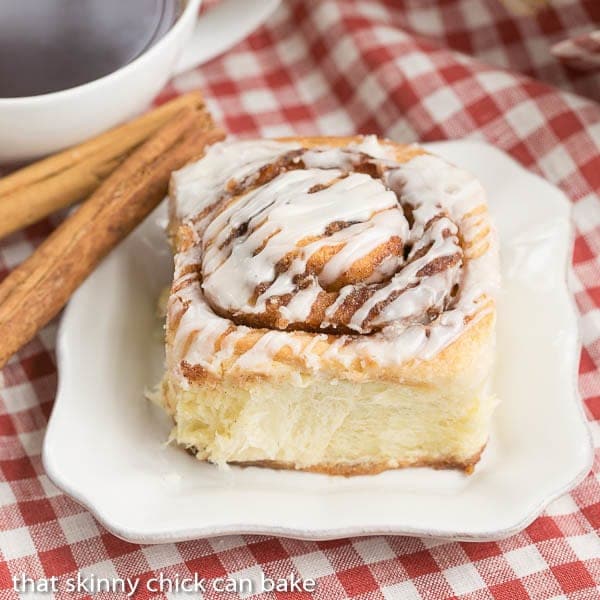 Tips for Making Yeast Dough:
– Check your yeast package for an expiration date. Do not use expired yeast. It's frustrating when you have the dough made and it won't rise (or "proof") due to old, outdated yeast.
– Use an instant thermometer (Amazon affiliate link) for checking the temperature of your warm liquids. If the liquid is too hot (above 120º), it will kill the yeast. The resulting rolls will be dense and disappointing!
See Also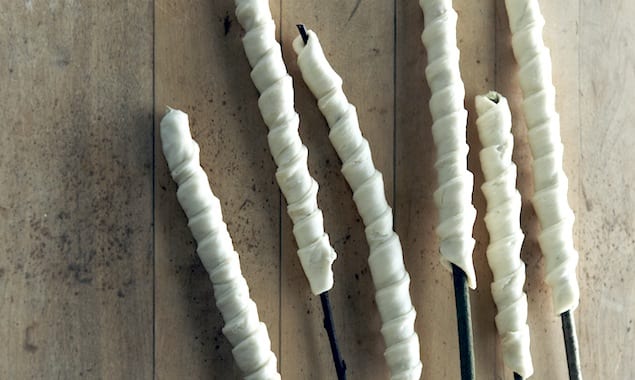 – Salt also kills yeast, so it's always added along with the flour and not directly into the yeast mixture.
– Kneading is imperative to developing the gluten and helps create a smooth, elastic dough. I love using my dough hook for a super easy way to knead.
– There are typically two proofing times. First the dough is placed in a greased bowl, covered and left in a warm spot until it doubles in size. The second is a after the dough is shaped into rolls or loaves. Do not hurry this process along by placing the dough into a too hot location. The resulting texture of the bread will suffer. Warm room temperature (85º or so) works well. You can place a pan of hot water into your oven which will gently warm the space, and use that space to proof your dough.
– The internal temperature of a fully baked yeast bread should be between 195 and 210º depending on the type of bread.
Click here for the filling recipe.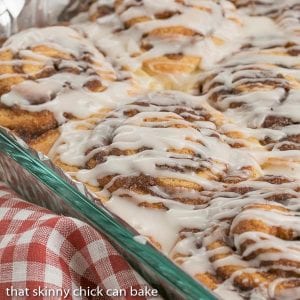 Best Brioche Cinnamon Rolls
Liz Berg
Ingredients
Dough:
3/4

cup

warm whole milk

1

packet

2 1/4 teaspoons instant yeast, I used Red Star Platinum Yeast

3

eggs

at room temperature

4 1/4

cups

flour

1/2

cup

corn starch

1/2

cup

sugar

1 1/2

teaspoons

salt

12

tablespoons

(1 1/2 sticks

butter, at room temperature, cut into 12 pieces
Filling:
Click the link above for the recipe.
Glaze:
1 1/4

cups

powdered sugar

sifted

2

tablespoons

milk

1/2

teaspoon

vanilla
Instructions
Combine the warm milk and yeast in Pyrex in a bowl and whisk until the yeast dissolves. Mix in the eggs.

In the bowl of a stand mixer with the paddle attachment, combine the flour, cornstarch, sugar and salt. Mix to combine. With the mixer on low, slowly add the warm milk mixture and continue mixing until the dough comes together, about 1 minute.

Increase the speed to medium and add the butter, one piece at a time, till incorporated. Switch to the dough hook and continue to mix until the dough is smooth and comes away from the sides of the bowl, about 10 minutes.

Knead the dough a few times on a lightly floured surface and form the dough into a smooth ball. Place the dough in a greased bowl. Cover with plastic wrap and place in the warm spot and let rest till doubled in size, about 2 hours.

Mix the brown sugar, cinnamon and salt together in a small bowl. Punch down the dough and roll into an 18-inch square on a lightly floured surface and spread with the softened butter. Sprinkle the filling evenly over the dough and press gently.

Starting with the edge nearest you. roll the dough into a cylinder and pinch lightly to seal the seam. Cut the roll into 12 equal pieces (I used a piece of dental floss) and place the pieces to the prepared pan. Cover the pan with plastic wrap and let rise in warm spot until doubled, about 1 hour.

Preheat oven to 350 º. Bake the rolls for 35-40 minutes, until they are golden brown.

While the buns bake, make the glaze by whisking the powdered sugar, milk and vanilla in a medium bowl and set aside. Let rolls cool about 15 minutes, then drizzle on glaze with a spoon.
Notes
Adapted from Cook's Country.
Total time does not include proofing time.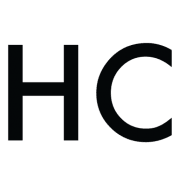 Liz Berg
My mom was an amazing cook, but she wasn't much of a baker. When my sisters and I yearned for a sweet treat, I turned to our trusty BH&G cookbook and zeroed in on the dessert tabs. My love of baking began in my childhood kitchen. I married a chocoholic and together we had 3 children with plenty of sweet teeth. I started my blog in 2010 to chronicle my baking journey.