Take the flavors of pumpkin pie and make it into a warm drink, spiked.
By Vicky Cohen and Ruth Fox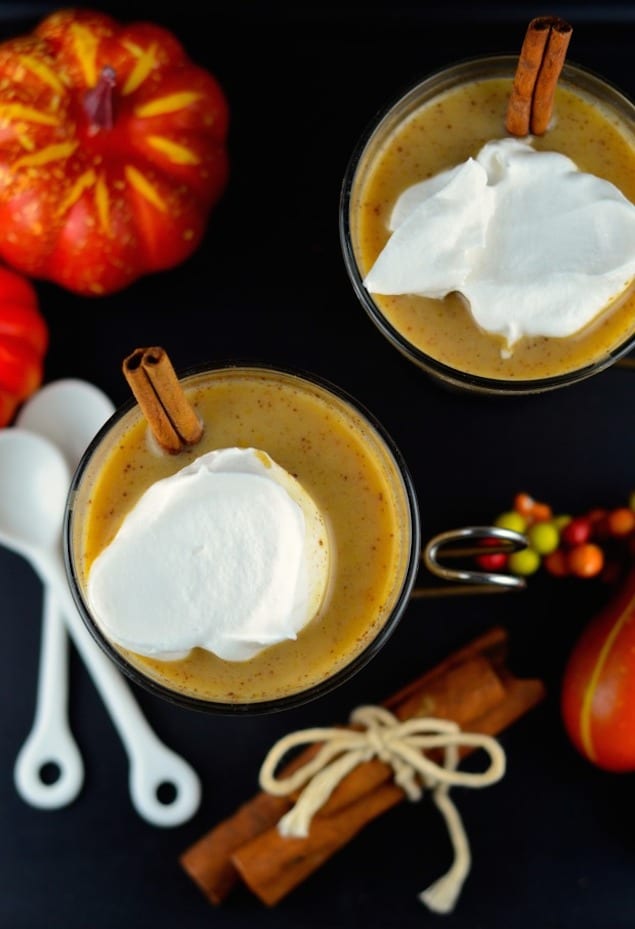 You would be amazed to know how many people are utterly surprised to find out we didn't grow up celebrating Thanksgiving. That we didn't really know much about the Holiday until we moved to the US. Which, if you think about it, makes sense, since Thanksgiving is an American Holiday and it's not celebrated in Spain!
I have to say though, it really is one of my favorites. Mainly because I'll take any excuse to gather friends and family and spend some quality time together. And no other Holiday does that like Thanksgiving. I love the fact that people travel from all over the country to be with their families on this day. I love the days of planning and preparation that go into it. And of course, I love that it's a whole day affair with lots and lots of food.
We might not have any family traditions we grew up with, but we have certainly created our own over the years. One of my favorites is this little challenge my sister and I have, to come up with new pumpkin recipes every year. Personally, this "obsession" I have for pumpkin started on my very first Thanksgiving, when I had Naomi's pumpkin pie for the first time. I thought it was the strangest thing when I first saw it, but once I took a bite, I was hooked. And I've loved everything pumpkin ever since.
We came up with this recipe last year, but we never got a chance to share it.
See Also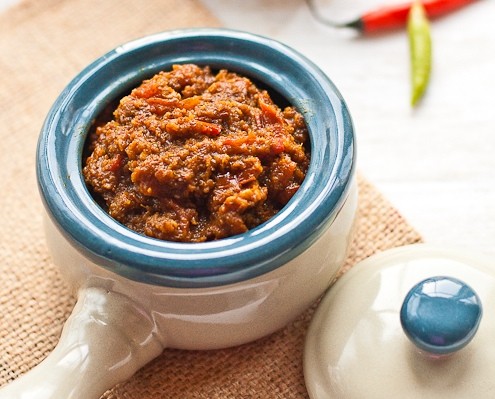 The idea behind it was to recreate the traditional flavors of pumpkin pie, without the "heaviness" of a slice of pie and the amount of time it takes to prepare it! The secret here? Using a good, ready to serve, vegan pumpkin spice drink as a base, like So Delicious Pumpkin Spice Coconut Milk and adjusting the spice and alcohol to your own taste. Top it with a (big) dollop of vegan whipped topping (try making a whipped coconut cream) and done! If you are hosting Thanksgiving this year and you're expecting guests with any dietary restrictions, don't panic!

Warm Pumpkin Spice Rum Cocktail
Take the flavors of pumpkin pie and make it into a warm drink, spiked.
Author:
Vicky Cohen and Ruth Fox
Recipe Type:
Drink, cocktail
Ingredients
2 cups pumpkin spice coconut milk beverage (we used So Delicious)
1 cup unsweetened coconut milk beverage (we used So Delicious)
4 tbsp organic canned pumpkin
½ tsp pumpkin pie spice
1 tsp cinnamon
1½ oz dark rum (or to taste)
1½ oz vanilla flavored vodka (or to taste)
Vegan whipped topping for garnish (we used So Delicious CocoWhip)
Cinnamon sticks for garnish
Instructions
Combine pumpkin spice drink, coconut milk beverage, pumpkin and spices in a medium size sauce pan. Bring to a simmer, stirring often. Add rum and vodka and continue simmering for 1-2 minutes
Serve hot with a dollop of vegan whipped topping and a cinnamon stick
Vicky Cohen and Ruth Fox
We are two sisters born and raised in Barcelona, Spain, with Sephardic and Middle Eastern roots. We grew up eating the best, most flavorful, comforting home-cooked meals prepared by our mom, who taught us everything we know about cooking. When we moved here to the U.S. we felt it was really important to keep our traditions and background alive, and we've done so by sharing it with everyone we've met throughout the years. After all, what better way to make new friends and share our love and culture than through food, right? Our friends have come to enjoy our food and gatherings so much that are always asking us for our recipes. That inspired us to start a cooking blog called "May I have that recipe" where we share recipes we've created inspired by our multicultural background.